Why it's time for the world of patents to embrace diversity and gender equality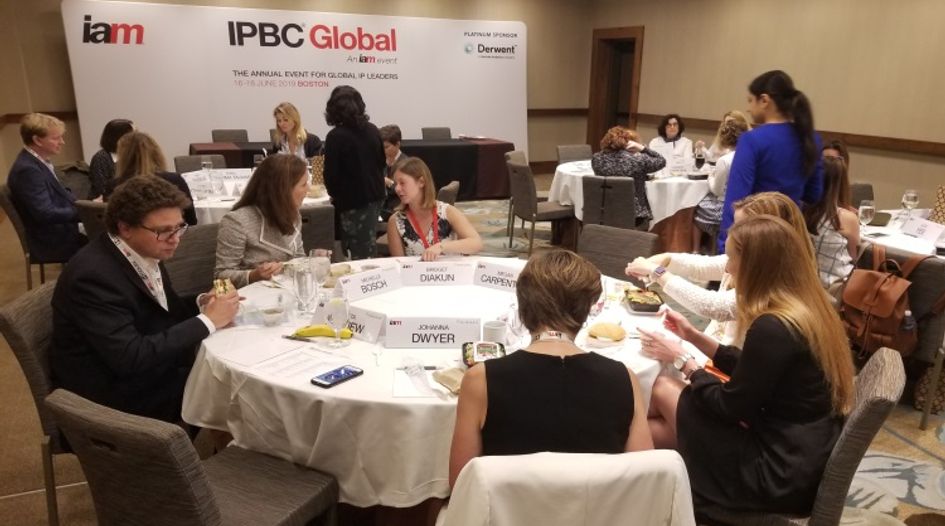 Yesterday afternoon a group of women and men working in IP in various areas – legal, corporate, service provision and academia – attended an IAM boardroom co-hosted by Finnegan. The purpose of the event was to identify the barriers currently facing women who seek to build careers in IP at a senior level, to set out why overcoming these barriers matters and to start the process of developing practical solutions that will enable women to make the fullest possible contribution to the development of the global IP market.
At a time when the need to attract and retain the best people has never been greater, it is important to ensure that career paths, working options and corporate cultures are designed with 100% of the available talent pool in mind, not just the 50% of it that it is male. In this way, a commitment to gender diversity is not only a commitment to equality of opportunity for women, it is also the smart business choice.
Over the course of three fascinating hours a wide variety of issues came under the microscope. Following is a by no means exhaustive selection of some of the points that were discussed:
Overall the number of women studying and working in the sciences, technology and engineering is relatively low. Although that is beginning to change, the flow of women into the patent field in whatever capacity is bound to be low for the foreseeable future as a result. Government policies which make it more attractive for women to choose degrees in engineering and science are an important start point for encouraging women into IP.
IP should be introduced to girls during the early stages of their education. While many schools in the US and elsewhere now have science-specific engagement programmes, IP is almost never a focus of these. The final stages of the education lifecycle (post-graduate) is another critical time to flag IP. It can be a good alternative for those who have been involved in research, but who do not necessarily want to work in labs or move into teaching. Until girls and young women realise the career opportunities that exist in IP they will never take advantage of them.  
Law firms need to do better in building environments which help to attract and retain talented women. There should be clear progression paths for women who may wish to have children, so they know what their options are and that these are not limited. Firms need to move away from traditional approaches by, for example, making it clear that you can build a meaningful and valuable career without necessarily having to become a partner – and making this a viable option. Women should never feel they might be penalised for having a family.
There was a general agreement that quotas were not desirable. No-one wants to feel that they are in a job or have been given a position of authority because of what they represent rather than because they are the best person for the job. Instead, firms and businesses should have well-defined and articulated expectations and goals about the number of women holding senior positions. If these are not being achieved, there needs to be serious discussion about why this is. However, it was also noted by some that in many organisations there are men who hold senior positions not because of their inherent skill and ability but because they know how to play a game whose rules have largely been set by men. 
Negative workplace culture came up again and again. Besides those women who have experience harassment or hostile criticism, there are many others who worry that this might happen to them. This is a significant cultural issue. The workplace must be rethought so women feel comfortable in it and enjoy their day-to-day lives working lives. Part of this is having a number of women at the senior management level to help bring about cultural change. Just one is almost never enough. Why should women bend themselves to the male world? Why not change the world instead?  
A flexible work environment also came up. Traditional models are failing to meet the needs of the younger generation. Those businesses which can adapt to what millennials are after will be able to attract and retain this talent. One thing discussed was the number of mothers who would like to work from home during the week – this should be available. Others mentioned the potential of changing how work is dealt with - working in teams rather than individually, for example. A workplace that meets the needs of its talent is far more likely to retain its brightest and best employees.
The IP journey for women is never-ending. The more senior women who were part of the discussion expressed the desire to have mentors, male or female, to help them further progress in their careers. Another element of this was that those in higher positions were interested in gaining the skills to nurture the women in their own teams. Many felt they would benefit greatly from management courses to help them get to this point.
This was just the start of an on-going conversation. A more detailed report will emerge from the meeting and that will then form the basis of further action. There are no quick fixes, there are no easy solutions, there is no one way of looking at issues. However, words and phrases such as "forward looking", "positive", "productive", "inclusive", "pro-active" and "collaborative" were the most frequently heard throughout the afternoon, and it is in that spirit that the discussion will continue.  Gender equality and inclusivity are not only issues for women, they are vital for men, too. It is self-evident that to stand the best chance of success, entities working in IP-based industries have to create environments in which all talent can flourish. When that happens everyone wins.
IAM would like to thank all those who participated in the Women in IP session. Special thanks goes to Finnegan for supporting the event and to partners Michelle Bosch, Raj Gupta and Dori Johnson Hines, and associate Laura Johnson, from the firm, as well as Anna Holmberg from the Centre for Intellectual Property in Gothenburg, for all the pre-session preparation work they did and for moderating so expertly on the day.  We will leave the final word with two of them …
The purpose of this boardroom was to bring the topic of gender equality and diversity into the light. Some organisations are assuming that there are no issues, and some think that any which have existed have been resolved. Others are saying it's simply not relevant. We are trying to show why more women should be involved in IP, and also decide what needs to be done to make tangible progress. This is what we are trying to ensure at CIP through our Vera project, and we are very happy to see that IAM has joined this cause. We are working to attract more women into IP and create a field that it inclusive. Right now, it is not perceived to be, and that is where it needs to be. The main takeaway from today's discussion is the sense of urgency to get this accomplished – the time is up. Anna Holmberg
Today was a positive and productive discussion. The boardroom was filled with successful women in IP who took the time to decide how we could further the existing accomplishments in this space.  The collaboration between law firms and corporations was a key takeaway from today, and a huge opportunity. We are coming to understand the successes which are already happening, and through working together we can be on the same page going forward. This is critical in achieving the mission to get more women involved in IP. It was fantastic to hear how many people were interested in making progress and we are very excited for the future. Michelle Bosch
Copyright © Law Business ResearchCompany Number: 03281866 VAT: GB 160 7529 10