For the US Defense Department, China is not the IP problem – data is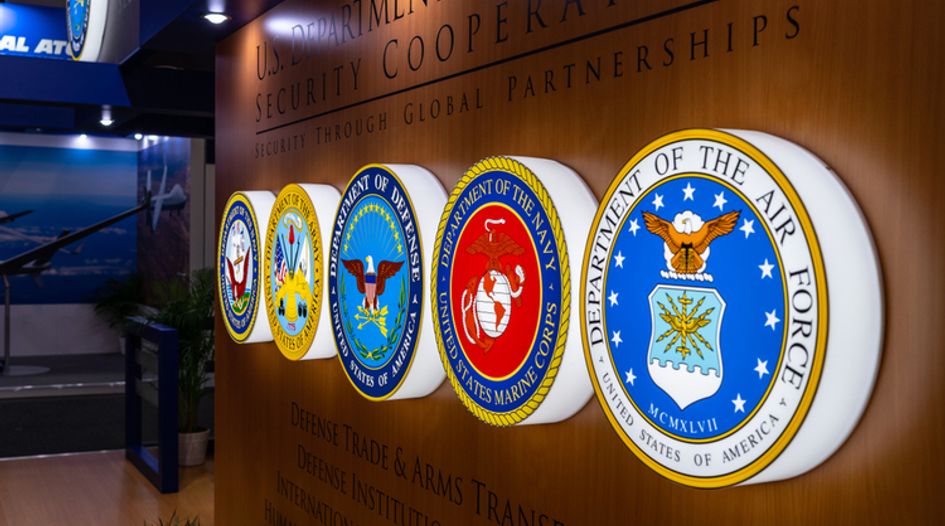 Last week, Ellen Lord, US Undersecretary of Defense for Acquisition and Sustainment, provided an update on the Department of Defense's (DOD) acquisition reform and innovation effort. She reaffirmed that Congress had mandated an Office of the Secretary of Defense (OSD) "IP cadre", and that it should be up and running by October. Following on this point, she drew attention to comments made by the Secretary of the Army Mark Esper and Secretary of State Mike Pompeo, as well as President Trump, about the threat of Chinese intellectual property theft to national security.
This story has been picked up by a number of military  and government publications, such as Military.com and Roll Call, with many saying that the new IP team is a way to protect against Chinese actors stealing military technologies. Yet, Congress's National Defense Authorisation Act 2018 does not directly mention China in relation to the IP cadre, neither does the Army Directive 2018-26: Enabling modernisation through the management of IP.
In fact, the DOD's new policy on IP is actually all about data.
The review of the DOD's use and acquisition of IP rights from private sector firms was first mandated by Congress in the 2016 National Defense Authorisation Act – a year before President Trump took office. There had been issues between the DOD and their contractors over IP - in particular, technical data - for a number of years. The Pentagon wanted the ability to build and modify weapons systems without having to rely on one supplier. However, contractors did not want to share their trade secrets with the Pentagon in case these ended up in the hands of competitors. This stand-off was having long-term implications for the DOD's sustainment of systems and was also discouraging technology companies from doing business with the Pentagon.
To fulfil Congress's directive, the OSD requested that the Institute for Defense Analyses (a non-profit that operates three federally funded R&D centres to provide objective analyses of national security issues) review the DOD's policies, regulations and practices on IP relating to competition in weapon systems sustainment.
The report found, among other things, that the DOD's approach to innovation and development had shifted drastically over the years. Between the 1950's and 1970's a majority of defence equipment was developed under government contract, so the DOD had rights to all relevant data. More recently, though, the DOD has been relying on commercial innovators for the development of equipment, particularly when it comes to technology and software.  
The DOD's shift away from internal R&D efforts can be seen in an analysis of its patent portfolio. The graph below shows that the count of patent families that are granted and pending in each year has been on a downward trend.
Source: Cipher Strategic Patent Intelligence; split between granted and pending patent families per year
The R&D landscape for the combined portfolio of the US Navy, Army and Air Force further shows that innovation is not the highest priority for the DOD. There is no trend line in the below landscape because there was no significant transition in activity. Analysts from Valuenex further note that R&D efforts would be more effective if the three departments worked together, as they currently innovate in the same areas but do so separately.
Source: VALUENEX; Analysis of all USPTO grants and applications from 1 January 2000 to 31 August 2019 for the navy, army and air force. See full size image here
The DOD's acquisition and licensing programmes have not sufficiently addressed data
The Institute for Defense Analyses found that the department's programme officers were not, and are not, equipped for handling IP issues. It reported that data rights were not discussed early on enough in the process, which meant losing the opportunity to achieve favourable terms. Ultimately, those in charge of acquisitions in both the OSD and military departments were accused of not paying enough attention to identifying and accessing the IP and data needed for weapon systems sustainment. Further, it concluded that the lack of access to IP data made it difficult for the DOD to contract other vendors for repairs, maintenance and further production, leading to higher long-term costs.
The nature of the defence market has exacerbated the DOD's IP issues. It has to rely on a small number of large suppliers, with only two or three businesses possessing the resources to provide key systems. The DOD often becomes locked into contracts with single suppliers for long periods of time. Combine this with the omission of provisions on the right to technical data and the DOD is effectively dealing with supplier monopolies in many situations. The department is not able to use other companies when it needs its equipment and systems to be updated, repaired or re-procured because it does not have the right to the information and data that would enable it to be done. What is worse, these sole-source providers are then able to leverage all of this in negotiations.
There have been a number of instances where companies have either refused to negotiate the sale of IP data, defined by the Institute of Defense Analyses as technical data or computer software, or have done so at an unacceptable price. In one example, when the acquisition programme office requested a quote to obtain technical data packages, the sole-source OEM gave a $1.6 billion price tag. Then, the two first-tier subcontractors added $1.25 billion and $1 billion, respectively. This was almost an additional $4 billion on a programme which had total acquisition costs of under $6 billion. Most suppliers want to maintain this sole-source system - and why wouldn't they? It ensures there will be profits in the future as the DOD has no choice but to keep returning for maintenance and updates.
The US Army, which is the only part of the military to issue an official IP policy so far, has addressed the shortcomings in its previous approach to licensing and acquisitions. Due to a lack of understanding, it says it has employed an all-or-nothing approach. Either buying as much IP data as possible, or none at all. A savvier method which works on a case by case basis is the only way forward.
IAM says:
The DOD's IP issues are persistent and they are interfering in the development of equipment and systems. In May Bloomberg reported that half of the next year's funds for F-35 spare parts were to be withheld until the Pentagon and Lockheed Martin Corp could come to an agreement on the sale of technical data for spare parts. The Pentagon needed these rights to either produce its own products or search for other suppliers as there was a shortage in spare parts and bottlenecks.
IP specialists are desperately needed in the department's acquisition programmes. The DOD not only creates more costs by failing to incorporate trade secrets and technical data into its agreements, but also risks failing to update its equipment to the standard it needs to be at. Another problem is that if the DOD does not have a well-thought out, consistent and sensible approach to acquiring IP data then it could ruin the chances of doing business with technology companies, which are likely to jump ship if their IP is at risk.
While the IP cadre has been framed as a way to protect against Chinese theft of IP, this seems to more about upholding the administration's ongoing narrative around China rather than providing a complete picture of why reform is so desperately needed. There is no doubt that there is a risk from China, but in this case, what is more important is the modernisation of weapons systems and the ability to do so at a reasonable cost. As data becomes more important so do trade secrets, and for the DOD these are highly desirable and valuable rights.
Against the backdrop of escalating trade tensions and technology tussles, Asia's elite IP owners, and their North American and European counterparts, will gather in Tokyo between October 28-30 for IPBC Asia 2019. Want to be part of the discussion? Book your place here.
Copyright © Law Business ResearchCompany Number: 03281866 VAT: GB 160 7529 10