To educate lawyers who change the world, we cannot let this crisis go to waste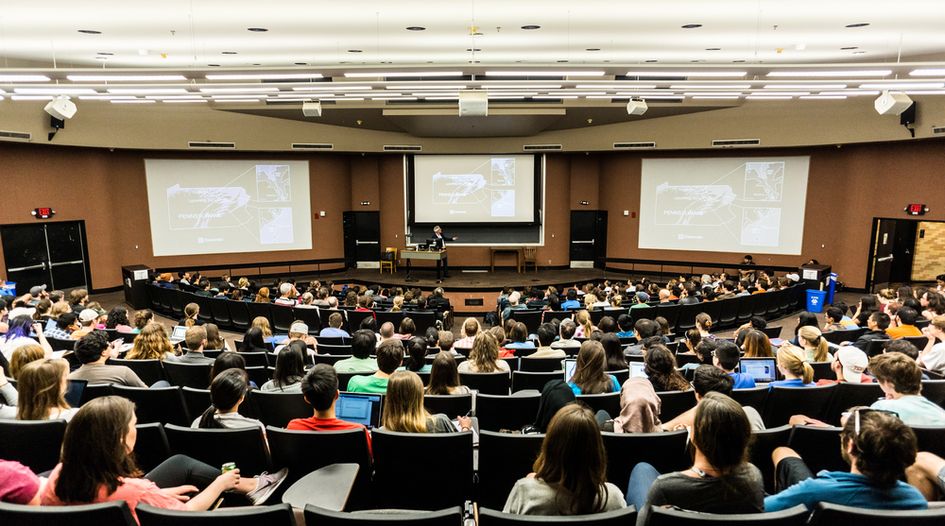 At the start of the year, I wrote here that legal education in the United States needs to change.  The system we use to train people has not kept up with either changing marketplace demands or developments in technology.  Institutions of higher education have failed to adapt sufficiently and have missed out on opportunities to provide the kind of education that will benefit both students of law and the legal services profession. 
Ten months later, that change has become not just possible, but imperative. 
This is particularly relevant in an area like IP, which is fraught with uncertainty but is central to some of the most important global challenges we face.  The current global pandemic makes apparent the vital role that lawyers play in civil society, particularly in times of chaos and disruption.  As the legal framework surrounding human creativity, intellectual property is relevant across industries, and provides the foundation for innovation and invention. 
Transactions in IP are the system of movement for innovation around the world.  Solutions to problems from climate change to public health are based in innovation.  Issues at the intersection of data and privacy are critical in the digital age. And IP can help carve a path through the current crisis, whether working to support vaccine development, on the front lines at the World Health Organisation, developing online learning technologies, or helping to make public health policy. 
Law schools must graduate students who are trained not just to think like lawyers, but to be lawyers.  Specialised education in intellectual property and information law can address market deficiencies.  While years ago law firms spent the first few years training—and losing money on—new associates, changing financial realities for the legal services industry means that law firms now need to hire associates who are prepared to hit the ground running.  But to be successful at that legal education should not look the way it has for the last 150 years. 
In March, in response to the global pandemic, all law schools in the United States pivoted to remote instruction.  Institutions of higher education are mixed in their approach to instruction this fall; some law schools are bringing students back face-to-face, other schools are wholly online, and most are employing a hybrid model of both in-person and remote instruction. Everyone is anxious to get back to "normal," whatever that looks like. 
We have a real opportunity, however, to create a new normal in professional graduate education—one that is good for students, for employers, and for the institution of higher education as a whole.  The new normal should be focused on hybrid online instruction.  Law schools should move away from a focus on college campuses and be thoughtful and intentional about how and when they get students together.  And legal education should be increasingly global.  This sounds like a radical proposition, but it is not.
One of my key messages is that we should be thoughtful and intentional about when and where we get students together for in-person instruction.
Many college campuses were established during the latter part of the 19th century in the context of anti-urbanist sentiment.  In an historical account of the American college, historian Louis Dunn extoled the virtues of the college campus as a thing separate from cities and commerce:  "Colleges located in quiet rural towns do accomplish more work and better work . . . large cities, business centres, places where the people congregate . . . should never be chosen" as a location for an institution of higher education.  Colleges were established deliberately in rural settings outside cities.  Like a monastery or a convent, college campuses were designed with the intention of separating students from everyday life so they could be immersed in the educational experience. 
In legal education this idea is misdirected.  The legal services industry needs lawyers that are grounded in the practical realities of the profession, who know what it is to be immersed in environments that help develop a sense of perspective not untethered from reality. This is especially true in the area of intellectual property.  Learning takes place best when students are not isolated from the world, but when they are engaging with it. 
In January, the University of New Hampshire Franklin Pierce School of Law took a group of students to Silicon Valley for an IP Strategies class taught by then-Microsoft Chief Patent Counsel Micky Minhas.  The class featured instruction by IP leads at companies with differing business models, including Apple, Dolby, Fox Entertainment, Google, Intel, Lenovo, Samsung, ServiceNow, Uber, Via Licensing and the USPTO.  After learning basic IP concepts through online instruction, students were able to get together in person and learn first-hand how the business models of various companies impact IP strategy and decision-making in a way that a textbook simply does not. 
Utilising online learning thoughtfully for classroom discussion, and incorporating in-person instruction that is thoughtful and strategic, enriches the learning experience and enables greater access to legal education for working professionals from diverse backgrounds.  The practice of IP benefits from a multidisciplinary approach.  It is well-established that groups of people are better problem solvers when the individuals bring varying perspectives to those groups.  Keeping legal education isolated on a campus keeps legal education away from the many professionals who would bring something valuable to the practice of law.  
As we return to normal, we should create a new normal.
In the last few years, the media has been filled with reports of a crisis in higher education in the US. Colleges are too expensive.  Colleges have increased the number of amenities they offer in an attempt to recruit more students. Students no longer want to be isolated from the "real world" for their educational experience, and universities have responded by expanding their facilities to accommodate those interests.  Universities regularly offer dozens of dining options, recreation and wellness centers, technology labs, and living and learning communities.
In a list of the top 10 campus amenities, Thrillist describes an on-campus ski resort, a lazy river and beach club, free laptops, and lobster dinners.  And yet, college tuition and student-loan debt are more expensive than ever.  From the 1980s to 2018, the cost of an undergraduate education increased 213% at public schools and 129% at private schools, and the average student debt per graduate is higher than ever.  Campuses that were originally designed to separate students from the world to focus on studies are now recreating the world inside their own campuses, which is both illogical and unsustainable financially.
Law schools should lead the charge to incorporate a hybrid model of online learning with thoughtful immersive experiences in-person.  
The average cost of attending law school is over $43,000 per year - and at the top-10 law schools, over $60,000 per year.  Importantly, in contrast to the majority of graduates of medical degrees and doctoral programmes, less than a quarter of law school graduates strongly agree that their education was worth the cost. Only 20% said that their law school experience prepared them well for life after law school; this is less than any other graduate programme in the survey, including Master of Arts, Master of Sciences, an MBA, Medical School, and Doctoral programmes.
Before law schools, aspiring attorneys would train under a lawyer or barrister; in order to become a lawyer one had to work in a law office under the supervision of a practising attorney.  It wasn't until the turn of the 19th century that universities started offering courses in law as an alternative to an apprenticeship.  The American Bar Association campaigned for years to establish what has become the norm, where law school is a requirement and bar exams are a regular part of licensure. 
The pendulum has swung far from apprenticeship for 150 years.  The dean of Harvard Law commented in the 19th century that "what qualifies a person to teach law is not experience in the work of a lawyer's office, not experience in dealing with men, not experience in the trial or argument of cases, not experience, in short, in using law, but experience in learning law," and the president of Harvard predicted correctly that over time, more law professors would be those "who had never been on the bench or at the bar."  From the beginning of university-based legal education, law schools de-emphasised experiential education.  Experiential education was not typically required in law schools at all until 2010. 
Beginning with the Carnegie and McCrate reports, law schools began to internalise the understanding that students do not only need to learn to think like lawyers, but also to be lawyers. The market needs now demand that law school graduates have an education that enables them to hit the ground running. 
The pandemic has shown us that online learning can be just as engaging, and at times more engaging, than face-to-face instruction.  The Hybrid JD in Intellectual Property, Technology, and Information Law at the University of New Hampshire Franklin Pierce School of Law is mostly online and has students from coast to coast.  Students living thousands of miles apart from one another are together in a virtual classroom, and then they get together in-person four times per year for intensive immersion learning sessions. 
Like the IP Strategies class in Silicon Valley, occasional and intentional in-person education can provide a learning experience that does the opposite of what a college campus was intended to do; it can engage students in their environment in a way that enables them uniquely to apply what they are learning in a real-world setting. Learning takes place best when students are not isolated from the world, but when they are engaging with it. 
IP and innovation will play a significant role in the grand challenges we face around the world—from economies in transition, to climate change, to public health, to data and privacy. We need a transformation of traditional legal education that transcends borders and recognises the increasing interdisciplinarity of IP.  The most successful legal professionals will not only be able to understand the concepts of IP, but how they intersect from multiple sides on a global scale.  Successful lawyers will understand the importance of a holistic approach to new challenges as they arise across industries, from automotive, to 5G, to video codec licensing. 
As lawyers we must ourselves learn, and to teach students, in ways that focus on interconnection, because the challenges and the opportunities now lie in those intersections. Immersive educational experiences in combination with online learning can usher in a new era of global legal education.  In order to educate lawyers that change the world, we cannot let this crisis go to waste.
A legal education that is global and accessible for diverse populations, that incorporates online learning with intentional and thoughtful in-person experiences, is the way to train lawyers of the future.  And the future is now. 
Copyright © Law Business ResearchCompany Number: 03281866 VAT: GB 160 7529 10