Key takeaways from IAM's 2020 Pharma and Biotech IP event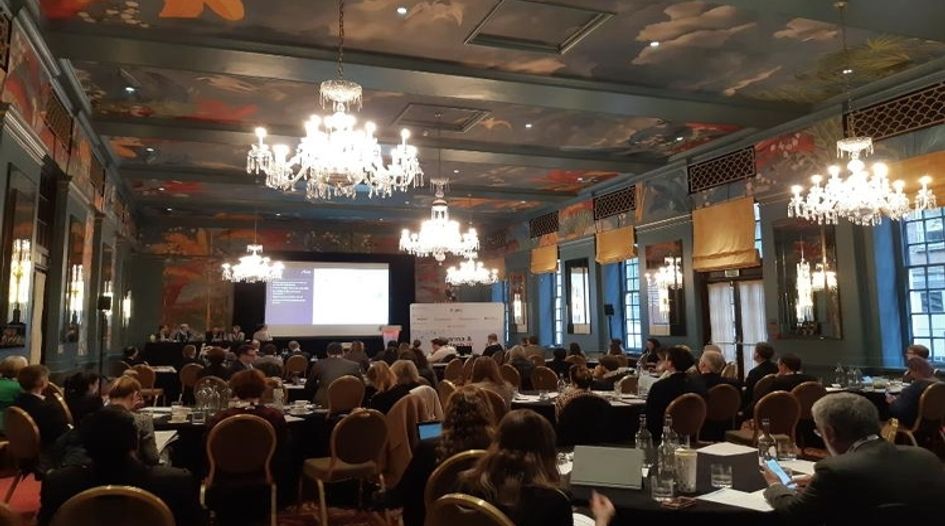 Last week, leading life sciences IP professionals from around the world gathered at The Bloomsbury in London for IAM's fourth annual Pharma and Biotech IP event. Corporate counsel from a diverse range of pharma and biotech companies were joined by leading private practitioners and academics to share insights in to the legal, political and technological developments that are reshaping patent strategies in the sector. Here are a few of the key takeaways from the event:
The UK still on course to be part of the Unified Patent Court – Keynote speaker Sir Robin Jacob, chairman of the UPC Advisory Committee, stated that the efforts to establish the Europe-wide patent court are remain very much alive. Other European countries and the British government still want the UK to be part of the court, Sir Robin said, and he announced that he was due to attend an advisory meeting in The Hague on Thursday 30th January. If the former Court of Appeal judge is right, it appears that the main impediment to the establishment of the court now is the constitutional challenge to German ratification of the UPC Agreement. A decision by the German Federal Constitutional Court is expected within the next couple of months.
Growing anti-pharma patent sentiment – A major focus of Sir Robin Jacobs's keynote speech was the danger he believes is posed by increasing hostility to pharmaceutical and biotech IP rights around the world. He described this as a form of populism arising from a lack of interest in the evidence regarding the impact of patents on innovation and access to medicine. Only 3% of medicines on the World Health Organisation's designated essential medicines list are currently protected by patents, he said, while many life-saving innovations would not be commercially viable without patent protection. Sir Robin called on life sciences companies to communicate their innovative achievements and the value of intellectual property more effectively.
Relationships are at the heart of IP dealmaking – One of the highlights of the day was a discussion by experienced in-house dealmakers, and led by Finnegan's Jennifer Roscetti, on how to maximise opportunities for pharma IP monetisation. Many of the key points made by the panellists revolved around the key relationships involved in IP dealmaking:
The relationship between the companies: Maria Nichol, Galapagos' VP of IP, spoke about her company's long history of dealmaking, in particular its recent sui generis $5.1 billion licensing agreement with Gilead. This was the result of previous agreements with Gilead which helped establish a close working relationship and understanding between the two companies. F-Star Biotechnology's Alison McGhee made a similar point about a recent deal her company had done with Denali, which she said was helped by the fact that the two teams got along and worked well together in the initial phases of the potential collaboration.
The relationship with your own business development colleagues: Panellists agreed that it is also important for IP professionals to have the right kind of relationship with their colleagues who drive deals. While BD professionals are very keen to reach agreements, said Marion Rees, VP of IP at Adiga Life Sciences, they sometimes neglect the longer-term perspective (including on IP matters), which the in-house patent lawyer must stand up for. Nichols echoed this, stating that IP counsel must wear two hats: joining business colleagues in seeking an acceptable compromise, while on the other hand making sure that IP is managed properly in any agreement. McGhee also stressed the importance of pro-actively seeking to maintain relationships with business development teams to make sure that the IP counsel is included in licensing negotiations from the very beginning. Until recently, she reported to the company's chief business officer, helping her to build these links.
The relationship with IP counterparts: Rees noted that it is also important to stay in direct contact with the IP team in companies with which you are collaborating. This helps to avoid future misunderstandings or disagreements concerning IP, and to maintain the goodwill and trust needed for long term success in partnerships.
Procedure is king in patent litigation – Merck Sharp and Dohme's assistant managing counsel James Horgan gave a masterclass on international pharma patent litigation. "Procedure is king," was one of his key messages. "How you win a case in different countries will differ depending on the procedures in the jurisdiction," he stressed, so it is important to tailor tactics to a country's procedural landscape. Partly for this reason, Horgan advised managing counsel to visit and spend time with their lawyers in different jurisdictions at the beginning of a case. Another litigation challenge is to manage the flow of information, he said. The volume and urgency of requests that a managing litigation counsel receives makes responsiveness a key to success. It is also important, Horgan noted, to adapt your approach to new jurisprudence that very often comes out during the lifetime of a case. Given the impossibility of learning everything there is to know about patent litigation, his main advice to his younger self would be: "Take a breath."
AI and data set to transform innovation and IP strategies – "Pharma companies are in agreement that tech is the future of drug development," said BenevolentAI's VP of IP Gareth Jones in a panel session about the convergence of the life sciences and tech industries. "Collaborations between pharma and tech companies are becoming more frequent and more complex." As such, deals involving high-tech IP are increasingly involving players from the life sciences. The growth of AI use in drug discovery also raises fundamental patent law questions, panellists agreed, not only about whether AI can be an inventor, but whether AI's impact on concepts like obviousness and "skilled person in the art" will make it more difficult to patent inventions in the future. Data is also becoming a vital form of IP, Timo Minssen of the University of Copenhagen noted. He said that pharma companies are now sitting on a "treasure chest of data". They will increasingly need to ask strategic questions about how much to share and under what circumstances.
Need to avoid IP pitfalls associated with research collaborations – There have been several recent examples of the IP dangers that can arise from the kind of research collaborations that are increasingly important to cutting-edge medical R&D. Most notably, the Dana-Farber Cancer Institute recently won a multi-billion dollar inventorship dispute with Ono Pharmaceuticals relating to patent rights for ground-breaking immuno-oncology discoveries. And the failure to list collaborator Luciano Marraffini on its PCT application for fundamental rights to CRISPR-Cas9 led the Broad Institute to lose a key EPO grant – a decision upheld in January. Against this background, panellists Ben Goodger of Aslan Pharmaceuticals, Fish & Richardson's Teresa Lavoie and Alvin Deng of Novozymes China were as one in saying that inventorship and IP issues should be agreed upon early in collaborations to avoid disputes later. Having thorough records relating to research partnerships is also important for small and medium biotechs, Lavoie stressed, because this is becoming an important part of the due diligence for investments and buyouts. She also urged caution in the light of recent US case law confirming that private sales of inventions qualify as prior art under the 'on-sale bar'.
Copyright © Law Business ResearchCompany Number: 03281866 VAT: GB 160 7529 10