Intellectual Ventures, Amex veterans to launch blockchain-powered IP trading platform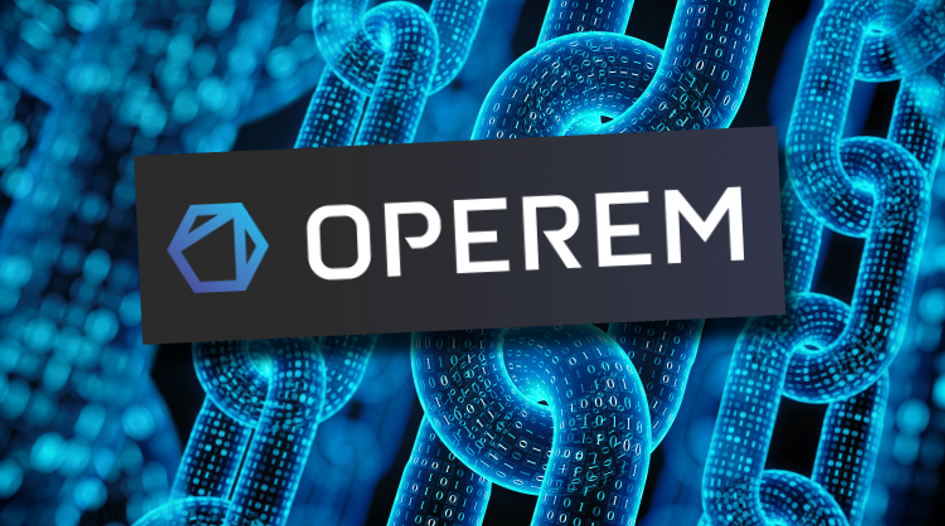 A group of executives with experience across patents and finance have launched a company called Operem, which will enable the tokenisation and trading of IP assets. Unveiling the new project exclusively to IAM, CEO Tim Londergan explained why his team believes the distributed ledger technology behind blockchain brings something radically new to the traditional IP exchange model.
The idea behind Operem has been in the works for over a year, he said. The company formally launched in January, and in April it closed a Series A funding round with ABAXX Technologies, a blockchain-focused investment fund. Operem will have offices in Seattle, Tokyo and Singapore.
Londergan, who spent eight years across several senior roles in Intellectual Ventures and more recently has been running a start-up incubator in Singapore, faces the challenge of building a business that combines two complex fields – IP and blockchain – which are often misunderstood by the uninitiated. But he thinks intellectual property, which Operem describes in a slide deck as "one of the last massively closed asset classes", is ripe for disruption.
The idea rests on the conversion of traditional patent rights into what Operem calls Patent Tokens. "These are basically digital contracts – the issuer defines what rights a token owner holds, and how many tokens there are," Londergan explains. The tokens are all individually tradeable and convertible to a licence or asset transfer. As transactions occur they get recorded, immutably, on the blockchain in such a way that any member of the exchange can view the full history.
Operem is betting that this set-up has key advantages over the current patent selling and licensing paradigms. The blockchain's transparency and security, it argues, will function to increase both sides' trust in a transaction and to provide easier price discovery for IP owners – a constant challenge in what's often a fragmented and opaque market.
Another key selling point is blockchain's potential to attract smart money to the IP market. "The fundamental shift between history and what we're doing here is you're allowing financial investors to come in," Londergan says. He contends Operem can give the finance community greater access to IP as an asset class – and if there's uptake, the influx of capital would make Operem's IP market much more liquid.
The start-up is in the process of assembling a group of charter members with which to formally launch the platform in the last quarter of 2018. The finer points of the exchange's architecture are still being hammered out through discussions with these firms, I am told. Londergan won't be drawn on what companies his team is talking with, but the group seems to be aiming for around 20 early adopters. Intriguingly, Operem is teasing the possibility that one of these initial partnerships could be a national IP office.
In terms of Operem's finance industry contacts, Londergan says there is not much need to evangelise: "They're exceptionally well versed in blockchain and crypto; we don't have to convince them about the value that token structure brings." In more traditional patent-owning industries, explaining the underlying technology can be more of a challenge, he concedes, but there is reportedly significant enthusiasm around it.
That is one reason why Asia may be an early proving ground for Operem. The region is home to a number of government-driven initiatives in blockchain that mean local corporates take the technology very seriously. "Japan is one of our focus markets in the early days", Londergan reveals. "It's arguably the most sophisticated crypto market in the world, so there's a significant level of comfort as you talk to anybody in the Japanese corporates."
Londergan's two co-founders are chief marketing officer Geoff Osler and CFO Jim Harmon. On the technology side, Operem has enlisted two former American Express executives, CTO Carlos Korten and Vice President,Technology Alka Lachhwani. Two former Tokyo-based executives from IV's Invention Development Fund, Nick Gibson and Nobuhito "Nobi" Koya, are also on board.
The group may have a great technology in the works, but how favourable are patent market conditions for the launch of a new exchange? Depressed patent valuations and a challenging licensing environment have dogged recent efforts to keep IP trading platforms up and running. Londergan cautions that the legal environment is always fluid, and could look very different in any given jurisdiction within a number of years. In addition, Operem's planned model of charging nominal transaction fees means that its own revenue should be somewhat insulated from underlying asset prices.
I also quizzed Londergan about the legal specifics of patent tokenisation. What precise legal rights does the possession of a Patent Token confer? He says Operem is working with charter members to work out some of the complexities involved. "We have to walk before we can run; we'll keep it simple in the early days," he states. One thing is clear: Operem will not own the assets listed on the exchange and will not have any right to enforce them itself.
The Operem platform certainly suggests novel tech-based solutions to some of the longstanding problems in both the patent licensing and sales markets. There will be plenty of patent owners intrigued by the idea, and hoping to see more specifics as Operem rolls out its exchange. In the meantime, the Operem team faces two very big tasks: convincing blockchain enthusiasts from the world of finance that patents can be a profitable asset class, and persuading in-house IP executives that the time is right for this technology to upend the way they make deals.
Copyright © Law Business ResearchCompany Number: 03281866 VAT: GB 160 7529 10