Deloitte makes major IP play with acquisition of top advisory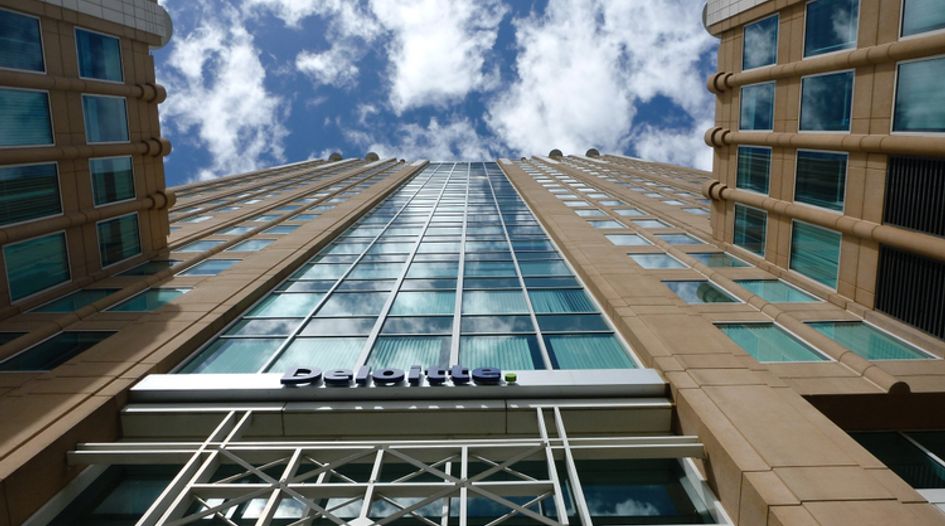 Big Four powerhouse Deloitte has made a major move into IP with the acquisition of UK-based ClearViewIP. The deal, which closed on Friday, will see ClearView CEO Jon Calvert become a Deloitte partner and the full operation absorbed into the Deloitte IP advisory services division. This is a significant expansion of the Deloitte IP offering, which currently includes well-known figures such as John Hudson in the US and Tim Heberden in Australia. Following Aon's big ticket arrival last year, today's news is also further proof that IP is becoming a mainstream business concern.
Talking exclusively to IAM about the deal, Deloitte's lead UK and EMEA valuation partner Andrew Robinson explained that the firm has seen growing interest in IP among its clients. "People are building new businesses around it, not only in tech and pharma, but in many other areas, too," he said. Many companies have realised that managing IP effectively is a good strategy for creating value for their various stakeholders, Robinson continued: "C-suite executives are asking more questions and becoming more focused and diligent around their IP investment. This leads to opportunities for advisers like us to help."
Calvert is a very well-known player in the global IP market, having founded ClearView in 2007. Prior to that, among other things, he held a number of positions at IBM spin-out Xyratex. These saw him heavily involved in M&A, managing OEM relationships, building the firm's patent portfolio from scratch and defending incoming licence requests prior to the company's 2004 IPO.
Since its launch, ClearView has built a strong reputation for its commercially focused, strategic IP work, its analytics capability and its transactions-related advice. Current and past clients have included the likes of the European Commission, high growth tech start-ups such as BenevolentAI, Swiftkey and Signal Media, and larger corporates, including Vodafone, Provenance and United Technologies. Among its staff are over 20 people with backgrounds in tech, IP and business – including eight PhDs and five MBAs, former corporate IP heads and other IP deal-makers. In short, Deloitte is making a significant investment.
"We have reached a point that justifies it," Robinson said. "A lot of the other services that Deloitte provides interact with IP. To provide specialist advice and to meet changing client requirements we need people with specialist expertise. That's how we will continue to make an impact with our clients."
What's more, Robinson stated, there is major buy-in to the deal across the Deloitte business. "Internally, the transaction has created considerable interest. Our people recognise the importance of IP and also recognise the need to build out our capability," he explained. Calvert and his team, Robinson continued, will help Deloitte to get deeper, more specialist and more capable. "There is an excitement about this. When we took the idea to our executive team, they quickly agreed it is a great opportunity to develop our business."
But this is not a move designed only to service Deloitte's current customer-base, Robinson emphasised. Instead, it is one that will open-up further revenue streams. "We see this as something that will also attract new clients to Deloitte. They might be investors or early stage businesses that have not previously regarded us as a differentiating and justifiable option," he explained. "We do not want to be viewed just as a service provider to the big players. We want to be involved with companies from the very beginning of their journeys and this will give us more opportunities to do that."
For the IP market, the acquisition is a considerable boost. You can be sure that if Deloitte – which is the largest of the Big Four with an income of $43.2 billion last year – is significantly building its capability, then other major business consultancies and advisories will be looking to do the same. With Aon's involvement in the space, too - and also banks such as Houlihan Lokey and Hilco now getting active - it is clear that the idea of IP as a central, value-creating asset is gaining ground.
What's more the level at which the likes of Deloitte operate within the business world means that more and more C-suites and investors will be exposed to ideas centred on the importance of effective IP management. There will be significant opportunities for everyone in that – though it may mean that many of those currently running small, independent, strategic IP-based operations will have to think seriously about scale; something that may lead to an accelerated period of market consolidation.
But we should not run ahead of ourselves. Deloitte, Aon and others have bought into the idea of IP as an asset. Now the job is to turn undoubted potential into actual dollars and cents. Let the fun begin!
Copyright © Law Business ResearchCompany Number: 03281866 VAT: GB 160 7529 10