China introduces legislation to create a national IP appeals court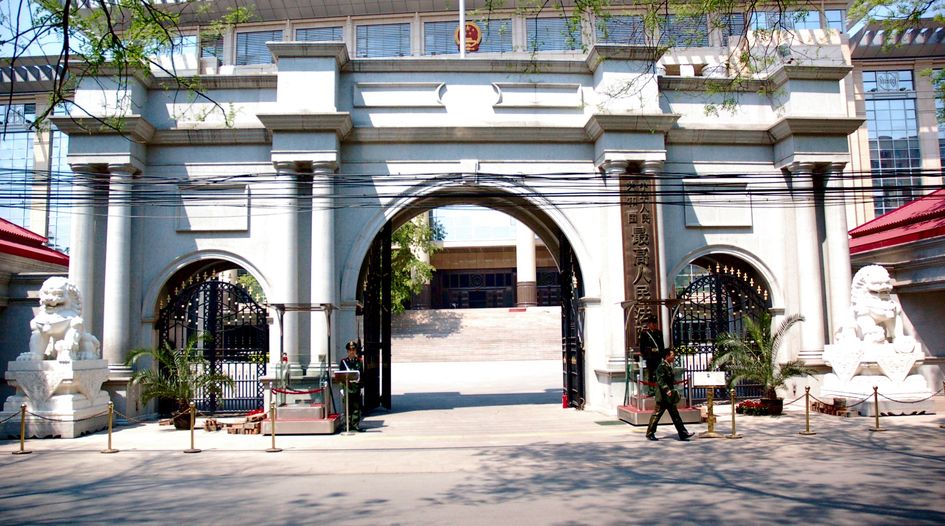 China's National People's Congress is considering legislation that would create an Intellectual Property Tribunal within the Supreme People's Court (SPC) to serve as a national IP appellate court. The move would authorise a centralised body in Beijing – situated within the nation's top court – to hear appeals from both civil and administrative cases from all over China.
Last night, Xinhua News reported that the Standing Committee of the National People's Congress – China's top lawmaking body – is reviewing a draft proposal that paves the way for the Supreme People's Court to hear appeals from patent and other technology-adjacent IP rights judgments made by specialised IP courts in Beijing, Shanghai and Guangzhou, as well as other intermediate-level courts. Currently, these cases are heard at the higher people's court level in the jurisdiction in which the first instance case takes place.
According to the draft, the new body within the SPC will hear appeals from both civil and administrative matters in the following areas:
Civil first instance decisions made by specialist IP courts and intermediate courts in invention and utility model patent infringement, new plant species, integrated circuit design, trade secret, software and anti-trust cases. Currently, these are appealed to higher people's courts at the provincial level.
Decisions of the Beijing IP court in administrative matters relating to patents, new plant species, integrated circuit designs, trade secrets, software and antitrust, including appeals against Patent Re-examination Board (PRB) and patent office decisions.
 
Establishing a national IP appeals court has been a frequent topic of discussion in China since the opening of specialised IP courts in 2014. In May 2017, a Chinese academic said publicly that the SPC had already decided to recommend the creation of a body "similar to the US Court of Appeals for the Federal Circuit".
"The SPC will have a national appeal court for complex civil and administrative patent cases," said SPC Chief Justice Zhou Qiang, addressing the session of the National People's Congress Standing Committee yesterday. He further stated that handing civil and administrative patent appeals to the SPC IP Tribunal will unify validity and infringement adjudications, improve case efficiency and quality, and improve judicial protection of IP.
Zhou also said the changes to the appeals process are aimed at improving the legal environment for technological innovation, providing equal IP protection for domestic and international enterprises, and forming a convenient and international business environment.

While many observers predicted the creation of a national appellate IP court in China, it may come as a surprise that the forum is being created within the SPC itself. Given the huge volume of patent cases in the country, it is going to be a busy forum, requiring a lot of experienced IP judges. We'll be looking for more details on how all this will be implemented when the legislation gains approval.
The creation of what looks to be the Chinese version of the CAFC will no doubt be a major discussion point at this year's IPBC Asia, taking place in Shanghai from 2nd to 4th December.
Copyright © Law Business ResearchCompany Number: 03281866 VAT: GB 160 7529 10