Netherlands: patent prosecution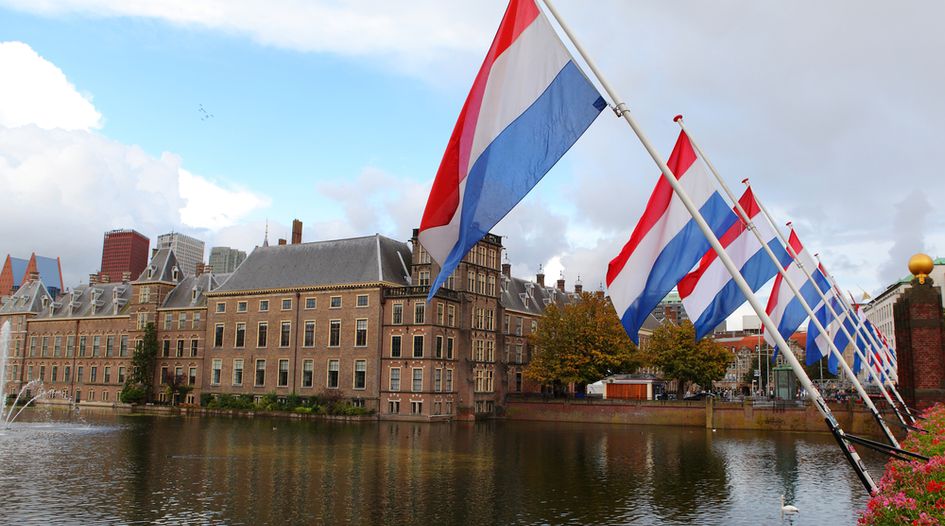 This is an Insight article, written by a selected partner as part of IAM's co-published content. Read more on Insight
How do you get a patent in your jurisdiction?
Q: What types of patent are granted in your jurisdiction, and what rights do they confer on owners?
National Dutch and European patents are governed by the Dutch Patent Act 1995. The act and the courts have sought to harmonise Dutch patent practice with the European Patent Convention (EPC).
Dutch national patents are automatically granted through a registration system, without undergoing substantive examination.
There are generally two ways to obtain patent protection in the Netherlands:
by filing a national patent application with the Dutch Patent Office (DPO); or
by validating a patent granted by the European Patent Office (EPO) in the Netherlands.
Either is a utility patent, with a term of 20 years from the filing date. There are no utility models or petty patents available in the Netherlands.
Rights of the patentee are defined in Articles 53 and 73 of the Patent Act and include direct infringement, both literal or by way of equivalence, as well as indirect or contributory infringement.
The act principally defines two types of infringement. Exclusive rights include, in or for their business:
to manufacture, use, place in circulation, sell, rent out, deliver or otherwise trade in a patented product or for any of the aforementioned purposes in the Netherlands or Netherlands Antilles (Curaçao, St Maarten, Saba, St Eustatius and Bonaire, but not Aruba) to offer, import or stock the patented product; and
to apply a patented process or to use, put into circulation, sell, rent out, deliver or otherwise trade in the product obtained directly by the application of that process or to offer, import or stock such product for any of the aforementioned purposes in the Netherlands or Netherlands Antilles.
In the case of indirect or contributory infringement, a patentee may institute the claims against any person who offers means relating to an essential element of the invention for the application of the patented invention in the Netherlands or Netherlands Antilles.
In addition, a patent owner may claim reasonable compensation from any person for acts referred to above during the period between publication and grant of a patent.
Q: What inventions are eligible for patent protection in your jurisdiction?
Dutch patent law is closely harmonised with the EPC and it follows the same eligibility requirements. Patentable inventions are to be granted for any inventions, in all fields of technology, provided that they meet three conditions – they must:
be novel;
involve an inventive step; and
be capable of industrial application.
In addition, the invention must be sufficiently disclosed and described clearly in the patent.
Q: Are there any specific exemptions to patent eligibility?
In line with the EPC, certain subjects are not considered inventions under the Patent Act, including:
discoveries, scientific theories or mathematical methods;
aesthetic creations;
schemes, rules or methods for performing mental acts, games or business methods, or computer programs as such; and
presentations of information.
Q: Are there technology-specific eligibility issues that applicants must navigate (eg, in software, business methods, AI, medical diagnostics, pharmaceuticals, medical procedures, etc)?
The Patent Act also excludes inventions from patentability, including:
the human body in the various stages of development;
the discovery of parts of it that include sequences or partial sequences of the genome, plants and animal races;
predominantly biological methods; and
methods for the treatment, diagnosis or therapy of the human or animal body.
Further, the act defines certain methods as being contrary to public policy and morale as not being subject to patents. Further excluded from patentability are inventions infringing on the Convention of Biological Diversity of Rio de Janeiro.
The above exceptions are usually interpreted narrowly, allowing substances or compositions for use in any treatment of the human or animal body by surgery, therapy or diagnostic methods practised thereon to be patented as first or further medical uses. Medical diagnostic methods can be patented if they are performed ex vivo. The restrictions also apply only so far as they concern the subjects or methods as such. This means that, for example, a computer program can be patented if it is used in an otherwise eligible product or method invention.
Q: What are the time and costs involved in securing a granted patent? Is expedited examination available? Are reduced fees available for certain applicants?
If more than acquiring a filing date is desired, Dutch national patents require:
an official €80 digital filing fee; and
a €100 search fee for a 'national type' search or a €794 fee for an 'international type' search (the latter executed by the EPO).
An international search entitles a partial or full refund of the search fee for a subsequent European or Patent Cooperation Treaty application. There are no claim, page or grant fees, while annuities start on the fourth year (and only after grant) at a modest €40, and increase by €60 to €100 per year until expiry. A Dutch national patent may, therefore, over its entire lifespan, incur official costs as low as €15,000.
For validation of European patents, costs involve translations, a €25 official fee and annuities as above.
The filing fee must be paid at filing, whereas the search fee may be paid within 13 months of the earlier of the priority date or the filing date. After 18 months, the application or the already granted patent will be published in the patent register.
Publication and grant can be expedited on written request of the applicant after receipt of the search report. Patents granted within six to seven months of filing are not unusual.
Q: What are any specific requirements that a patent specification must meet in your jurisdiction?
Description and claims can initially be filed in any language, but to be eligible for grant, the specification must be translated into English or Dutch, and Dutch-language claims must be submitted within three months of filing.
Q: What rules govern the filing of provisional applications, continuations or continuations-in-part, divisionals or any other special type of application?
There are no provisional applications. However, Dutch patent applications may be filed without paying official fees, receiving a filing date if meeting minimal formal requirements. Official copies of such priority filings are available on request, and the DPO is also party to the Digital Access Service (DAS) of the WIPO, permitting applicants to request and use DAS codes.
If multiple inventions have been identified in the search report, only the first invention stated in the claims will be subject to patent protection. Unlike in, for example proceedings before the EPO, it is not possible to pay further search fees. The applicant may file divisional applications, based on the parent application and enjoying priority and filing dates thereof, taking care not to add subject matter going beyond the content of the originally filed application. Divisional applications are considered independent applications, requiring a separate search report. Those applications must be filed prior to publication of the granted parent application, but an applicant always has the opportunity to file within two months of issuance of the search report. Applicants are also afforded an opportunity to amend a patent application in this period. The two-month period after issuance of the search report may be extended by a further two months on request.
Q: What do applicants need to know about office actions and patent examiner interviews?
The only office actions issued will concern formal matters; there is no examination on the merits.
Q: Are there any recent examination trends that patent applicants need to be aware of?
This is not applicable in the absence of a substantive examination process.
Q: Is there anything else about the patent filing process that applicants should know?
Search results for priority founding applications are usually available within five to nine months. It is recommended to pay the search fee at filing to ensure that the search report will be available well before the end of the priority period.
For European patents to come into force in the Netherlands, validation is required within three months of grant. Dutch-language claims must be filed and, if German or French is the language of the proceedings at the EPO, specification translations into Dutch or English should be filed. Care should be taken to re-validate limited claims or those maintained in amended form, as the amended or limited European patent will otherwise lapse.
Q: Is utility model or petty patent protection or an equivalent available in your jurisdiction? If so, how does the system work and under what circumstances would you advise using it?
There are no utility models or petty patents available in the Netherlands.
Q: Under what circumstances would you advise a national prosecution to secure protection in your jurisdiction rather than going down the EPO route?
Applying for and maintaining a Dutch national patent is cost and time-efficient and provides an excellent basis for a subsequent international application owing to the high quality and refundability of the search fee when using the EPO as a searching authority in a subsequent filing.
Dutch patents are automatically granted through a registration system. This system offers a fast and convenient procedure at comparatively low cost. Even though merits of a patent will ultimately be tested at court, a valid patent will afford the same protection as European patents within the Netherlands.
Dutch national patents cover not only the European part of the Netherlands, but also include the Caribbean islands of Curaçao, St Maarten, Saba, St Eustatius and Bonaire. These jurisdictions are not available under a European patent validated in the Netherlands.
What are the major administrative procedures in your jurisdiction?
Q: How can applicants appeal patent office decision?
There are relatively few administrative procedures available in the absence of substantive examination.
Office actions are usually issued only with respect to formal aspects of an application.
Patent office decisions regarding formal objections or concerning reinstatement can be first addressed directly at the DPO, and, if needed, DPO decisions can be appealed at an administrative court of law at The Hague.
Q: Are oppositions available pre-grant or post-grant? What rules govern standing to oppose a patent and the opposition process?
Pre-grant or post-grant oppositions are not available. Patent revocation requires a procedure on the merits at the District Court of The Hague. Dutch and EPO patents in the Netherlands can be partially or completely revoked within the same procedure, requiring no bifurcation.
Q: What are the processes for re-examination of a patent?
Re-examination of a patent is not applicable in the Netherlands; courts have the exclusive jurisdiction of assessing (partial) validity or a patent.
Q: What is the process for invalidation or revocation of a patent? Who has standing to request invalidation? How long do inter partes invalidation cases take?
Patent-related proceedings (both interim and on the merits) are under the exclusive jurisdiction of the courts of The Hague. Cases in the first instance are heard by the District Court and appeals by the Court of Appeal of The Hague. Both courts have a specialist patent division, consisting of experienced judges, some with technical training.
Besides patent proceedings on the merits relating to infringement or invalidity, it is also possible to request declarations of non-infringement, compulsory licences, challenges of patent ownership and declaratory judgments that a certain product was already known in the prior art (known as 'Arrow declarations'). This offers the opportunity of early certainty about the infringing nature of its own product before entering the market, even before patent grant.
Before starting infringement proceedings, the exchange of warning letters is advised to avoid the consequences of cost orders or damages compensation.
Dutch law provides no mandatory procedural steps before claiming invalidity of a European patent. However, it is different for Dutch national patents, where a party prior to wishing to submit a claim for invalidity must obtain a patentability (nullity) opinion from the DPO. This opinion must be submitted together with the writ of summons in invalidity proceedings, or during a response in the case of a counterclaim.
The requesting party and patentee are allowed to comment in the advice procedure at the DPO. A patentee is afforded at least one opportunity to respond and may furthermore amend its claims. Once the written procedure and optional oral proceedings for the opinion have been completed, the DPO issues an opinion.
Standing
In principle, while any party may request a revocation, the courts may deny standing to parties that cannot show a relation to or adverse effect by the patent rights. While not being fully crystallised in case law, the Dutch courts generally favour parties identifying themselves.
Interim injunction proceedings
In the Netherlands, inter partes interim injunction proceedings are often used in the case of urgent patent enforcement. Decisions are given fairly quickly, while still allowing for a thorough assessment of the case. Such proceedings generally last one to three months. In exceptionally urgent cases, decisions may be rendered in the course of weeks or, highly exceptionally, in days.
Although decisions are temporary, as proceedings on the merits must follow within six months, the assessment is usually thorough. If a serious, non-negligible chance exists that a patent would be found invalid or not infringed, provisional measures will usually be denied.
Q: How can opposition, re-examination or invalidation decisions be appealed?
Once a judgment is rendered, decisions can be appealed at the Court of Appeal in The Hague, where the case can be reviewed in full. Once a decision has been rendered, both parties can request the case to be reviewed again by the Dutch Supreme Court, where only matters of law and legal reasoning will be assessed, not the underlying facts.
Q: Is administrative enforcement of patents possible?
Criminal court proceedings for grave cases of infringement could be initiated by the public prosecutor; however, in practice, patent infringement in the Netherlands is rarely dealt with in criminal proceedings.
Administrative enforcement of patents is available with the Dutch Customs Authority, which can and will monitor import and trade of infringing goods and can seize such goods on request.
Q: Does your jurisdiction grant patent-term extensions?
The only patent term extensions are supplementary patent certificates, which may be applied for concerning the active ingredients of pharmaceuticals or agrochemicals, enabling an extension of up to five years (or up to five-and-a-half years for paediatric pharmaceuticals) after the expiry date.
Q: Is there anything else about patent administrative procedures that patent owners and challengers should know?
Proceedings on the merit
In regular proceedings on the merits, parties may exchange several rounds of briefs, followed by a hearing, usually taking up to 20 months. A special fast-track procedure is available that forces parties to present arguments and evidence at the outset and limiting the number of exchanges. Judgments are often obtained within 14 months.
Patent infringement proceedings start with a writ of summons, setting out the claimant's position and relief requests. In response, a defendant can file a defence statement and may also enter a counterclaim within the same procedure, usually to the invalidity of the patent.
A patentee may amend the patent during litigation by submitting auxiliary requests during the proceedings, both in the first and second instance. This must be done early, as late filing will lead to refusal by the court. During appeal, a limitation conducted after exchange of the main court briefs will, in general, not be permitted.
Finally, a patentee may, unilaterally, relinquish its patent in whole or in part, by amending claims, by submitting a deed to that effect in the patent register. Such registrations cannot proceed without the consent of third parties who have registered rights, licences or claims in legal proceedings in that same patent register. For European patents, a patentee may also avail themselves of the limitation procedure at the EPO.
Relief, remedies and cost compensation
If the court finds for infringement, remedies may include injunctions, accounting for infringing products or processes, including:
a duty to provide information on the scope of the infringing acts;
recall and destruction of infringing products;
rectifications; and
compensation of damages or surrender of profits.
Relief will typically be granted notwithstanding appeal, but a winning party should be careful in enforcing, as it will be liable to bear the damage caused by measures revoked in appeal.
A successful party to a patent infringement action is entitled to recover reasonable and proportionate costs from the losing party. The law sets out indicative rates for patent litigation, whereby fees are capped at a maximum amount, depending on the complexity of a case.