United States: Patent litigation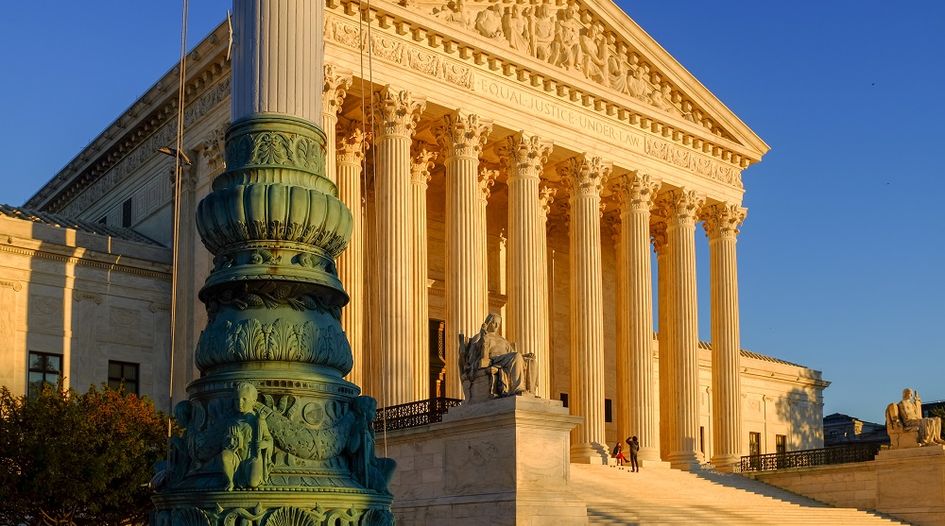 This is an Insight article, written by a selected partner as part of IAM's co-published content. Read more on Insight
Injunctions at a glance
| | |
| --- | --- |
| Preliminary injunctions – are they available, how can they be obtained? | Preliminary injunctions are available from federal district courts where monetary damages are inadequate to remedy infringement during case pendency. |
| Permanent injunctions – are they available, how can they be obtained? | Permanent injunctions are available in district courts in circumstances such as direct competitor cases where monetary damages are inadequate. An injunction-like exclusion order on importation is the only remedy in the International Trade Commission (ITC). |
| SEP injunctions – are they available, how can they be obtained? | SEP injunctions are theoretically available but are more difficult in view of SEP commitments. |
| Is payment of a security/deposit necessary to secure an injunction? | For preliminary injunctions. |
| What border measures are available to back up injunctions? | The ITC imposes exclusion orders for patent infringement, which are enforced by Customs. Both the patentee and the infringer can engage in ongoing exchanges with Customs regarding products covered by an exclusion order. |
Q: How can patent owners best enforce their rights in your jurisdiction?
US patents are litigated, often simultaneously, in multiple venues, including in federal district courts, before the ITC and at the PTAB. Successful enforcement requires extensive preparation to navigate these multiple venues and to prevent infringers from taking pre-emptive action at the PTAB to attack patent rights or in the district courts to obtain a venue in perceived infringer-friendly jurisdictions.
In some instances, it may be desirable for a patentee to return to the patent office for re-examination or supplemental examination to affirm the validity of patents over the prior art before filing a lawsuit. For high-stakes disputes involving technologies that are imported into the United States, the strongest available remedy is a fast-track action at the ITC to block the importation of infringing products.
Q: Are mediation and arbitration realistic alternatives to litigation?
Yes. A strong bench of experienced former judges and litigators are available to serve as arbitrators or mediators. Mediation is required during district court litigation.
Q: Who hears patent cases – for example, individual judges, a panel of judges, a mix of judges and technical experts, judges and juries?
This depends on the venue and the issue. At the PTAB, which only decides challenges to patent validity, all issues are heard by three-judge panels of administrative patent judges (APJs). These are typically experienced former private practitioners or patent examiners with a background in the relevant technology and patent law.
Cases at the ITC are handled by administrative law judges (ALJs) with the assistance of staff attorneys who play a quasi-advocate role. ALJs and staff attorneys are not patent specialists like APJs; however, they handle many high-stakes patent disputes and are well versed in patent law and technology.
District court litigation is conducted by generalist federal judges and is the only venue where juries make decisions in patent cases. Decision-making is split between judges and juries, with judges deciding issues of law such as claim construction, juries deciding issues of fact such as infringement and damages, and many issues such as invalidity that are a mix of fact and law. Typically, the parties are assisted by technical and damages experts.
Q: What level of expertise can litigants expect from courts?
PTAB and ITC judges have a high degree of sophistication when it comes to patent law and technology. Most district court judges have only a small percentage of their dockets dedicated to patent cases and, as such, are relatively inexperienced with patent law and have minimal training in science and technology.
A limited number of jurisdictions handle most district court patent cases and are more predictable than other jurisdictions.
Q: Are validity and infringement dealt with together in proceedings?
PTAB proceedings decide validity only and can be filed with or without a related infringement action. District court litigation and ITC cases decide both validity and infringement.
Q: Who may represent parties engaged in a dispute?
An attorney for a district court case must be admitted in the federal district court where the case is being heard. The PTAB requires attorneys appearing before it to be admitted to the USPTO, which in turn requires a suitable science or technology degree and to have passed a patent bar exam. Attorneys who are not admitted in a district court or to the USPTO may appear pro hac vice. ITC admission is available to qualified US attorneys.
Q: To what extent is forum selection possible in your jurisdiction?
Within the federal district court system, lawsuits can be filed in any district court venue where the accused infringer is either incorporated or has a "regular and established place of business". The latter phrase is the subject of many disputes but appears to require some employees and a brick-and-mortar presence. Even if the venue is proper, the accused infringer may still seek to move the case to another jurisdiction based on factors such as the location of witnesses and other related cases.
Accused infringers often try to secure their favoured venue by filing declaratory judgment actions. It is also common for accused infringers to file a validity challenge in the PTAB, which is considered more welcoming of invalidity arguments than district courts.
Timing is often key to whether a PTAB challenge will be effective or will even be heard. Some district courts will not stay their cases if a PTAB challenge does not shortly follow an accusation of infringement, and the PTAB may also decline to hear cases that are running well behind parallel infringement proceedings
Because ITC proceedings are procedurally intensive and operate on a fast-track basis, district court cases are stayed while the ITC case is resolved. Although PTAB cases are not typically denied for parallel ITC cases, an ITC complainant (ie, the patent owner) can often obtain a favourable ITC decision prior to the resolution of the accused infringer's PTAB validity challenge.
Q: To what extent is pretrial discovery permitted?
Pretrial discovery is freely allowed and is generally burdensome in both district court and ITC proceedings. The strict timetables of ITC cases significantly increase the net discovery burden in the ITC. Discovery rules require disclosure of even highly confidential information, although critical technical data (eg, schematics, source code and clinical data) are often available only in protected environments. District courts and the ITC employ protective orders to allow for the free exchange of information between the attorneys acting for the litigants.
Discovery in the PTAB is limited, with document discovery allowed only under special circumstances.
Q: To what extent is evidence written and oral at proceedings?
District court and ITC cases typically conduct full trials with live witnesses, often taking a week or more. There are also extensive opportunities for pretrial decisions at summary judgment (district court) or summary determination (ITC), typically based on documents uncovered during discovery and deposition testimony.
PTAB cases are decided almost entirely on the papers. Witnesses appear only on rare occasions, and the PTAB 'trial' is a brief oral argument by the attorneys.
Q: What role, if any, can expert witnesses play?
Expert witnesses are critical to patent cases on all issues of fact, such as infringement, invalidity and damages, and their fees are a substantial expense of patent litigation.
Q: Is the doctrine of equivalents applied by courts in your jurisdiction and, if so, what form does it take?
The doctrine of equivalents is applied sparingly owing to limiting doctrines such as prosecution history estoppel.
Q: Are there problems in enforcing certain types of patent relating to, for example, biotechnology, business methods or software?
Under the Mayo/Alice framework, many issued patents are subject to challenge owing to them not being directed to "patentable subject matter". Issues often arise for patents that automate business processes, software patents and medical diagnostic patents. The outcomes of patentable subject-matter challenges are often unpredictable, and some venues tend to be more pro-patent or anti-patent when applying this framework.
Q: To what extent are courts obliged to consider previous cases that have covered issues similar to those pertaining to a dispute?
In general, courts and other tribunals are required to apply only final rulings from previous cases between the same parties and involve the same issues as the current proceedings. Nonetheless, prior rulings are often persuasive, even if they are not binding on a party.
Q: To what extent are courts willing to consider the way in which the same or similar cases have been dealt with in other jurisdictions? Are decisions from some jurisdictions more persuasive than those from others?
The various types of US patent tribunals – district courts, the ITC and the PTAB – are not bound by rulings from others of those bodies unless affirmed on appeal. Rulings from foreign jurisdictions typically have little persuasive value unless the issues under consideration are virtually identical.
Q: What realistic options are available to defendants seeking to delay a case? How might a plaintiff counter these?
Defendants will typically file a declaratory judgment action for non-infringement in a perceived favourable district court venue and then promptly file a challenge to the patents in the PTAB. This often affords a stay of any infringement litigation while the PTAB adjudicates invalidity over approximately 18 months. Other options include other challenges at the USPTO, such as petitions for ex parte re-examination.
Q: Under what circumstances, if any, will a court consider granting a preliminary injunction? How often does this happen?
Preliminary injunctions are relatively rare because the patentee must show not only that there is a strong likelihood of success on the merits, but also that the infringement cannot be remedied by money damages. A preliminary injunction outside of a direct competitor environment is extremely rare.
Q: What is the realistic timescale to get a decision at first instance from the initiation of proceedings?
The ITC and PTAB operate on an approximately 18-month timetable to reach a decision at the first instance, while district courts range from 18 to 36 months.
Q: How much should a litigant budget for in order to take a case through to a decision at first instance?
A litigant should budget as follows:
for each patent at the PTAB – $250,000 to $750,000;
for typical district court litigation – $2.5 million to $5 million; and
for a typical ITC case – $3.5 million to $7.5 million.
Q: To what extent are the winning party's costs recoverable from the losing party?
While costs are freely granted to the prevailing party, these only cover relatively small ministerial amounts. Attorney's and expert fees are the main cost of litigation and are granted only in egregious cases involving particularly weak claims or defences, or improper litigation conduct.
Q: What remedies are available to a successful plaintiff?
In the ITC, the only remedy is an exclusion order prohibiting the importation of certain products (a limited exclusion order) or classes of products (a general exclusion order) into the United States. This remedy is almost always granted to a successful patent owner, although enforcement at Customs can be complicated.
In the PTAB, a successful patent owner maintains its patents.
Damages are awarded in district courts for up to six years of past infringement (from the date that the complaint was filed), provided that the infringer was on notice of the patent. Damages can be enhanced up to three times the amount of the underlying damages award if the infringement is wilful – with knowledge or a wanton disregard of the infringement. District courts are permitted to grant permanent injunctions, but these are difficult to obtain under the governing eBay standard.
Q: How are damages awards calculated?
Damages are calculated under a reasonable royalty or a lost profits framework. Lost profits may provide a larger recovery, but this methodology is used only if the patentee can show that it could have made those profits but for the infringement. A reasonable royalty looks at what sort of payment the parties would have come to under a multi-factor hypothetical negotiation framework at the date of the start of infringement.
Q: Under what circumstances will courts grant permanent injunctions?
Under the Supreme Court's eBay decision, permanent injunctions are not usually available for patent infringement; in other words, although a patent is supposed to provide a right to exclude others from practising the invention, the remedy of exclusion is available only under rare circumstances, particularly in cases involving multi-component electrical or mechanical products or software. The most difficult hurdle to overcome is the requirement that monetary damages are inadequate.
Q: Does the losing party at first instance have an automatic right of appeal?
Whether at the PTAB, the ITC or in district courts, the losing party has a right to appeal a final decision to the Court of Appeals for the Federal Circuit (CAFC), which is the sole appellate court for issues involving patents.
Q: How long does it typically take for the appellate decision to be handed down?
Twelve to 18 months from filing of the appeal.
Q: Is it possible to take cases beyond the second instance?
The Supreme Court is the only court that can review decisions of the Court of Appeals for the Federal Circuit. Review is discretionary by writ of certiorari and is granted on only one or two patent cases a year. There are also requests for rehearing or en banc review at the CAFC.
Q: To what extent do the courts in your jurisdiction have a reputation for being pro-patentee?
The PTAB had a reputation as being anti-patentee, with over approximately 75% to 85% of instituted patents having at least some claims invalidated.
The ITC is considered to be an even-handed tribunal, although the strict timetable is considered burdensome to accused infringers.
District courts have varying reputations, with the Eastern and Western Districts of Texas considered pro-patentee and the Northern District of California considered pro-infringer.
Q: Are there other forums outside the court system in which it is possible to assert patents in your jurisdiction? If so, under what circumstances might it be appropriate to use them?
The ITC is the primary alternative forum for patent infringement litigation.
Q: In what circumstances do courts in your jurisdiction accommodate remote hearings, for example during pandemic-related lockdowns?
Almost all hearings and depositions were remote during the covid-19 pandemic, while trials were mixed between being remote and in-person. Policies are venue and even judge-specific. As the more severe effects of the pandemic have waned, many hearings and depositions remain remote for the convenience of the judge, the attorneys and the parties, while almost all trials are in-person.
Q: Are there any other issues relating to the enforcement system in your country that you would like to raise?
The following recent developments are noteworthy:
The Biden administration's Department of Justice has issued memos and rescinded previous guidance regarding the enforcement of SEPs, essentially signalling that it believes that injunctive relief should not be available for SEP infringements.
The new director of the USPTO has issued guidance limiting the availability of "discretionary denials" for PTAB patent challenges in a manner that will largely eliminate this practice.
The Western District of Texas has changed its assignment rules for patent cases in a manner that lowers the probability of having cases assigned to Judge Albright, who employed a fast-track timetable for patent cases.
The Supreme Court denied review in the much-watched American Axle case on patent eligibility, signalling that any solution to those issues will need to be resolved through legislation. A number of proposals are pending.
There has recently been an increase in high-dollar jury (nine-to-10 figure) verdicts for patent infringement.
Collectively, these recent developments have made it marginally more difficult to bring cases with a limited number of patents or infringement claims; however, the United States is still an excellent jurisdiction to bring multi-patent cases with high damages potential or where an exclusion order would provide a strong remedy.