Mexico: Patent litigation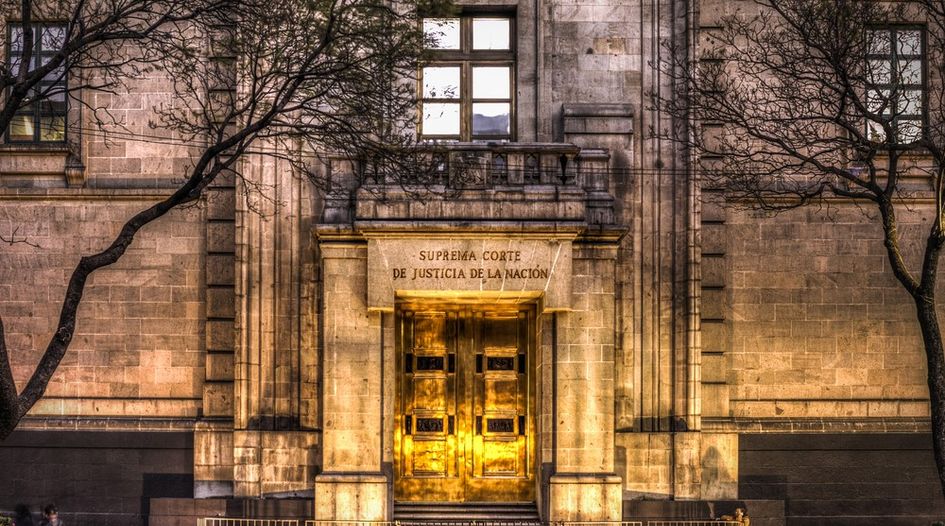 This is an Insight article, written by a selected partner as part of IAM's co-published content. Read more on Insight
Injunctions at a glance
| | |
| --- | --- |
| Preliminary injunctions – are they available, how can they be obtained? | Patent owners can request IMPI to issue a provisional administrative order (similar to a preliminary injunction) to immobilise and secure infringing products at the place where the infringing articles are located (including customs offices in the case of imported items). When these measures are requested properly, they are very often granted, provided the prerequisites are met by the requesting party. |
| Permanent injunctions – are they available, how can they be obtained? | Permanent injunctions are determined by the authority when issuing a final resolution of the matter tried. They are usually preliminary injunctions that, in accordance with the infringement declaration, are now determined to be permanent so that the infringing conduct will be ceased. |
| SEP injunctions – are they available, how can they be obtained? | There is no specific distinction between regular injunctions and those pertaining to SEPs; therefore, the provisions in respect of regular injunctions equally apply to SEP injunctions. |
| Is payment of a security/deposit necessary to secure an injunction? | Yes, a suitable guarantee is required that is sufficient in amount to cover the possible damage that may be caused by the order to impose the provisional measures. The authority determines the amount based on the evidence and the particular circumstances of the case. |
| What border measures are available to back up injunctions? | Border measures are part of preliminary injunctions and include the immobilisation or detention of infringing merchandise at the port of entry, inspection visits and seizure of documents related to infringing items.  |
Q: How can patent owners best enforce their rights in your jurisdiction?
In our experience, a tailor-made mix of enforcement actions (eg, infringement claims, preliminary measures and public-awareness campaigns) provide the best results.
Q: Are mediation and arbitration realistic alternatives to litigation?
Depending on the case, these mechanisms can be just as costly as formal litigation procedures and have the added complexity of needing a formal procedure to homologate its resolutions; in other words, the resolutions issued by mediators or arbiters always require a particular formal procedure before judicial courts for them to be enforced.
Q: Who hears patent cases – for example, individual judges, a panel of judges, a mix of judges and technical experts, judges and juries?
Mexico has no jury trial for patent litigation, and every case is decided by bench trial, first as an administrative procedure before IMPI that is carried out in a similar manner as a trial before court (the Federal Procedure Law describes them as "trial-like procedures"). Further appeals are handled by a federal court (the Federal Tribunal of Administrative Justice (TFJA) and the federal circuit collegiate tribunals (CCTs)).
Because patent matters are IP issues, they are only handled by federal-level courts, with the exception of civil claims regarding the recovery of damages or losses, which can be filed before local (state) courts in each of the 32 states after a firm and definitive ruling has been obtained by the federal authorities.
As most proceedings are completed in writing in Mexico, most – if not all – evidence is documental. Some affidavits may be allowed in written form, and no deposition or cross-examination is permitted. Expert witness opinions are routinely used, but their opinions are limited to their written form only.
In the first instance, the administrative procedure for patent infringement usually takes between 18 and 36 months, depending on the complexity of the case.
Q: What level of expertise can litigants expect from courts?
Depending on the court or tribunal, both the first instance and the reviewing authority (appeals) are undertaken before specialised bodies: the Mexican Institute of Industrial Property (IMPI) and the Specialised IP Chamber of the TFJA (SEPI-TFJA). These are authorities that are specialised in IP matters.
Although this is not a guarantee of expertise (especially in matters involving certain technologies or very high-end technical matters), it is sufficient for most matters, and the law allows the possibility to enlist technical experts as witnesses to help clarify any issues.
Q: Are validity and infringement dealt with together in proceedings?
It is possible as long as the defendant lodged an invalidity claim as part of its defence. While there are two different procedures, they are usually resolved in parallel by IMPI and sometimes within the same resolution.
Q: Who may represent parties engaged in a dispute?
Anyone who is granted a valid power of attorney. Foreign documents should be certified and legalised (or apostilled) so that they have full validity in Mexico. Licensed attorneys can be authorised before courts and may participate in some procedural actions by being appropriately appointed before the court or tribunal.
Q: To what extent is forum selection possible in your jurisdiction?
This is not applicable because IP matters in general and patent litigation are always tried before the IMPI in the first instance and then before the SEPI-TFJA. In some cases, and because the authorities are always the same, even the district courts and the CCTs are the ones from Mexico City (the first circuit), in which case it is not possible to choose a different judicial forum.
Q: To what extent is pretrial discovery permitted?
There is no pretrial discovery under Mexican law. The closest imitation, albeit with many limitations, would be part of what are known as preliminary measures. These measures can be requested both in the administrative (infringement tried before IMPI) and judicial arenas (damages trials before civil courts).
Q: To what extent is evidence written and oral at proceedings?
Mexican law mandates that proceedings should always be done in writing; therefore, most evidence is documental. Some affidavits may be allowed in their written form, and no deposition or cross-examination is permitted.
Q: What role, if any, can expert witnesses play?
Expert witness opinions are routinely used, but their opinions are limited to their written form only. This is because the opinions constitute one of the many pieces of evidence available are often used.
Q: Is the doctrine of equivalents applied by courts in your jurisdiction and, if so, what form does it take?
Under Mexican law and practice, there are no equivalents when dealing with patent infringement; the alleged infringing conduct must conform exactly to the claims contained in the patent that is considered as being infringed.
Notwithstanding the above, in November 2016 the First Collegiate Tribunal for Administrative Matters of the First Circuit sustained that equivalents could be used to interpret and determine whether a patent has been infringed (Thesis I.1o.A.143 A (10a.)); however, the cited criteria is an isolated thesis, and since then no other tribunal has concurred or issued a similar criterion.
Q: Are there problems in enforcing certain types of patents relating to, for example, biotechnology, business methods or software?
In general, there are no specific problems related to those types of patents. The obstacles that a litigant may face relate more to the complexity of the actual case rather than the subject matter. Furthermore, under Mexican law, neither business methods nor software are patentable matter (those subjects are protected under different legal authorities).
Q: To what extent are courts obliged to consider previous cases that have covered issues similar to those pertaining to a dispute?
Mexican law provides for a system for the different criteria adopted by the courts and judges, which are collectively called 'jurisprudencias'. According to the Organic Law of the Federal Judicial Power, jurisprudencias can only be created by the higher federal courts (the Supreme Court or the CCTs) when the criteria adopted originates from the resolution of at least five different cases involving similar rights or matters. The criteria can be invoked in subsequent matters that fall within the scope of that criteria, as lesser courts are obliged to follow jurisprudencias.
Q: To what extent are courts willing to consider the way in which the same or similar cases have been dealt with in other jurisdictions? Are decisions from some jurisdictions more persuasive than those from others?
It depends on the case, but in general, such cases could help; however, while Mexican tribunals and courts may consider similar cases solved in other jurisdictions, they are neither obliged nor always follow suit.
Q: What realistic options are available to defendants seeking to delay a case? How might a plaintiff counter these?
There are plenty of options for defendants, including intermediate appeals and incidents. If the goal of the defendant is to delay or slow down the proceedings, the only option for the plaintiff is to plan ahead, try to offer the best possible evidence and anticipate the delay to the extent possible. Given the general constitutional principle of effective judicial control, there are no means available to counter frivolous or inappropriate recourse.
Q: Under what circumstances, if any, will a court consider granting a preliminary injunction? How often does this happen?
Any patent owner or recorded licensee is legally entitled to file actions to stop the manufacture, distribution, transportation, importation and sale of an alleged infringing product by requesting IMPI to issue a provisional or preliminary administrative order (similar to a preliminary injunction) to immobilise and secure infringing products at the place where the infringing articles are located (including customs offices in the case of imported items).
Such measures are generally requested and very often granted, provided the prerequisites are met by the requesting party.
Q: What is the realistic timescale to get a decision at first instance from the initiation of proceedings?
Usually between 30 and 36 months, depending on the complexity of the case.
Q: How much should a litigant budget for in order to take a case through to a decision at first instance?
It varies greatly and depends on the complexity and particulars of the case.
Q: To what extent are the winning party's costs recoverable from the losing party?
In the past, this was not possible because administrative procedures were limited to declaring the existence or absence of an infringement matter, plus the imposition of fines as one of the penalties for the infringement; however, with the entry into force of the Federal Law on the Protection of Industrial Property (LFPPI), a request to recover attorney's fees can now be included under either of the options foreseen under Article 396 of the LFPPI. As long as the request is within reason and there is sufficient evidence to support it, either IMPI or a civil court could agree to the request.
Nevertheless, these new provisions are very recent; therefore, there has not yet been any actual implementation of the novel legal provisions and the results they may bring both in the administrative arena (IMPI) and before the civil judges in the 32 states.
Q: What remedies are available to a successful plaintiff?
One of the most significant changes to the newly enacted LFPPI is that it is no longer necessary to obtain a final and definitive infringement resolution to pursue an action to recover damages and losses as the patent owner can opt to either file an action (ie, a separate motion within the frame of a larger trial) within the same administrative procedure so that IMPI can examine and determine whether there were any damages or losses, or enter a separate and parallel procedure before a civil court in which the intention would be to claim damages and losses.
Q: How are damages awards calculated?
While statutory damages and loss of profits should be, in principle, no less than 40% of the public selling price of each infringing product from the first date of non-authorised use of the patent, the new provisions under the LFPPI – in particular, the provision allowing IMPI to examine damages and losses – are very recent; therefore, there has not yet been any actual implementation of the novel legal provisions and the results they may bring both in the administrative arena (IMPI) and before the civil judges in the 32 states.
Q: Under what circumstances will courts grant permanent injunctions?
Along with a final decision on the infringement, the authority and the court decide whether the preliminary injunctions become permanent or definitive.
Q: Does the losing party at first instance have an automatic right of appeal?
Yes, any party that considers the resolution unfavourable to its interests can appeal the first-instance resolution.
Q: How long does it typically take for the appellate decision to be handed down?
It depends on the complexity and the actual particulars of the case, but a reasonable expectation would be around 24 to 30 months
Q: Is it possible to take cases beyond the second instance?
Yes, SEPI-TFJA resolutions can be challenged through a constitutional amparo appeal tried before a CCT. The sentence pertaining to the amparo appeal is final and definitive in almost all cases, and just a tiny fraction can be further challenged via revision recourse before the Supreme Court.
Q: To what extent do the courts in your jurisdiction have a reputation for being
pro-patentee?
They do not have this reputation as there is no clear tendency in the Mexican judiciary to refer to the authorities as such, although there is a slight statistical advantage (perhaps in the range to 47% to 53%) in respect of the resolutions that favour the patentees.
Q: Are there other forums outside the court system in which it is possible to assert patents in your jurisdiction? If so, under what circumstances might it be appropriate to use them?
Other than the first stage, which is always administrative procedures before IMPI, there are none in addition to mediation or arbitration if the case merits them (ie, only if the parties are part of an agreement in which both have previously agreed to submit to arbitration or mediation procedures).
Q: In what circumstances do courts in your jurisdiction accommodate remote hearings, for example during pandemic-related lockdowns?
Considering most proceedings are written, no remote hearings have been allowed for patent cases, not even during the covid-19 pandemic lockdowns.
Q: Are there any other issues relating to the enforcement system in your country that you would like to raise?
No significant issues other than some of the peculiarities of the mechanisms to recover damages that have already been covered in this questionnaire.