Wuhan lab says it will seek patent protection of Gilead antiviral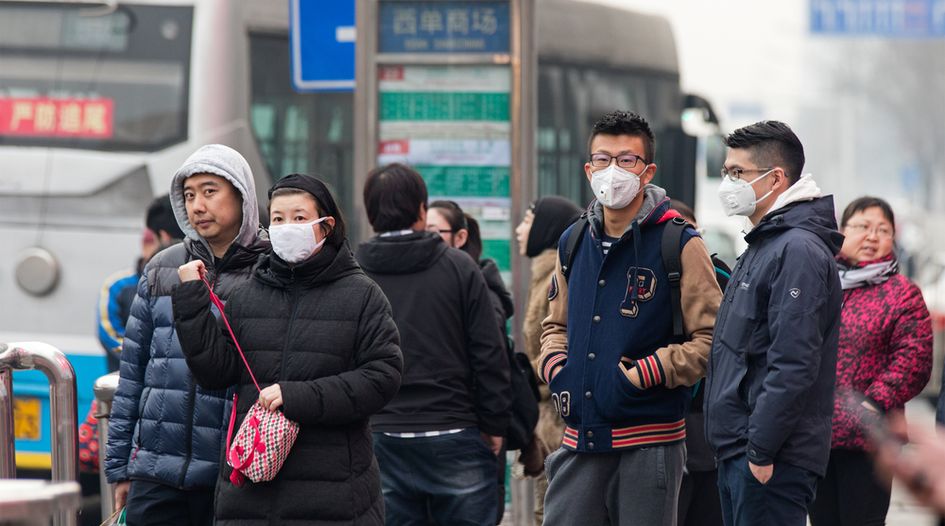 The Wuhan Institute of Virology (WIV) announced yesterday that it has filed a Chinese patent application covering the use of antiviral drug remdesivir to treat the novel coronavirus (2019-nCoV) plaguing China.
The update posted online yesterday has attracted wide notice among IP professionals given the fact that remdesivir was developed and patented by US pharmaceutical company Gilead. The company has arranged a 270 patient clinical trial at the China-Japan Friendship Hospital in Beijing to trial the use of the antiviral drug. A single patient treated with remdesivir in Washington state is reported to have made a recovery from the coronavirus.
WIV, which is affiliated to the Chinese Academy of Sciences, published a paper finding that a combination of remdesivir and off-patent malaria treatment chloroquine is "highly effective" in inhibiting the novel coronavirus. In announcing the study, the institute also revealed that it filed a Chinese invention patent and PCT application on January 21st which would cover the use of remdesivir to inhibit the coronavirus.
The article states that the patent right is being sought "in accordance with international practice" and "from the perspective of protecting national interests". However, it also states that the lab would not look to enforce the patent right if "relevant foreign companies" – read Gilead – intend to collaborate with China on controlling the epidemic.
According to Tina Tai, a partner with King & Wood Mallesons in Beijing, any patent filed by the Wuhan lab involving use of the Gilead-developed drug would have a "very low possibility" of getting past China National Intellectual Property Administration (CNIPA) patent examiners. While China does in some cases allow so-called "Swiss-style claims" protecting a new use for a known compound, prior art in the form of Gilead-owned and published patents would likely render lab's 'innovation' ineligible.
Gilead has already sought Chinese patent protection for both the remdesivir compound and also its use as an antiviral, Tai says. An application published by CNIPA in July 2018 is titled "The method for treating Arenaviridae and coronaviridae virus infection" and claims the application of remdesivir to inhibit coronaviruses like SARS and MERS.
In light of that existing patent Stephen Yang, managing partner at IP March in Beijing, says the Wuhan Institute's application "must provide sufficient argument to support the inventive step of the new use", which could be a difficult hurdle to clear. "There may not be enough experimental data to support the technical effects and hence inventive step, especially in light of the strict examination practice in China", Yang adds.
It is likely that the virology lab, which is located in the city at the centre of the epidemic, is keen to show that it is taking concrete steps to address the crisis. It is not clear whether the professionals involved in the application appreciate the filing's low chance of success or its potential to alienate a company that appears to have a productive relationship with Chinese authorities in seeking to apply its drug to the coronavirus outbreak.
As the news has begun to circulate in the English-language media, it risks reinforcing a view that Chinese state is engaged in copycat or 'squatting' activity despite the recent IP-focused trade deal between China and the United States. Given that it looks like Gilead isproactively working to bring its drug to Chinese patients, some practitioners commenting on social media have worried that the WIV application sends the wrong message.
Moreover, provisions for compulsory licensing of patents already allow China's government to intervene in cases where the rapid production of a medicine in a public health emergency is warranted. It is not clear how approving a rival patent would be a more effective way to safeguard the public interest.
It is much more likely that we will see Gilead continue to cooperate with Chinese entities on testing its treatment in the hopes that it is effective. Tai points to the example of Roche, which in 2005 made a deal to sublicense the drug Tamiflu to a Chinese manufacturer amid fears of an avian flu outbreak in China.
It is worth remembering that the decision to file this patent was made by professionals at an institute gripped by a major crisis; it probably does not signal any change in the views of top Chinese IP policymakers when it comes to pharmaceutical IP. It is worth monitoring the application as it progresses at CNIPA, but it is probably in everybody's bests interests if it is not allowed to disrupt the ongoing relationship between Gilead and its Chinese partners.