Negotiating patent licensing agreements during a pandemic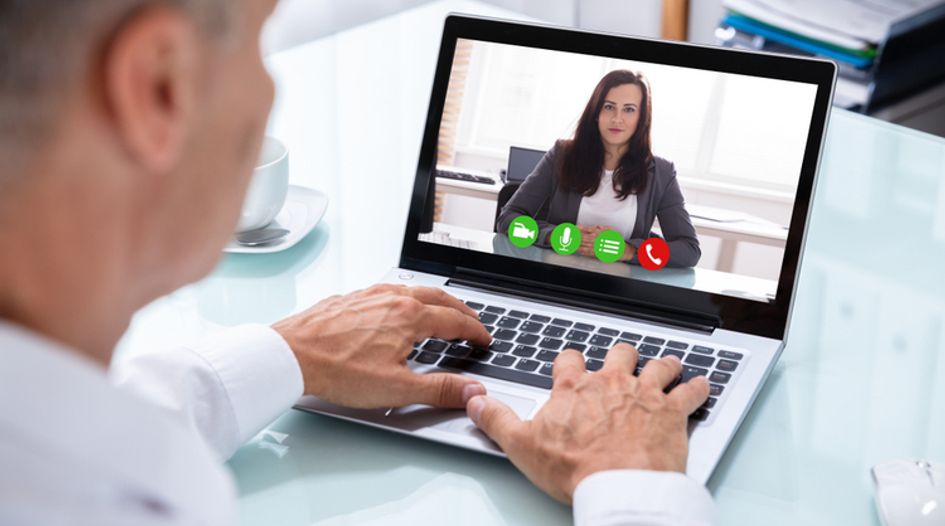 The covid-19 pandemic forced a move to virtual deal-making in the semiconductor patent space. In this co-published article, George Park of IPValue reports on the findings of a survey of seasoned industry licensing professionals to see how that has panned out
In March 2020, the World Health Organization declared covid-19 to be a pandemic. Around that time, businesses began curtailing global travel and in-person meetings with counterparties from other firms. The operations of patent portfolio licensing negotiations were severely impacted by these restrictions.
We surveyed a group of patent licensing executives to discuss changes and challenges in licensing negotiations resulting from the pandemic, with a focus on business- (versus litigation-) based patent licensing in the semiconductor space. These negotiators have decades of experience licensing significant patent portfolios to major semiconductor vendors.
According to respondents, at the start of the pandemic prospective licensees were hesitant on proceeding with licensing discussions and reluctant to set plans for meetings. There was a great deal of uncertainty about the severity of the pandemic and the duration of travel and meeting restrictions. A number of previously planned discussions were indefinitely held off and, in one case, a patent licensing team that had travelled internationally to attend a meeting was told just one day before the planned event that the meeting had to be cancelled.
During this initial period, some prospective licensees rejected the use of virtual meetings as a substitute for in-person meetings, often citing security concerns. Even when virtual meetings were accepted, there were often restrictions, particularly with limitations on what platform would be allowed, such as Zoom, WebEx, or company-proprietary systems. The IP team at one prospective licensee could only use systems with H.323 compatibility and the single available physical location with the required capabilities needed to be reserved well in advance of meetings.
While some relatively sophisticated prospective licensees accepted virtual meetings quickly, others required two, three or over six months to agree to that format. After nearly a year in lockdown, nearly all reasonable licensees are willing to accept virtual meetings. However, licensing negotiators must still deal with a variety of challenges in this environment, including those listed below:
Technical challenges – poor network connections, malfunctioning cameras and microphones ("can you hear me now?"), computer incompatibility with teleconferencing platforms, software glitches and other such technical issues can disrupt the teleconference.
User challenges – even when the teleconferencing hardware and software are functioning properly, meeting participants unfamiliar with the system, or in some cases multiple systems, may have difficulty logging into a call, adjusting the audio and visual settings, seeing or giving a presentation or generally engaging in the call.
Visual cues – negotiators have more difficulty picking up visual cues relying on video cameras versus in-person interactions. Facial reactions are harder to discern in a thumbnail video than in a physical meeting and if the video is showing a team of masked meeting participants, it can be difficult to even know who is talking at a given time.
Side bar communications – during in-person meetings, negotiators can hold side bar discussions with their counterparts, as well as with their own team. While virtual breakout rooms are available with teleconferencing platforms, such side-bar discussions are less natural.
Verbal communications – the issues described above can compound to create general challenges to verbal communications. Long latency and lack of visual cues can cause speakers to interrupt each other. Low quality microphones or speakers, as well as a poor network connection, can make it difficult to hear what someone is saying. These challenges can be further multiplied if interpreters are involved, adding one more node in the chain where the various problems can manifest.
General interactions – more broadly, negotiators have to deal with extra challenges interacting and developing relationships with their counterparts. For example, while teleconferencing platforms allow the use of virtual whiteboards, that capability is not as natural as sketching on a physical whiteboard or passing notes across the table. What's more, it is impossible for lead negotiators to share a post-meeting meal or have a one-on-one personal conversation to develop rapport, build trust and speak more freely so as to move the discussion forward.
According to the surveyed negotiating executives, the overall impact of such challenges with teleconferencing is to reduce the efficiency of licensing discussions. It takes more time to get deals done, especially if the discussion is starting from scratch, if the prospective licensee has limited experience with patent licensing or if the negotiators from the two sides do not have an established relationship. Furthermore, if the prospective licensee is generally unwilling to negotiate in good faith, the above challenges can be cited (or magnified) as excuses to protract or prevent the discussion.
On the other hand, teleconferences can be an efficient platform to help get patent licensing deals done for semiconductor companies with: (a) sophisticated intellectual property teams; (b) established relationships with licensing executives from the other side; and (c) a willingness to negotiate in good faith. Mature deal negotiations can be efficiently taken to close with teleconferences if extensive face-to-face discussions had already taken place before the pandemic.
In fact, there have been press releases announcing multiple successful semiconductor patent portfolio licensing transactions made during the pandemic, such as an April 2020 deal involving Kioxia, a December 2020 deal involving Nvidia and a July 2020 deal licensing a major semiconductor portfolio to a consortium of RPX members. All of these deals were based on negotiated business discussions.
Thus, while imperfect and not as efficient, teleconferences can serve to move licensing discussions along if both sides are willing to negotiate in good faith. One surveyed negotiator commented that even after the pandemic passes and face-to-face meetings are once again available, teleconferences are likely to continue to serve as a useful option for at least some patent licensing meetings involving semiconductor players.
IPValue's mission is to fuel innovation by working with leading technology enterprises to generate revenues from their IP portfolios. Since inception in 2001, IPValue has generated over $2B in cash from patent licences, resulting in $1B to its partners. IPValue currently owns and manages the commercialisation of over 6,300 patents. For more information, visit www.IPValue.com