A very merry IP Christmas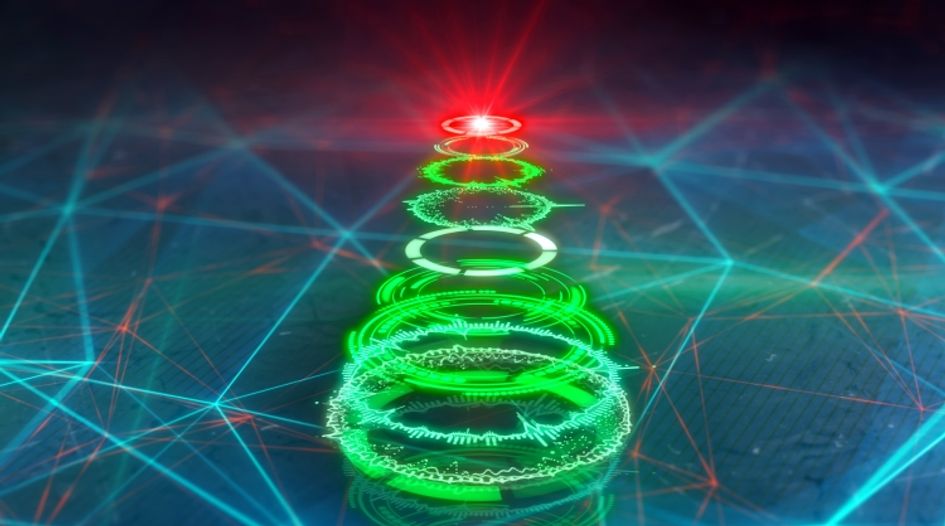 At this time of year, writes Clarivate's Bob Stembridge, we all need some fresh ideas to help rekindle the magic of Christmas. Fear not though, for help is at hand: here is no shortage of patented inventions that could potentially help the season go with a swing.
The countdown to the festive season is well underway.  As the anticipation builds, there are preparations to be made, trees and decorations to put up, presents to wrap, letters and cards to be written. Fortunately, the wonderful world of patents can help.
For those traditionalists who prefer a real tree, here's an invention to help with decorating and positioning the tree effortlessly - a Christmas tree on casters:
US20160022081A1, published Jan 28 2016, describes a swivel tree stand device having a vertical pole attached by a swivel mechanism to a base set on casters. The pole is designed to attach at multiple points to the tree trunk and to extend in a direction perpendicular to the level ground which may be roughly parallel to the tree trunk. A water bucket, which may be removable, can be carried by the base for watering a live tree attached to the pole. The pole and an attached tree trunk may swivel about the base.
The device can install a tree and help with decoration of the tree effectively and efficiently while facilitating movement of the tree from place to place without requirement to rotate the tree and the stand.
For those who can't be bothered with the effort of trying to keep the tree alive until the great day itself, how about a collapsible Christmas tree with a rotatable trunk:
WO2010068188A1, published Jun 17 2010, is for a collapsible Christmas tree with a pivot joint that is coupled to a fixed trunk at a location spaced apart from the upper and lower ends of the rotating trunk to allow pivoting of the rotating trunk relative to the fixed trunk.  Limbs are pivotably attached to the rotating trunk with optional lights coupled thereto. These limbs pivot between a perpendicular orientation extending from the rotating trunk and a collapsed configuration closer to a centre line of the rotating trunk.
When the trunk is rotated, the limbs attached to the rotating trunk transition between a collapsed to a deployed configuration automatically. A wheeled base and cover further facilitate storage and deployment.
The Christmas tree is easily transitioned from a collapsed orientation to deployed orientation without any damage and without requiring high strength or dexterity, since the pivot allows the rotating trunk to pivot 180-degree. The tree is easily stored in collapsed form, easily deployed and is no problem to set up quickly.
In these days of electronic wizardry, it's sometimes nice to look back to simpler times to see how Christmas decorations used to be. One such patent, US3820265A from 1974, details an electrically-driven animated Santa Claus and galloping reindeer.
A figure representing Santa Claus in a sleigh is connected to a supporting structure and a line of figures representing Santa's reindeer is pivotally connected to a generally horizontal arm which projects laterally from the supporting structure. An electric motor is mounted on the supporting structure and is pivotally linked to the nearest reindeer to rock it about its pivotal axis. Each reindeer is pivotally linked to the one behind it so that the rocking movement is transmitted along the line of reindeer to simulate galloping.
Christmas is of course a time of wonderment and excitement for children.  This can sometimes spill into overexcitement which may need to be controlled. According to US5037347 from 1991, there is therefore a need for a novelty item that conveys an element of humour and fun to a behaviour modification message of possible withholding of gifts from those who have misbehaved during the Christmas season.
This invention describes a watching bird that is designated as "Santa's watcher" and is identified as reporting to Santa on the behaviour of the children being watched. The item includes a dispenser for conveying pre-selected messages - and these can be characterised as being sent by Santa to the children and can be personalised if suitable.
Once the children have been brought under control, it's important to reward their good behaviour by ensuring that Santa does actually visit and deliver their presents.  Two inventions are designed to help with this – a Santa Claus detector (US5523741A) and a Santa Claus visit kit (US20060046603A1).
The Santa Claus detector comprises a Christmas stocking with power supply and light, and includes switch and circuitry for signalling the arrival of Santa Claus. Two of these stockings are hung either side of the fireplace with a pull cord suspended between them. The pull cord is connected to the switch for actuating the switch when a force is exerted on the pull cord. When Santa arrives, the pull cord is tugged as he passes through the fireplace and the light source is turned on, thus signalling in the morning that Santa Claus has visited and providing reassurance to the young children.
Further proof of Santa's visit can be provided by the Santa Claus visit kit which includes items revealed to a child audience. These items include a displayer at which small items can be placed, and amusement items for use by at least a member of the child audience in carrying out steps that the child audience is invited to believe will assist Santa Claus in making the visit. The kit also includes items at least temporarily concealed from the child audience. The concealed items include means for making boot print resembling marks to mark an illusionary trail of Santa Claus in the premises.
Whatever your belief in Santa Claus, at this time of year, we would like to wish everyone a happy and peaceful holiday season.
IAM and Clarivate Analytics, the world-leading provider of patent information, have partnered to provide IAM's readers with exclusive insight and analysis of globally important IP business issues.