A Biden presidency is likely to mean IP evolution, not revolution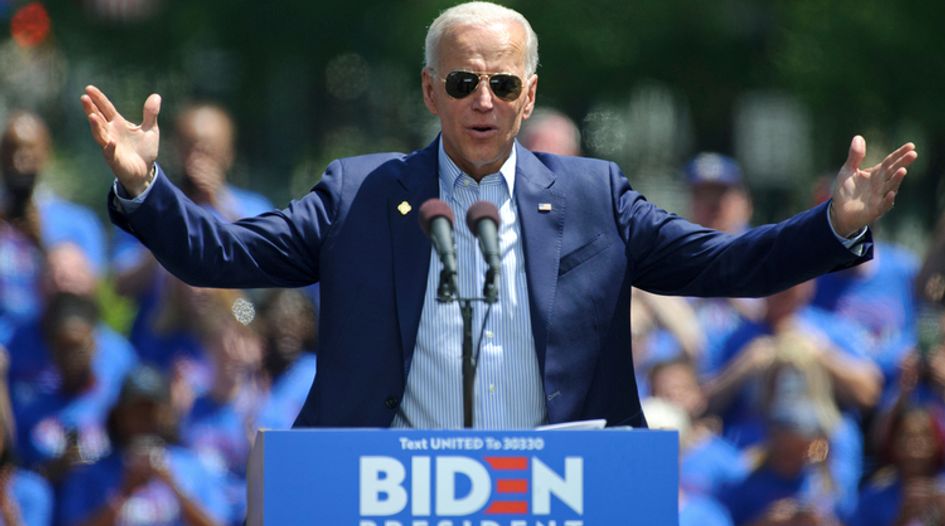 Although some fear a return to an Obama-style, Silicon Valley-friendly, approach to patents under a Joe Biden presidency, it is likely that there will be no major pivot away from the policies pursued by the Trump administration
Not all the votes have been counted from Tuesday's US election and the final result is not officially known, but it looks increasingly clear that Joe Biden will become the 46th President of the United States – and that the people of Georgia will decide whether he faces a Republican Senate or one in which Vice-President Kamala Harris has the casting vote.
If that is the case, it will be some time before there is clarity on what direction a Biden administration is likely to take and who will occupy the key positions in his cabinet, not least because of that Georgia vote. It is likely to be even longer before we get any answers on the extent to which IP policy might differ from the last four years.
A new USPTO head
This means one of the first big clues as to future direction will be who is appointed Director of the USPTO. That is not going to happen immediately. It was seven months before David Kappos assumed the role once President Obama was sworn in back in 2009, while it was a year or so after President Trump's 2016 inauguration that Andrei Iancu took over at the agency.
Ask most in the US IP community and they will say that Iancu was a strong choice who has done a good job. He has won broad – though not unanimous – support for his various reforms, including the ones made to the PTAB; while he has also gone out of his way to engage with stakeholders domestically and to travel internationally to ensure the US voice on IP has been heard across the world.
A notable Iancu diplomatic success was the selection of Daren Tang as WIPO director-general in the face of a strong campaign fought by the Chinese to have their candidate, Wang Binying, chosen by member states. His stewardship of the office during the coronavirus shutdown has also been impressive
So, Iancu is going to be a tough act to follow - if that's what happens. It doesn't have to, of course. Just as Michelle Lee stayed on in the aftermath of Trump's victory, it is not beyond the bounds of possibility that Iancu is asked to hold the fort for a while by the Biden team. Whether he agrees or not is another matter. He took a hefty pay cut to jump from private practice into government and may want to start making amends as soon as possible.
If Iancu does go, his short-term replacement could be either deputy director Laura Peter (though she is another political appointment) or Commissioner of Patents, Drew Hirshfield. Neither, though, is likely to be a permanent solution.   
As a former partner at Irell & Manella, Iancu came into the job without perceptions of affiliation with either high tech or life sciences. This made him palatable to both sides of the traditional US patent divide. That could make a private practice candidate attractive once again, particularly at a time when battle lines are being drawn between different industries over issues such as the PTAB and patent eligibility.
If that is the case, one name to look out for is former Micron chief patent counsel, Russ Slifer. He served as deputy director at the USPTO during the second Obama term, having been the first head of the office's Rocky Mountains satellite. Currently, Slifer is a principal at law firm Schwegman Lunberg Woessner, as well as being an active commentator on IP policy issues. 
Whoever the administration does choose, though, will be subject to confirmation by the Senate. Should the Republicans retain their control, that will necessitate appealing to both sides of the aisle – so a choice itching to put a torch to what Iancu has done is unlikely to make it through.
That will certainly be the case if Republican Thom Tillis and Democrat Chris Coons – the two big IP voices in the current Senate – make their way back to the legislature. The latter is already there (though more on him later), while the former now seems likely to return, although his very tight race in North Carolina has yet to be called. Both Tillis and Coons are strongly pro-patent and have been supportive of the Iancu agenda.
Meanwhile, over at the DoJ
Another key appointment to look out for will be who becomes the head of the Department of Justice's antitrust division. That may not have mattered so much once, but now it does. That's because it's hard to think of anyone who has had as big an impact on IP policy in the job as current incumbent Makan Delrahim.
Delrahim was the first patent attorney to hold the post and, with a client base from his previous private practice work that included Qualcomm, there was speculation from the start that he would offer a more sympathetic approach to SEP owners than his predecessors. But even the most optimistic of observers has probably been surprised by Delrahim's efforts to re-cast the standards landscape in a far more favourable way to patentees.
Given the billions of dollars that some companies generate from SEP licensing, America's antitrust czar can hold huge sway over the patent market. However, the focus in a Biden DoJ might fall not only on who gets the top role but also on how much of their efforts are IP-related. That's particularly true at a time when more attention is being paid to the market power of the largest tech businesses.
If the antitrust spotlight in a Biden White House is on the perceived over-bearing power of Amazon, Facebook, Google, Apple and co, then IP owners might be in for a relatively quiet antitrust ride from the DoJ. However, with FRAND and SEP issues now impacting more than just high-tech, there will undoubtedly be demands for the division to rethink some of Delrahim's stances.
It could be, for example, that auto manufacturers become more vocal in this area. Having rebuilt the Blue Wall in states like Michigan, the Biden administration might just be inclined to hear them. On the other side of the coin, though, the more that the US is thought to favour implementers on FRAND and SEPs, the more it will leave the rest of the world – in particular, Europe, China and, increasingly, India – to set the rules. That may not be a smart play.
The politics
It has become popular among IP observers to argue that a Biden White House will be Obama part two when it comes to patents. Much as Trump and Iancu have represented a 180 degree turn away from many of the IP policies of the post-Kappos Obama presidency, the theory is that Biden's time as vice president means he'll go back to what we saw between 2013 and 2017, with an approach that clearly favours Silicon Valley. For many IP owners smarting over how patent rights were undoubtedly diminished as a result, that might be a scary prospect.  
But that's to discount Coons, probably the most significant IP figure in Biden-land. The legislator, who was elected to Biden's old Senate seat in Delaware, is one of the few figures on Capitol Hill who is genuinely happy to get into the weeds on IP issues and is particularly close to the presumptive President-elect. 
A profile in Politico earlier this year tagged Coons as the "Biden whisperer in the Senate" and spoke of him landing a high-profile Cabinet position – perhaps even Secretary of State. If he does get that role, he will be very well-placed to ensure IP remains a priority in the US's relationship with China. However, there is another school of thought along the lines that Biden will want Coons in the Senate building the alliances he will need to get things done. Either way, though, patent owners will have a good friend with regular access to the Oval Office. That has not been the case for a long time.  
Elsewhere, should the Republicans retain Senate control, it is also likely to make it much harder for the Biden administration to implement reforms that might see the curtailing of life sciences patent rights. That said, it may not want to. As other candidates vying for the Democratic presidential nomination – including Kamala Harris – made spine-tingling promises to curb pharma IP protections during the primary season, Biden stayed relatively quiet. Delaware, his home state, has a long and deep connection with the pharmaceutical industry. To that extent, at least, the next president might welcome a blocking Republican Senate majority.
The courts
The Biden administration can develop IP policies and the executive can make some differences to the ways in which things work, but if big changes are to happen, they will take one of two routes: either there will be legislation, or the courts will change tack.
As things stand, there is no reason to believe that we will see proposals for an America Invents Act 2.0 coming out of the White House, or even support for new 101 legislation. That, then, leaves the judiciary.
Here, it is unlikely that any court is going to emerge to rival Judge Albright's Western District of Texas as the plaintiffs' venue of choice; while defendants – particularly on the tech side - will probably keep on trying to get their suits heard in Northern California. The Supreme Court, meanwhile, seems less inclined than it has been to hear patent cases, so the CAFC is where most of the big action will be. Without legislation, eligibility is going to remain a very difficult issue to deal with, while rights owners and their lawyers will want further guidance on issues such as software protection.
Overall, then, despite the momentous nature of the election, for the IP community the changes it brings are likely to be relatively minor. Evolution, not revolution, should be expected.
In fact, if you combine the work that Iancu and Delrahim have done with the number of federal court appointments that President Trump has made, as well as his three Supreme Court picks, then it is very possible to believe that when the history of the period 2016 to 2024 is written, it will be him, rather than President Biden, who is seen to have had the greater influence on the development of US patent law and practice. The man himself will probably never realise. 
Additional reporting by Richard Lloyd
The new Biden administration's IP priorities will be among the subjects discussed at IAM's IP 2020 online event, taking place between 17th and 19th November. For more details and to register to attend (free for IAM subscribers), click here