The IP Hall of Fame inductees for 2021 announced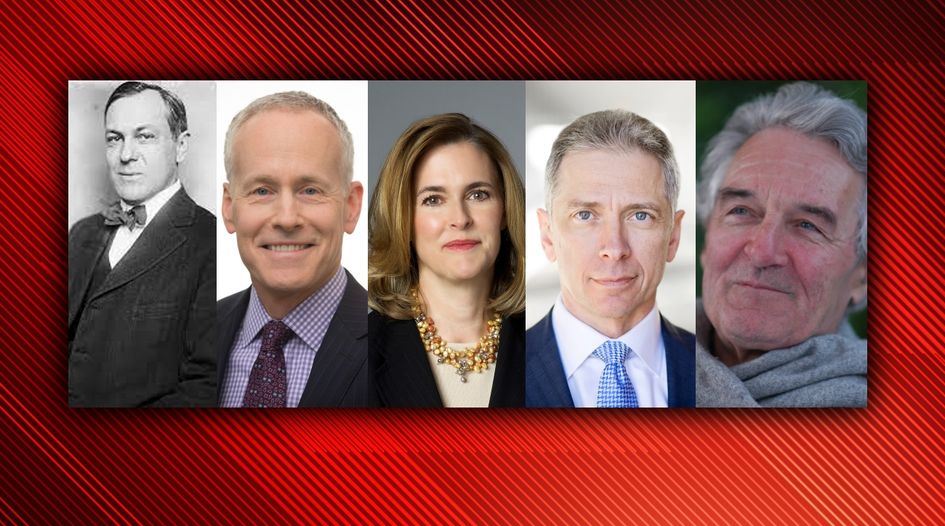 This year's IP Hall of Fame inductees come from the world of policy, politics, dealmaking and the law
Following a selection process beginning in March, IAM is delighted to announce the five individuals being inducted into the IP Hall of Fame in 2021: Florent Gevers, Andrei Iancu, Frederick Lanham, Daniel McCurdy and Laura Quatela.  
All five were chosen by the IP Hall of Fame Academy; Gevers, Iancu and Lanham from a longlist of nominations submitted by the global IP community, and McCurdy and Quatela as the joint winners of IAM's inaugural Q. Todd Dickinson Award. The recipients of this award – designed to honour those who have made significant contributions specifically to the business of IP – are chosen by the academy from a shortlist drawn up by IAM's editorial team.
Florent Gevers was the co-founder of IP attorney firm Gevers and a driving force in the development of the European trademark system, playing a major role in the formation of the single Benelux jurisdiction and being a founder member of ECTA. He passed away in 2018, aged 84 years.
Andrei Iancu served as Director of the United States Patent and Trademark Office and Under Secretary of Commerce for Intellectual Property from February 2018 until January 2021. During that time he was responsible for a series of reforms to the Patent Trial and Appeal Board and the agency's approach to eligibility.
Frederick "Fritz" Lanham, a long-time Democratic Party congressman, is best-known for advocating and giving his name to the Lanham Act, the statute that forms the bedrock of federal US trademark law and practice. The 1946 legislation enjoys its 75th anniversary this year. Lanham passed away in 1965.
Dan McCurdy is CEO of RPX Corporation CEO and a leading figure in the global patent market. In his present role, he has overseen IP deals worth $500 million since 2018, while in a previous incarnation as CEO of Allied Security Trust, McCurdy was involved the ground-breaking $350 million purchase of 500 patents from MIPs Technologies in 2012.
Laura Quatela has led patent commercialisation efforts at a slew of major corporations, including Alcatel-Lucent SA and Eastman Kodak, and has helped to generate billions of dollars in licensing revenues. She is currently Senior Vice-President and Chief Legal Officer of Lenovo, as well as being the co-founder of Quatela Lynch Intellectual Property LLC.
Reacting to the news of their inclusion, this year's new inductees said the following:
"It is a tremendous honour to be selected for the IP Hall of Fame and especially to be recognised by such an eminent group of individuals who have each made remarkable contributions to the IP space. I am a firm believer in intellectual property and its power to drive innovation and help solve humanity's largest problems. I look forward to continuing to be part of the conversation and advocating for the value of IP. I am humbled by this distinction." Andrei Iancu
"Todd Dickinson was a giant in our industry. He was kind, curious, giving, impactful and a friend. I miss him and his creative presence in our industry, and I am honoured and very thankful to my peers and to the IAM team to be chosen as a recipient of the award that pays tribute to Todd and to join the IP Hall of Fame." Dan McCurdy
"It is a distinct honour to be associated with Todd's legacy in the IP field – in particular, the strong example he set as an inclusive leader, which continues to inspire so many of us to work towards diversity in innovation. I'm grateful to our academy colleagues for this recognition." Laura Quatela
Reacting to the news of Frederick "Fritz" Lanham's inclusion, fellow IP Hall of Fame inductee Professor Jeffrey Samuels commented:
"As we celebrate this year the 75th anniversary of the federal Trademark Act of 1946, which modernised US trademark law, it is particularly fitting that we induct into the IP Hall of Fame the legislator most responsible for its enactment and whose name is synonymous with the statute itself - Frederick "Fritz" Garland Lanham."
Reacting to the news of Florent Gevers' induction, the Gevers IP firm stated:
"The GEVERS Group is honoured by the induction of Florent Gevers in the IP Hall of Fame. We would like to express our heartfelt thanks to everyone who voted for him."