As the bombs fell, a Ukrainian reverse engineering company refused to give in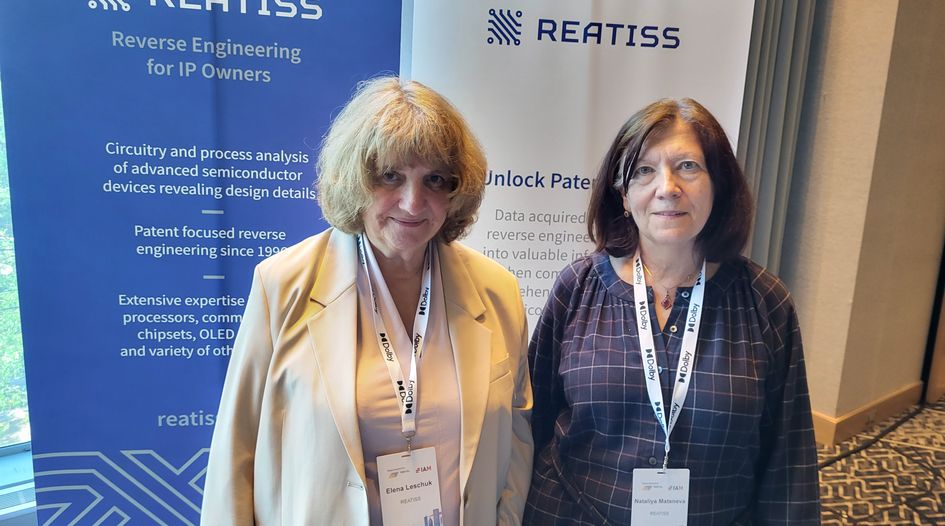 One of the most memorable moments of IPBC Global in Chicago last month came when Changhae Park, senior vice president and chief IP officer of NXP Semiconductors, was suddenly lost for words and visibly emotional on stage during a plenary session focused on leadership.
Recovering his composure, Park explained to delegates that at the previous evening reception he had been immensely surprised and delighted to meet up with Elena Leschuk and Nataliya Matsneva of Ukrainian reverse engineering firm REATISS, a company with which NXP has had a long relationship. He told their story to a hushed audience and concluded that the challenges they have faced since February put anything he has to deal with in the shade. He then invited the pair to stand up to receive a round of applause. It went on for a great deal of time.
After the session, IAM caught up with Leschuk and Matsneva to learn more about how Russia's invasion of their country has affected them and the business they run.
Leschuk, who is the CEO of REATISS, woke to the sound of falling rockets and explosions on 24 February. In the immediate aftermath of Russia attacking her country, she saw fire on the riverbanks and destroyed buildings across the capital, Kyiv. The trauma remains. "When I left Ukraine, for a few days more, in my ears – it was an illusion – I heard these explosions. It was inside my brain," Leschuk explains.
But more than four months later, Leschuk can now tell an inspiring story of how she and her colleagues sustained the company's operations amid the chaos of war.
REATISS is a 30-year-old business based on the reverse engineering of integrated circuits and boasts a team of 65 engineers. It provides reports of possible patent infringement to its big-name, large portfolio, clients, including the likes of NXP and Qualcomm.
The company closed down for one month following the invasion, but employees expressed their desire to keep working, finding comfort in staying busy. Many have husbands, sons and other relatives who were called into military service, observes  Matsneva, REATISS's human resources officer. In the face of uncertainty, immense concern and unprecedented turmoil, REATISS employees want to have things to do. "The work is really like a remedy from depression," Matsneva says. "Being at work every day is very important."
Moving to safety
When the invasion began, one of the first challenges Leschuk, Matsneva and the rest of the management team had to confront was how to keep staff and their families safe.
Two employees' homes were destroyed or seriously damaged as a result of shelling, and the company stepped up to rent apartments for them – one stayed in Kyiv and the other moved to Poland. If staff members decide to go to Western Ukraine or leave the country, the company helps them make the move – paying for their transportation costs and contributing to rent. While men under 60 years old cannot leave Ukraine, the company provides the same support for their families.
Other employees have remained in apartments close to the company's Kyiv lab so they can quickly safeguard equipment in case of an emergency. "We have the team spread out all over," says Matsneva.
Having experienced the covid pandemic, the company was well-versed in remote work, notes Leschuk. However, it decided early on in the war that a backup lab was required as a 'Plan B' in case the Kyiv facility  was disabled. She has already established a business entity in Poland and has visited other EU countries, including Germany and the Netherlands, to find a lab that might help the company if the worst happens. "We learned our lesson – we have to have a secure business," Matsneva adds.
Alongside their efforts to keep the business running and support staff, Leschuk and Matsneva have focused on contributing to humanitarian programmes in Ukraine. They are currently coordinating donations of medical supplies and equipment for the front line, and funds for official non-profit organisations. A lot of the contributions received come from REATISS's own employees, who are also volunteering as drivers to deliver supplies to areas that need them.
"It takes time. It takes effort. But it helps people to keep busy and feel that they are doing something. Otherwise, you feel guilty," Matsneva says. "We are kind of running three businesses at the same time: we run our current business; we are looking after all our employees and making these back-up arrangements for the business; and we are working as volunteers, collecting money to get certain things. There are not enough of them because they are not in stock."
Support pours in
REATISS's clients and other associates have also stepped-up to help the company in its hour of need.
Leschuk recalls one phone call from a major customer that she received while at a railway station full to bursting point with people trying to escape the Russian attacks. Struggling to deal with the profound sadness of watching so many children cry, Leschuk received welcome words of reassurance. "They told us that 'your company is a strategic company for us, and we will do whatever you need to help'," she says.
NXP has partnered with the reverse engineering firm for over 20 years and Park has visited the team in Kyiv many times. He noted that when Russia invaded Ukraine, it was more than a TV news report for him.
Knowing they are in people's thoughts matters. Leschuk remembers that in the first couple of days after Russia's invasion, she received over 50  messages from REATISS clients and former colleagues, checking in and offering help. She made sure to pass on their support to the rest of the REATISS team, so they knew they were not alone.