Software IP issues for universities have never been more complex, says tech commercialisation leader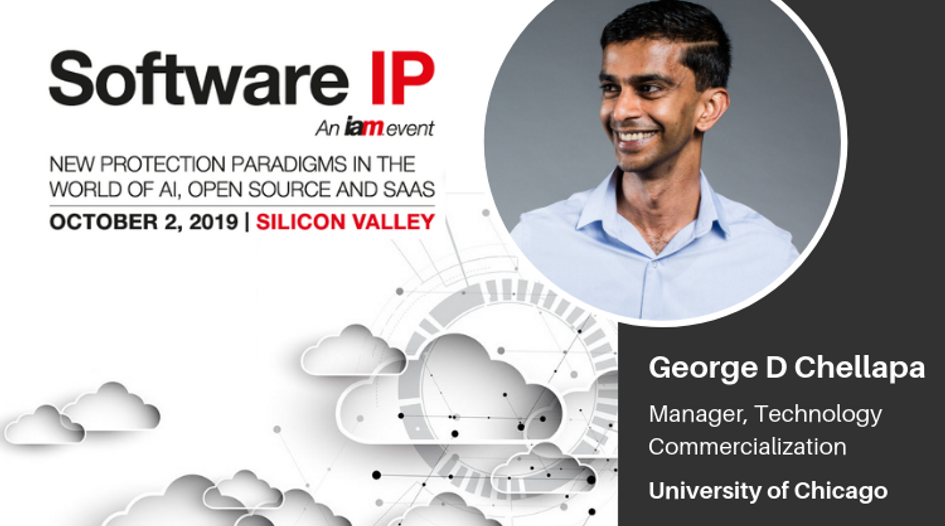 Intellectual property in the software space is no longer being created solely in the computer science departments of the world's leading universities. This means licensing experts in these major institutions now need to balance the needs of a much broader range of stakeholders.
That's the message from the University of Chicago's manager of technology commercialisation, George Chellapa, who is set to speak this year at IAM's upcoming Software IP conference in San Jose on 2nd October.
In an exclusive interview with IAM, Chellapa highlights how the fast-moving nature of the software industry can, at times, prove ill-suited to traditional forms of IP protection. This puts the onus on in-house licensing and patent experts at major research institutions to ensure "that best practice IP protection becomes more widely adopted and to ensure that innovation is not stifled in the process".
The speed with which the software industry develops means that in order to bring new technology to market universities must look to collaborate with industry, Chellapa explained. "This collaboration will help industry identify and invest in technology at early stages while providing academic institutions with insight into best practices and assessment of commercial viability," he added.
The pathway to monetising innovation in software and data is also becoming more complex thanks to recent court cases and what Chellapa describes as "heightened concerns over data privacy". You can read the full interview here.
Chellapa will be speaking on the first panel - called "How the game is changing" - at Software IP. He will be joined by Daniel Nazer from Mozilla, Intel's McCoy Smith, Ed White from Clarivate Analytics and Gilbert Wong from Facebook. The session will tackle some of the big-picture IP issues affecting businesses, such as ongoing uncertainty in the United States over patent-eligible subject matter and the ongoing implications of the spat between Oracle and Google.
With speakers from the likes of Microsoft, Facebook, Google and Twitter set to appear at this year's event, Chellapa will have plenty of opportunity to make his voice heard by the cream of the Big Tech world.  
IAM's Software IP 2019 will provide a platform for IP experts to learn about and discuss how to create value from software IP and devise new protection strategies for managing the difficulties presented by AI, open source and SaaS.
You can register to attend the event here: www.IAM-events.com/SoftwareIP2019.