Patent assignment activity of major semiconductor vendors remains robust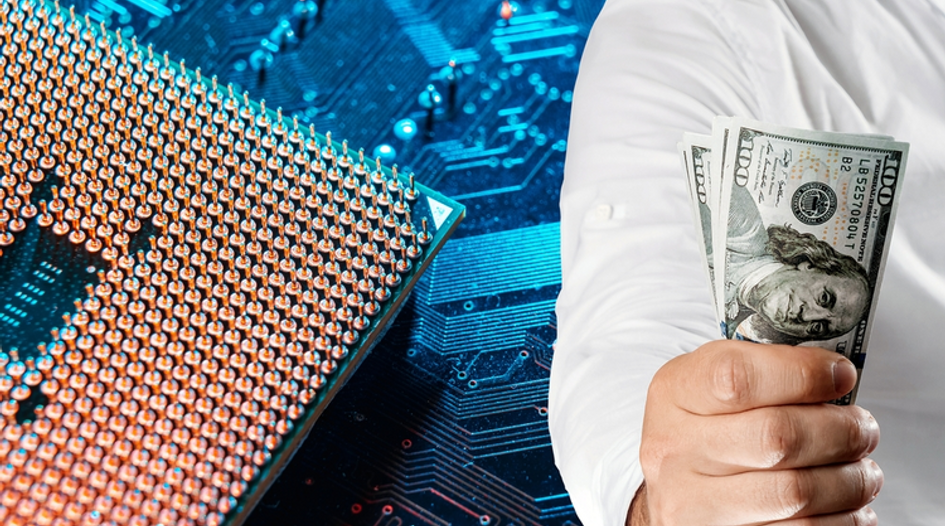 Review of US patent assignment data demonstrates a steady and high volume of transfers of semiconductor-related patents over the last decade, writes George Park of IPValue in this co-published piece
US semiconductor patent assets have been changing hands at a high volume for a number of years now. This can be seen by looking at CPC class H01L ("semiconductor devices"). Approximately 6,000 US patents in that class were assigned in 2020. That's an increase over the number of assignments in 2018 and 2019, which saw around 3,000 and 3,600 assignments respectively. Extrapolating year-to-date numbers, the total number of H01L patent assignments for 2021 is on track to remain at the high levels of the prior years.
Semiconductor patent sales are common for major semiconductor vendors
A recent article published by IAM reported that operating companies accounted for 70% of transacted US patents in Q2 2021. Semiconductor vendors drove much of that activity in terms of assets transferred.
This level of activity continues a trend for major technology enterprises to dominate as assignors of semiconductor-related portfolios. In the last decade, large assignments of H01L patents were recorded for companies such as IBM, Toshiba, Broadcom and Globalfoundries.
Many of these assignments were associated with corporate M&A transactions. For example, IBM transferred over 5,000 H01L patents to Globalfoundries in 2015, following IBM's sale of its microelectronics business to the firm.
Major semiconductor firms continue to assign patents to IP firms
Beyond the corporate-to-corporate assignments, many large semiconductor vendors and foundries have assigned patents to IP commercialisation firms. For example, Taiwan Semiconductor Manufacturing Company (TSMC), the world's leading semiconductor foundry, assigned six patents to Trenchant Blade Technologies LLC in 2020.
TSMC is a member of the Semiconductor Industry Association (SIA), whose membership includes many of the world's largest semiconductor vendors. Other SIA members that have sold patents to IP licensing firms include AMD, Broadcom, Globalfoundries, IBM, Infineon, ITRI, Lattice, Micron, Nvidia, NXP, On Semiconductor, Silicon Labs, Skyworks and Western Digital.
Among that set, companies such as AMD, Broadcom, Globalfoundries, IBM and NXP have each assigned 100+ patents to such firms within the last five years.
Beyond these SIA members, other major semiconductor vendors have also assigned patents to licensing businesses, including such enterprises as LG Innotek, Microchip Corporation, Panasonic Corporation, Renesas, Rohm, STMicroelectronics and Toshiba Corporation. In fact, Toshiba's activities with IP licensing firms were discussed in a recent IAM article.
Different motivations for assigning patents
There can be a variety of motivations driving patent asset assignments. In an M&A context, portfolios could simply follow the sale of businesses, such as with the patent assignments from IBM to Globalfoundries (approximately 16,000 US patents), Toshiba to Kioxia Corporation (approximately 7,000), LG Innotek to Suzhou Lekin Semiconductor (approximately 2,000) and Hitachi to Kokusai Electric Corporation (approximately 900).
In other cases, assignments may represent good stewardship of valuable assets by the corporate IP teams entrusted to manage enterprise patent portfolios. In these circumstances, assets may be assigned to generate fair returns for the R&D that led to the patents, to defray costs of patent portfolio management, to help maintain their strategic position, to demonstrate their enterprises' history of innovation, to complement internal patent licensing efforts or to achieve other corporate goals.
Different approaches and impacts to assignment to IP firms
Along with different motivations, corporate IP executives may have different approaches to assigning patents to IP licensing firms. This could lead to differences in the impact those patents subsequently have on the market.
Some semiconductor companies have repeatedly sold small sets of patents to multiple IP entities. For example, since 2015, AMD has assigned assets to firms including Advanced Silicon Technologies LLC (133 US patents), Conversant Intellectual Property Management (50), Lone Star Silicon Innovations LLC (31), Innovative Foundry Technologies LLC (62) and Vantage Micro LLC (seven).
Many of these assigned patents quickly appeared in litigations.
The patents associated with Advanced Silicon Technologies were assigned in September 2015 and, by December 2015, the entity had filed separate litigations against Harmon International, Texas Instruments, Renesas Electronics, NVIDIA Corporation, BMW AG and Honda Motor Company.
Patents associated with Lone Star Silicon were assigned in August 2016 and, by October, five separate litigations were filed, with additional matters filed in the following months and years.
In contrast, prominent companies such as Micron and Cypress Semiconductor (now part of Infineon) have been associated with transactions that have generated successful licensing programmes with limited or no litigation.
In 2014, immediately before Elpida Memory was acquired by Micron, nearly the entire portfolio from Elpida was assigned and put under the control of a single firm, Longitude Licensing Ltd. Longitude is part of the IPValue Management Group, which also partnered with Round Rock Research previously to acquire a large portfolio from Micron.
These portfolios are widely known to have generated over $1 billion in licensing revenue with relatively little litigation. In the case of the Elpida portfolio, there has been no litigation to date.
Similarly, Cypress Semiconductor assigned nearly half of its portfolio to Monterey Research, another IPValue subsidiary, and Monterey has generated hundreds of millions of dollars in licensing revenue, nearly all of which has been obtained outside of litigation.
Since its inception in 2001, IPValue has focused on licensing large portfolios to generate significant returns for leading enterprise innovators like Cypress and Micron, as well as Seiko Epson, Xerox, British Telecom and others.
AMD, Cypress/Infineon, and Micron are leading semiconductor vendors with experienced internal IP teams. The fact that they chose to commercialise their portions through patent assignments to IP licensing firms demonstrates how sophisticated enterprises can leverage such operators as part of their overall strategy. However, there can be differences in how and with what IP firm enterprises conduct these activities, and these differences can result in very different levels of market impact.