The impact of Covid-19 will be felt across the global IP market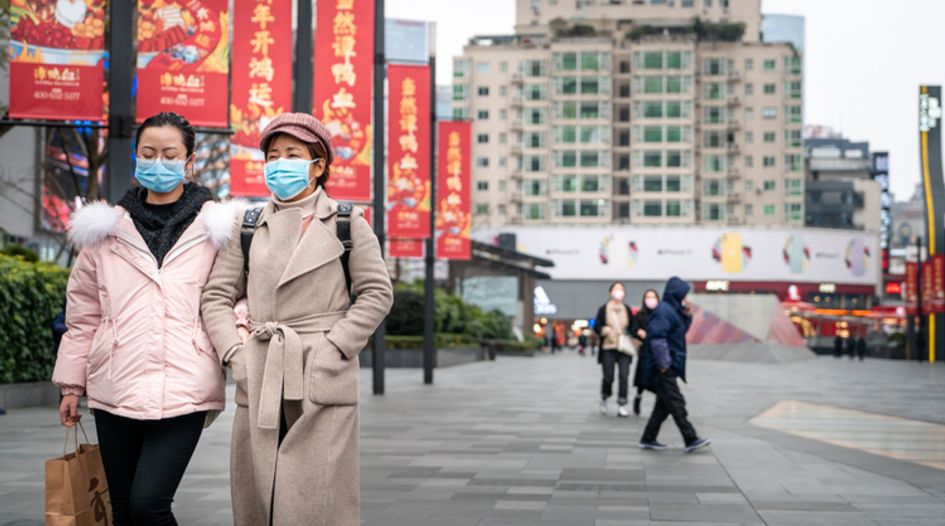 The novel coronavirus, now known officially as Covid-19, has already sparked one of the biggest patent stories of the year so far, with ongoing controversy over Chinese entities' attempts to patent and manufacture a treatment. But as the public health crisis continues, it is already having an impact far beyond the life sciences. Indeed, it has the potential to be the story that affects every other story this year in patent licensing and the wider technology business.
The patent story around Gilead Science antiviral remdesivir has garnered some attention overseas, but it is the A-topic in Chinese IP media outlets that remain dominated by stories related to the Covid-19 outbreak. The controversy appears to be escalating.
When the Wuhan Institute of Virology applied for a use patent covering the combination of remdesivir with an anti-malarial drug to treat Covid-19, IAM was quick to report practitioners' scepticism that the application could overcome hurdles around providing experimental data to show inventive step. Gilead, which had itself filed a Chinese patent on remdesivir's use against SARS and MERS, played down the prospect of a patent conflict, no doubt confident in its own IP position.
The company might be a little more nervous about Thursday's news that Suzhou-based company BrightGene is already "mass-producing" the active ingredient in remdesivir and is in the process of creating finished doses. The biotech firm told its investors that manufacturing itself poses no patent conflict and that it will ultimately seek a licence from Gilead. Still, the unusual move will create a lot of pressure on the US company.
How this resolves will speak volumes about the direction China's IP system is taking. The country just agreed to a raft of pro-pharma IP reforms as part of its phase one trade agreement with the United States government. But Chinese leaders are under enormous public pressure to provide a strong response to the public health crisis. If remdesivir is found to be an effective treatment, authorities will probably take whatever decision allows the drug to reach the maximum number of people.
Aside from the IP legal fights it may create, Covid-19's impact will touch every corner of the technology business, including patent licensing. The cancellation of the Mobile World Congress in Barcelona this week shows that business travel will be impacted globally, not just in Asia. The annual meeting of the International Trademark Association in Singapore this April, which is also the biggest yearly global gathering of patent practitioners, has now been called off as well and will take place in the US this May or June instead.
Virtually every global company has suspended all business travel to China for the time being, while Chinese nationals are going to continue to face significant hurdles travelling overseas until the virus is under control. Many professionals from the United States and Europe will also be looking to avoid trips to countries like Singapore and Japan with a smaller number of cases.
China plays a much bigger role in global IP business than it did in, say, 2003 when the SARS outbreak occurred. Frequent travel to China is part and parcel of many of the top jobs in patent licensing for a reason. There are important deals to do and companies rightly believe that in-person meetings are the most effective way to get them over the line.
These conditions, along with a general slowdown in Chinese business, as many office-based professionals continue to work from home, could make for a relatively slow deal-making environment for the first half of the year.
We do not yet fully understand the impact of the virus on China's economy, but anecdotal reports suggest that some of the biggest players in electronic manufacturing are struggling to get factories back up and running. Coming off the break for Lunar New Year, that spells many weeks of lost productivity. This could be felt across the technology business, including by companies collecting per-unit royalties. It will also be interesting to look back in a year or more to see how the patent filings of China's top innovators are affected by the disruption in work.
All technology companies, especially those based in China, face a huge amount of financial uncertainty right now. Many will want to postpone major business decisions until the end of the coronavirus disruption is in sight. That could make forging new deals from scratch a difficult proposition.
Of course, for IP owners and various service providers that have already cultivated strong relationships with Chinese tech companies, there will be every opportunity to make deals – the technologies that enable doing business remotely have also changed a lot since 2003. Meanwhile, IAM's Hong Kong-based editorial team – operating for the time being from home offices across the city – will continue to bring you the latest news from the markets you may not be able to visit in the first half of this year.