New York Times' seizure call shows how far the tide is turning against pharma IP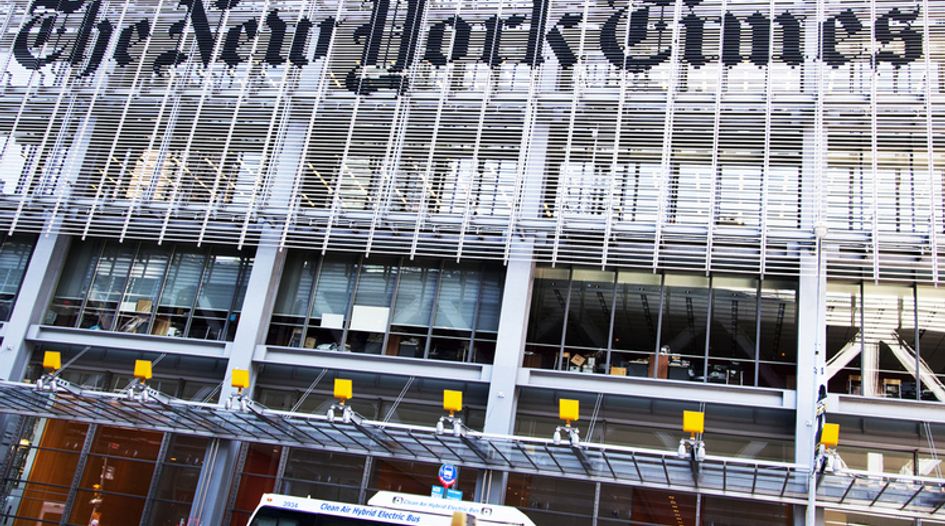 Highlighting the extent to which the US' opinion-forming classes have grown suspicious of pharmaceutical IP rights, the editorial board of the New York Times, which occupies an exalted position in the country's public discourse, has penned a piece calling on the government to consider "seizing" drug patents as a means of lowering drug prices.
Proposed against the background of intense criticism of pharma IP and numerous pending bills in Congress seeking to curtail patent rights in the sector, the recommended course of action would diminish the predictability currently provided to innovators by IP rights and diminish their commercial value. And, while the US government has not yet shown an inclination to invoke the existing legislation cited in the article, the New York Times' advocacy reminds us that we are in a pivotal period for the future of US life sciences patents.
The editorial board's opinion article proposes solutions to the US' problem of high prescription medicine costs – especially when compared to prices elsewhere. In doing so it is focusing on an issue that is likely to be at the centre of next year's US presidential election campaign. In 2017, polling data indicated that 40% of adults regarded lowering drug prices as an "extremely important" priority for Congress, with the problem ranking higher than any other for independents and Democrats, and perceived as "extremely important" by 30% of Republicans. Indeed, the Trump administration has cited lowering medical costs as one of its most urgent objectives.
For the New York Times editorial board, curtailing the rights of patent owners comes into this equation. In addition to three other tactics – pricing drugs according to benefits, negotiating with drug makers and tackling anti-competitive practices – "seizing patents" should be considered, it argues. The government should, in certain cases where it perceives drug prices to be excessive, invoke two existing statutes which it claims allows the state to "override patents on FDA-approved medications and produce them at cost":
28 USC section 1498(a), which permits the government to use patented technology at any point with the permission of the patent holder, so long as reasonable compensation is provided to the rights holder. This was invoked to obtain medicines several times in the 1950s and 1960s, but never since.
The 'march-in rights' contained in the 1980 Bayh-Dole Act, which allow federal agencies to compel the granting of a licence for the use of a patented technology that was developed with the help of federal funding. This can be done only in specific circumstances, including if "action is necessary to alleviate health or safety needs".
These proposals are made in the context of a rising tide of opinion which blames drug patents and abuse of the IP system by pharma innovators for the country's sky-high prescription medicine prices. (See this IAM article for further details.) This has manifested itself in the tabling of a plethora of bipartisan bills seeking to reform the patent system; for instance, by making it more difficult to obtain patents for allegedly trivial pharmaceutical innovations, placing limits on the availability of 30-month stays for litigation, or by creating greater transparency around biologics patent thickets.
The New York Times, though, is suggesting the use of existing powers to break rights holders' monopolies and allow cheaper generics. Its proposals echo in part those of the #BreakThePatent campaign, run by the PrEP4All activist group, which argues that the government should exercise march-in rights to allow a generic version of Gilead's Truvada PrEP HIV prevention treatment on to the market. Significant controversy has surrounded this treatment, because of its $2,000-a-month price tag – compared to $100-a-month elsewhere – the fact that only 10% of high-risk patients are being prescribed the drug and that federal funding helped develop the treatment.
But it is not clear precisely what rights the government has to override patents under these statutes. According to the Congressional Research Service, there is debate over the scope of march-in rights, which in any case are limited to state-funded inventions. The Bayh-Dole Act's authors, Senators Birch Bayh and Robert Dole, published an editorial in 2002 stating that the provision were not intended to allow government to reduce drug prices or profitability, but only to intervene if an invention is not being properly commercialised. Patent owners are allowed to appeal march-in decisions, delaying the grant of a licence until all proceedings are resolved and are entitled to royalties.
Section 1498(a) gives the government wider, but less far-reaching, powers to grant licences for use of patented drugs. According to scholars at Yale Law School, this statute can only be invoked to obtain drugs "for the Government", meaning that, without changes to the law, it could probably only be used to acquire generics for federal programmes, such as the Veterans Health Administration, the Bureau of Prisons, and possibly Medicaid and Medicare.
Despite previous uses of this statute, there is no case law on how reasonable compensation is to be calculated for drug patent owners. But the scholars – themselves advocates of section 1498(a) use – write that this should and would include compensation for reasonable profits and reflect the risks and costs incurred during R&D. As with march-in rights, the patent itself is not seized, and the owner could sue other unlicensed generics.
Nevertheless, were the government to follow the New York Times' advice, it would constitute a radical change in the way US treats pharma patents. The compensation received by affected rights holders would, of course, be far less than the revenues otherwise generated. And innovators' exclusivities would become contingent on not falling foul of the government.
Indeed, it would mark a shift of perspective on pharmaceutical IP rights, from dependable rights granted according to set criteria and providing a predictable basis for investment, to more conditional rights to be overridden by administrative authorities on the basis of broader political considerations.
While these policies may never be adopted, the New York Times' proposal is a stark illustration of the extent to which the US's opinion-formers are willing to rethink the nature of the US patent system in the light of the country's drug price problems.
As such, if the life sciences sector is not doing some very detailed thinking on this issue – and on accessibility and pricing generally – it could soon find itself in a very difficult place. This is something that is not going away. Constant rebuttal is not enough – at some point the industry has to get proactive and become a meaningful part of the conversation. Failure to do so will eventually end with solutions being imposed upon it that have not been crafted to secure the best outcomes, but to harvest votes.
Other patent owners, meanwhile, need to ask themselves this: if it can happen to the pharma industry, why couldn't it happen to us?