Kokes hails "fantastic first year" as NantWorks CIPO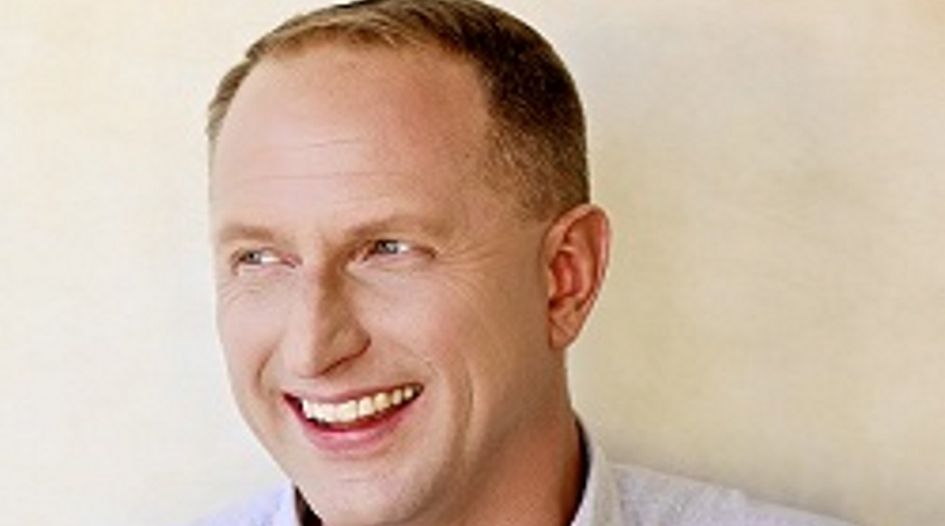 It's well over a year now since Mark Kokes took a lot of people by surprise by quitting his job as the head of IP, licensing and standards at BlackBerry. But just a few moths later, he re-emerged as the chief IP officer of NantWorks, the life sciences focused conglomerate owned by billionaire medic, Dr Patrick Soon-Shiong.
Soon-Shiong has invested much of his vast wealth in seeking to radically overhaul large parts of medical care and, in particular, the way that cancer is treated. It is an effort that he hopes will ultimately lead to a cure for the disease. And he has been buying companies, lots of them, with many focused on the intersection of where medicine meets high tech. His sprawling business interests have produced a patent portfolio of around 6,000 assets, which touch on a myriad of technologies from healthcare throiugh the cloud to wireless.
As NantWorks' CIPO, Kokes' job is to build an IP function for the business, ensure the rights that it owns are respected and to generate a return from them. It is an opportunity that he has described as being much bigger than the one he had at BlackBerry.
With his feet now firmly under the NantWorks table, Kokes is beginning to talk in depth about his role and the targets he has been given. He'll be doing that during the Innovative IP strategies for life sciences session at IPBC Global, taking place in Boston from 16th to 18th June.
In anticipation of this, Kokes sat down with IAM recently to give more insight into his role, how and why he believes high tech and life sciences approaches to IP value creation are converging, and just why IPBC Global is the event that global IP leaders always make sure to attend.
You recently moved from a big high tech industry player into the life sciences sector. How has the change been and what are the major differences you have noted so far?
With regard to the change, I would describe it as seamless. We had a fantastic first operational year achieving our fiscal 2018 financial goals. During the year we were able to build a world‐class intellectual property team of 20+ members and greatly improve our prosecution efficiency; we claim-charted a triple digit set of assets, grew the aggregate Nant IP portfolio by more than 25% and closed a number of deals across a handful of newly minted licensing programmes, some of which will be publicly announced soon.
With a foundational portfolio spanning multiple vertical segments and an equally impressive technology shelf, the team is poised to continue its growth trajectory well into 2019 and beyond.
As for the differences between my high tech past and the life sciences present, I remain bullish. Nant's intellectual property and technology portfolio is both deep and broad, and is comprised of a multitude of breakthrough, unencumbered inventions that have been conceived and issued as global patents and applications, and developed at scale to deliver Dr Patrick Soon‐Shiong's vision of the fourth industrial revolution in healthcare, digital communications, augmented intelligence, renewable energy and digital media.
Many perceive the life sciences IP landscape as offering fewer, yet higher quality and higher value assets, as well as less licensing and enforcement opportunities than other sectors. But it is clear that statistically, many of the largest IP enforcement recoveries belong to life sciences.
Outside of FDA‐reviewed therapeutics, there remains a largely untapped trove of non‐FDA regulated technologies and licensing opportunities across the life sciences community. Increasingly, and to the benefit of the Nant IP team, the life sciences industry is converging with high tech to offer holistic industry solutions for patients, providers and networks. In doing so, the industry is adopting big data usage, machine learning, communications, trusted distributed networking, hybrid cloud and high performance computing technologies for hospital solutions, genomic sequencing, therapeutics development and modelling, as well as for direct interaction with end user care providers and patients.
Though there is nuance between the verticals, the fact remains that convergence has made it a rather easy transition for the team and myself.
What are the current IP challenges in the life sciences industry?
Since joining Nant, I have noted that the life sciences are riddled with IP challenges that Nant and others must attempt to build meaningful solutions to overcome. Like the impact of the open‐source movement in the software industry, sharing and collaboration have been hallmarks for fostering advancement in the life sciences.
Like the software industry, appropriate sharing does tend to increase, rather than negate, development and licensing opportunities. Still, it appears that some are simply unwilling to play by the rules and often try to mask illicit behaviours behind narrow exemptions to infringement that are uniquely afforded under the law.
Nant and its affiliates remain deeply surprised regarding the loose distrbution of biologicial materials in the life sciences space by sophisticated parties that should know that it is not appropriate to distribute or use other people's property, patent or otherwise, without their express permission.
A number of parties have admitted to Nant and its affiliates that they have obtained copies of our patented cell lines from specific cell repositories and are using them for infringing purposes or other uses for which they were not entitled to obtain the cells. It is very clear that certain cell repositories lack a sufficient process for ensuring that unauthorised parties do not receive cell lines.
Another IP issue in the life sciences is the lack of international harmonisation. Each jurisdiction has its own patent laws on dealing with life sciences art, especially with respect to medical treatments. Such differences result in a lack of coverage in desirable markets and increased costs because an applicant must deal with each jurisdiction on its own terms rather than fully leveraging international patent application strategies that have been leveraged in the high tech space.
For example, Europe will not approve patents that focus on surgery, therapy or diagnostics. So such applications have to be written in a different form than in the United States. Japan and China are somewhat similar to Europe in that regard. South Korea and India basically exclude such patents. This means that an international patent application must be written in a way to support all relevant jurisdictions, which increases the cost of both writing and obtaining patents.
Additionally, unpredictability in the life sciences arts, especially those related to drugs or treatments, represent a significant issue. This means that claimed subject matter must be narrowly focused on subject matter backed by actual data, which is unlike high tech. In the high tech space, the subject matter can be quite predictable because the enabling technologies (eg, math, computers, mechanics, electronics, physics, etc) are well understood. Thus an applicant can obtain "broad" patents in high tech if the applicant is truly the first person to create a novel arrangement of a key technology that is under development.
However, in the life sciences - say drugs such as monoclonal antibodies - an applicant might only have data relating to a small set of antibodies having known sequences. The applicant will only be permitted allowed claims on the known sequences for which they have data. If there are multiple, valid and useful sequences, the applicant might be required to file multiple divisional or continuation applications as data becomes available in order to achieve the coverage they need. Naturally, this implies high costs, especially if broad protection is desired internationally.
Still further, only larger entities or applicants having substantial IP budgets can afford to obtain such coverage, which is typically out of reach for smaller entities or individual inventors and researchers.
What key lessons can senior IP executives working in the life sciences industries learn from their colleagues in tech, and vice versa?
Life science executives tend to be patient with their whale hunting of new blockbuster drugs and associated licensing opportunities. These same executives often invest hundreds of millions of dollars and wait a decade or more for a return on investment with only a low probability of success. But, for the most sophisticated developers with proven track records in the life sciences space, while the whales of opportunity are bigger and often take longer to hunt down, eventually the opportunities do come to surface. Convergence of technologies has begun to bridge the gap and improve the quality of these opportunities and decrease the time to market.
Modern medicine is beyond any one individual, and with the emergence of machine learning and artificial intelligence to speed the discovery of proteins, antibodies or therapeutics in general, life cycles in the biotech and pharma world are speeding up. Deal duration will shrink to capture the window of opportunity before the next generation of technology evolves.
In this manner, life sciences IP executives can benefit from their high tech brethren in learning to consume greater deal volumes, applying and establishing appropriate royalty rates for underlying technologies, and implementing cross license strategies to capture value and eliminate risk.
Biotechnologies are key enabling technologies for the 21st century and their benefits impact many different sectors including medicine, agriculture, energy and chemical production. Today's research and development will become the new methods, medicines, treatments and vaccines of the future.
Best practice guidelines have already been established for various fields of biotechnology, but there remains few if any agreed upon internationally accepted standards. Unlike in the high tech arena were international standards drive value in the IP pipeline, these opportunities are just becoming visible in the life sciences IP landscape.
Another interesting trend is that biotech and pharma CEOs are no longer looking merely for new drug candidates, but rather seek broader treatment solutions to medical issues and disease. As pharma executives evolve their respective IP strategies and move toward solutions, there will be an opportunity for creative deal making which bundles both technology and intellectual property.
This is something that has been done in the high tech space for some time. Patent estates will eventually expire, but data and technical derivatives create the opportunity to evolve control points and extract additional value.
How does IPBC Global help to facilitate these and other IP value creation discussions?
IPBC Global provides a platform for commercial and IP‐centric intelligence that resonates with a broad cross disciplinary and truly global audience. The timely, granular and actionable data and insights gathered from across multiple verticals at the Global event represents an ideal opportunity to enhance the decision making around IP investments that the Nant team makes during any given year.
In a time of unprecedented technological development, innovation and convergence across both the high tech and life sciences verticals within which Nant is both heavily engaged, IPBC Global has cemented itself as one of the key global gatherings for the world's IP business elite. The unrivalled formal and informal networking opportunities allows the Nant IP team to both inform and engage audiences and enables our partner organizations and their respective customers to connect in ways that provide opportunities and benefit for all parties involved.
Why do you choose to attend IPBC Global? What's the value to you and other attendees?
IPBC Global presents a meaningful forum for corporate IP leaders, policy makers, investors, the legal profession and third‐party service providers to initiate a dialogue that creates and unleashes financial value across multiple verticals. Nant is a large organisation with varied interests across pharma, biotech, media, energy and network infrastructure and attends IPBC Global because it presents opportunities to interact with IP stakeholders across all verticals.
Demand for delegate places for IPBC Global 2019 is running way ahead of levels for San Francisco 2018, which was a sell-out. You are strongly advised to act now if you wish to join Mark Kokes and dozens of other global IP business thought-leaders in Boston this June. Reserve your place here.