Latest data points to another drop in US patent litigation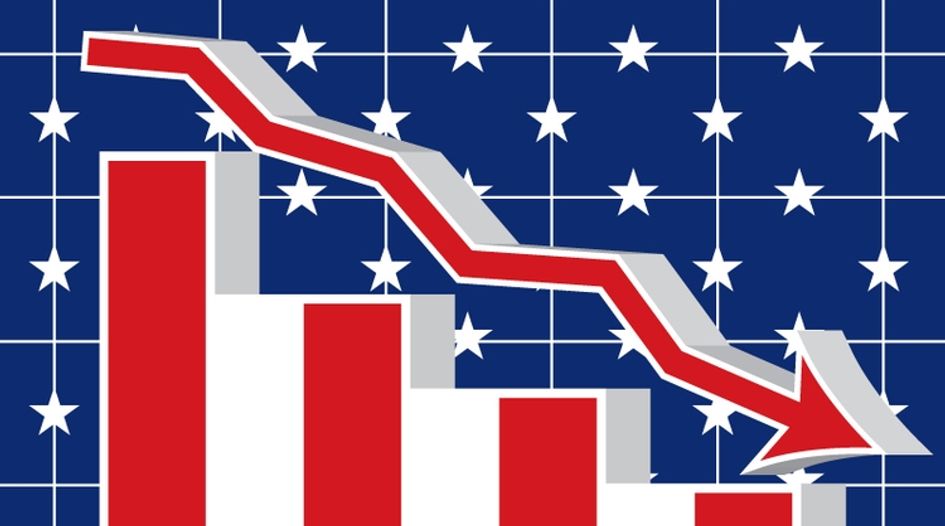 Patent litigation in the US is on course to decline again this year as the climate continues to put IP owners off from bringing infringement lawsuits. The news comes courtesy of Unified Patents' report on third quarter litigation - even though it actually showed a slight uptick in the number of suits lodged in district courts.
The number of new cases filed from July to September was 842, up from 818 in the second quarter but down on the 865 suits brought in the same period last year. With the volume of new filings below 900 for the last five quarters the market seems to have settled into a new normal.
Extrapolating the numbers for the whole of 2018, Unified predicts that approximately 3,380 suits will be filed this year, down from last year's total of 3,657. If that were accurate then it will mean that patent litigation would have dropped by around 2,500 since 2015. That year 5,838 suits were brought, which was close to an all-time high, beaten only by 2013 when approximately 6,000 infringement cases were filed.      
Unified is also forecasting a drop in the number of post-issuance reviews brought at the Patent Trial and Appeal Board (PTAB) with a little over 1,650 set to be filed in 2018 according to its analysis. That would mean a decrease of around 150 from last year's total of 1,796 reviews, which was the most since the PTAB was created in 2012.
Beyond the overall headline figures there are a few other points that stand out from Unified's Q3 report.
Non-practising entity litigation is going to be down again this year, with Unified forecasting a little over 1,800 new cases brought by NPEs. That's less than half the number that was filed in 2015 which saw 3,909 and a drop from last year's total of 2,099.
While overall NPE litigation will be down, Unified's analysis shows that it has actually been rising quarter to quarter through the first nine months. Whether this represents a longer-term trend remains to be seen but NPEs filed 492 new lawsuits in Q3, up from 456 in the previous quarter, which was an increase on the 404 new cases filed in the first three months of 2018. The volume is still well down on recent highs (NPEs filed 1,237 cases in Q2 of 2015), but the rise through this year might suggest that the litigation climate is improving for plaintiffs - admittedly from a very low base.
Qualcomm is the top patent owner targeted so far this year at the PTAB with 42 reviews filed against its grants. With the next two most popular targets (both NPEs) on 26, it looks like the San Diego-based company will hold onto the number one spot for this year as it continues to face off against Apple in their high-stakes, multi-jurisdictional patent dispute (Apple supplier Intel has also filed several IPRs against its rival). Apple's onslaught means that it is in its customary position as the top petitioner through the first three quarters of 2018.