The greatest moments from the world's greatest IP event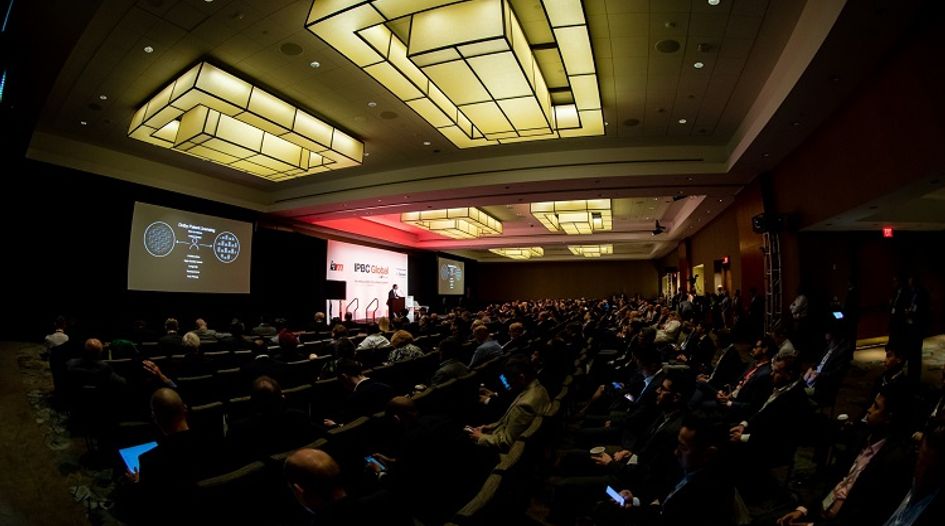 It would be nice to say that the idea for launching IPBC Global came as a flash of brilliant inspiration. Nice, but untrue. The reality was far more prosaic.
Back in late 2007, IAM was approached by OceanTomo, which in those days was making a big name for itself with a series of high-profile patent auctions. They were looking to organise a sale in Amsterdam in June 2008 but wanted a larger event to hang around it to attract the biggest crowd possible. They were based in the US so didn't know Europe and saw us as the logical partner. We knew that events were a great growth option.
Our problem was that we had no idea how to put a conference together. No-one on our team had ever done it before. However, it was too big an opportunity to walk away from, so we came up with a solution: we'd develop the concept (basically IAM Live - an event built around the business of IP, the IP Business Congress), put together the programme, recruit the speakers and do the delegate and sponsorship sales; but we'd bring in outside experts to sort out the logistics.
Luckily, we knew just the people: the team at Judy Lane Consulting, who worked on the International Bar Association events that many of us had attended in the past. JLC came on board, we did our bit and 450 people turned up. By what sometimes seemed more like luck than judgment - and with a lot of help from our friends - something special had been born.
Since that first event at the Hotel Krasnapolsky on Dam Square, there have been 13 more IPBC Globals. The franchise has also expanded to include the highly successful IPBC Asia and IPBC Europe, as well as several other country-based events in Asia.
I have attended most of them (the only Global I missed was in Ottawa in 2017). Each has been very special; and each has created unforgettable moments. How could it be otherwise when you bring together the world's IP deal and policy making elite?  
But even within the general excellence, there are some that stand out for me. In advance of next week's IPBC Global 15 in San Diego, here are my top five, organised by year.  
Chicago 2009
So, we booked the Four Seasons – which was not cheap – and we started planning for our first standalone IPBC Global. Then came the financial crash with a fall-out that affected absolutely everyone. To say we were concerned is something of an understatement. We were a small business on the line for a lot of cash. But we got great support from sponsors, there were no serious problems recruiting top class speakers and 400 delegates signed up.
To get such a response at such a time was truly gratifying and told us we were onto something important. I will never forget the feeling when everyone arrived on the first morning and filled the plenary room. I will be forever grateful to all of you who did.    
San Francisco 2011
Our first time on the West Coast and on Silicon Valley's doorstep. What a moment to be doing it. Literally as the event was taking place, the Nortel auction was being held in New York, while the final lobbying was being done to get Congress to approve the America Invents Act. Both were the source of constant discussion in and around the conference hall.
We also got visited by a reporter from NPR who, unbeknownst to us, was putting together a piece on "patent trolls" and spoke to a few delegates without telling them as much. That was a lesson learned.
The buzz was something special. The event attracted over 600 delegates for the first time.
To round it all off we were beamed across the world live on TV, remotely ringing the NYSE's closing bell. That was the result of a deal my old partner in crime Gavin Stewart and myself had done a few months earlier with the exchange, which wanted to promote its commitment to tech. Talk about being in the right place at the right time. How many faces do you recognise?
Amsterdam 2014
Six years on from Global One and we were back in the city where it all started. However, with over 630 delegates, hailing from 45 different jurisdictions, we needed a bigger venue, so we switched to the Okura Hotel, a bit further away from the centre of town.
What made that year's event so special was an opening keynote from Philips CEO Frans van Houten. In a compelling presentation, followed by Q&A, van Houten displayed the kind of familiarity with IP that you only get from a leader whose company has totally embraced it as a driver of value.
Notably, and to the dismay of many in the audience, van Houten came out very strongly against putting IP on the balance sheet. Knowing its value internally is one thing, he explained, but transmitting it publicly is quite another. Don't give competitors information that might reveal what your plans are, he argued; while the value of IP can be so elastic that from year to year numbers may move around sharply – something that might spook markets.
It is that kind of insight, direct from the C-suite, that IPBC Global is all about.
Boston 2019
The scene of another tour de force from the C-suite, this time from Dolby Labs' general counsel Andy Sherman.
Towards the end of his talk to a packed room, Sherman put up a slide of company brands that are no longer around. They included names such as Sears, TWA, Kodak, Yahoo! and Motorola. In their time, he observed, all were best in class. Their demise shows that nothing in the business world stands still.
There are many things boards should do to ensure their companies' transcend time, Sherman continued, but it boils down to three key points: (1) never forget who your customers and competitors are. Always know exactly what they are doing and why; (2) commit unstintingly to innovation, even when the RoI is not immediately clear; and (3) have a comprehensive, nuanced IP strategy that is completely aligned with the business and reflects its brand values.
Those who were there still reference the Sherman speech to this day. It was that good.
Seattle 2021
IPBC Global's winning streak came to an end in 2020. We had to cancel the scheduled event in Chicago because of the covid pandemic. It was then touch and go as to whether we could get one organised for the following year.
June was out because of ongoing restrictions on travel at the international, national and corporate levels, but a window opened for November and we decided we had to take the chance. So, we put on our face masks, did our covid tests and headed to the Pacific North West.
Once again, thanks to fantastic support from sponsors, speakers and delegates, it turned out well. Seeing everyone together again after a two-year hiatus was something very special.
High-quality
Every IPBC Global is made by the people who attend it. Their generosity of spirit, their camaraderie, their knowledge and their insights make the event different to anything else on the calendar.
None of it, though, would ever happen without the extraordinary behind the scenes effort put in by the production, content, operations, marketing, business development and delegate sales team that comes together internally at Law Business Research, IAM's parent company, nine months ahead of time.
Together, they work tirelessly to ensure the highest quality programme, speaking faculty, attendance, ambience and organisation. It's been the same since 2008 and it will never change.
There will be another sell-out crowd of 650 or so people in San Diego next week. It's IPBC Global's first time in the city and everything is set up for it to be another huge success. Here's wishing everyone attending a rewarding few days. I am looking forward to hearing all about them.
Joff Wild is the creator of IAM and its former editor-in-chief. He now writes a weekly column for the platform and offers advisory/consultancy services, with a focus on IP policy, strategy, communications, marketing and business development