IPBC Latin America to be held in Rio de Janeiro on 29th November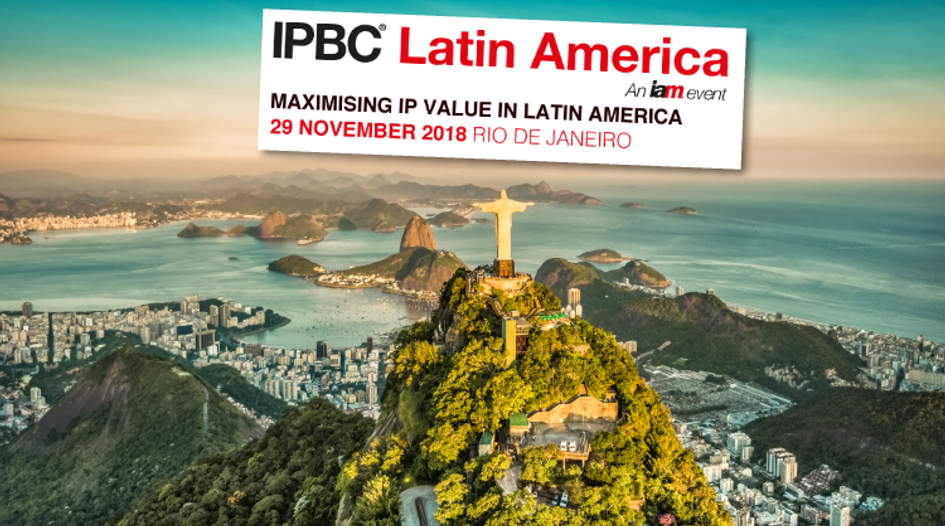 We are delighted to announce the latest addition to the IPBC family, with the launch of IPBC Latin America, which will be held for the first time on 29th November in Rio de Janeiro. The one day conference - taking place immediately after the annual ASIPI meeting, which is also being held in the city - joins IPBCs Global, Asia, Europe, South East Asia, India, Korea, China, Japan, Taiwan, Shenzhen and Australasia on our roster of events whose focus is on the strategic use of IP to create corporate and shareholder value.
IPBC Latin America is being organised in response to growing demand from companies and their advisers in the region for more business-focused IP insights, and is being put together specifically for those seeking to understand in greater depth how to harness and maximise the value of all types of IP asset. It will provide tools and knowledge to enable the crafting of world-class IP management and value creation programmes.
By attending IPBC Latin America delegates will:
Gain best practice and first-hand insights from those who have grown their IP functions and flourished in Latin America and beyond.
Identify what is happening now in the Latin American and global IP markets, what is likely to change, how this affects strategy and the options available to plan accordingly.
Look at how to craft a comprehensive value creation strategy covering all kinds of IP rights.
Learn best practices for leveraging IP portfolios to get the best deals and drive collaborative agreements, security and finance.
Meet, network and engage with like-minded senior decision makers, licensing and deal influencers, and IP value creators from across the IP landscape.
The delegate fee for what promises to be a fascinating day has been set at $595. You can register here.
Vejo você no Rio!