Campinos and Iancu confirmed for IPBC Connect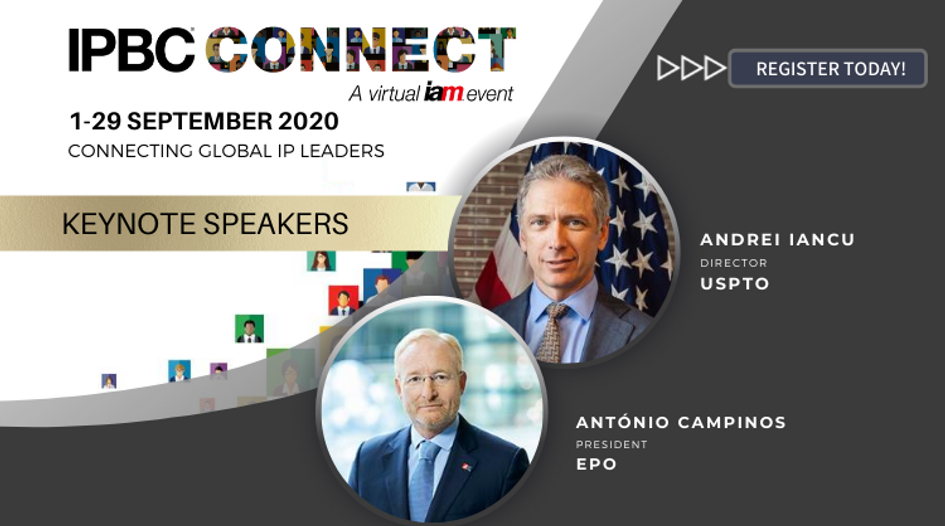 António Campinos and Andrei Iancu are among the confirmed speakers participating in IAM's ground-breaking IPBC Connect, being held over the course of next month.
The USPTO Director and the President of the EPO will be taking part in a virtual fireside chat on 15th September with IAM editor-in-chief Joff Wild, during which a wide range of subjects will be addressed. These will include, no doubt, how both agencies have responded to the challenges posed by the covid-19 pandemic and the longer-term implications for IP practice that the current crisis creates.
The two patent office heads join close to 140 other IP leaders to form part of the speaking faculty for an event that will last from 1st to 29th September. They include the likes of:
Lenovo general counsel Rachel Adams;
TSMC IP head Billie Chen;
Arshad Jamil, head of IP at Biocon Biologics;
Facebook IP head Allen Lo;
Denise Lane, Director of IP at Boston Scientific;
CAFC judge the Honorable Kathleen O'Malley;
Intellectual Ventures COO Arvin Patel;
Ericsson CIPO Christina Petersson;
John Smee, VP of engineering and head of 5G R&D at Qualcomm; and
Yixiong Zou, chief IP counsel at Midea Group.
IPBC Connect is made up of a series of Hubs, each of which is based on the principles of high-quality content, connection and contribution.
Specifically designed for IP business leaders, the Hubs are interactive digital sessions, purpose-built to facilitate discussion, benchmarking and the sharing of best practice in key areas of strategic IP value creation.
Attendees can build their own IPBC Connect schedules and join the sessions most relevant to them. There are no lower or upper limits on the number they can choose. Sessions will take place at times that suit participants in Asia, Europe, Africa and the Americas.
So far, over 900 people have signed up to attend IPBC Connect, creating 5,400 individual session registrations. They come from over 400 different companies and are based in 55 countries.
Because of demand, a quota system is in operation, meaning that there are small registration charges now being applied to service providers and private practice lawyers and attorneys. However, registration remains complimentary for those working inside IP-owning operating companies, universities and research institutions. Attendance is also guaranteed to be free of charge for IAM subscribers.