IP Hall of Fame 2022 inductees announced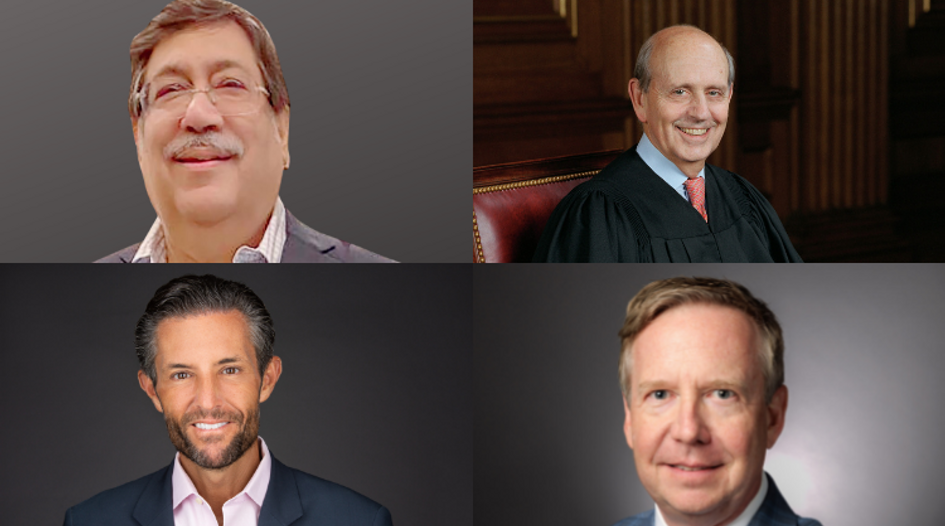 Following a selection process that began back in March, IAM is pleased to announce that four individuals will be inducted into the IP Hall of Fame in 2022: Pravin Anand, Justice Stephen Breyer, Louis Foreman and James Malackowski.
These four inductees were chosen by the IP Hall of Fame Academy. Anand, Breyer and Foreman were selected from a longlist of nominees put forward by the global IP community. Malackowski is the winner of this year's Q. Todd Dickinson Award, which honours those who have made significant contributions to IP as a business asset. He was chosen from a subsection of the Academy's nominees shortlisted by the IAM editorial team.
Pravin Anand is a trailblazer of Indian IP and the managing partner of Anand & Anand. In his four-decade career, Anand has appeared in more than 3,000 cases and has won the largest ever Indian damages awards for both trademark and patent disputes. He also won the country's first Anton Piller order, first Mareva order and first Norwich Pharmacol order. Under his guidance, Anand & Anand has become one of India's biggest and best specialist IP law firms with 28 partners across four offices.
Justice Stephen Breyer has served as a US Supreme Court justice for 27 years. Set to retire later this year, he has long been one of the court's driving forces on IP questions. He began to take an interest in this area of the law as a student at Harvard Law School, where he published the widely cited article 'The Uneasy Case for Copyright'. Considered broadly to be an IP sceptic, especially on the vexed issue of patent eligibility, Breyer leaves an important legacy in several areas of IP law. He wrote the majority opinion in landmark copyright case Google v Oracle and authored the Qualitex v Jacobs decision, which extended trademark protection to colours. On section 101, he concurred with court's decision in Alice Corp v CLS Bank and authored its unanimous opinion in Mayo v Prometheus.
Louis Foreman is a renowned innovator, entrepreneur and IP educator. With a slew of patents to his name and having started more than a dozen companies, the CEO of Enventys Partners is also known for being the creator of Emmy-winning PBS TV show Everday Edisons, in which inventors attempt to bring their ideas to the market. Foreman is the publisher of Inventors Digest, is a past president of the IPO's education foundation and has received the US Chamber of Commerce's IP Champion Award.
James Malackowski is a pioneer of IP transactions and strategic patent consultancy. Best known as the founder of Ocean Tomo, he previously established Peterson & Co's IP valuation practice in 1985, before co-founding the IPC Group in 1988. A past president of the Licensing Executive Society, Malackowski has served as an expert before the courts on more than 50 occasions. Notably, these include the recent Centripetal Networks v Cisco Systems case, in which the plaintiff was awarded $1.9 billion in damages.
Reacting to new of their inclusion, this year's new inductees said the following:
"It's indeed a great honour and privilege to be a part of this super club of persons who have not only overcome all the obstacles to unleash their own creative energies but have also mentored many others to do the same, and further inspired an even larger number without direct contact. These IP Hall of Famers include legends like Thomas Edison, Nikola Tesla and the people who have shared the same curiosity. These Hall of Famers have proliferated the belief and the realisation that 'creativity, innovation and intellectual property' are not mere words to be spoken and written about. They are concepts that are proving to be deeply linked to our knowledge, entertainment and in fact to our sheer survival providing us with key solutions for unlocking the mysteries of the world." Pravin Anand
"I am honored to join this distinguished group of innovators, educators, and IP professionals. As an entrepreneur I quickly recognized the inherent value of intellectual property as an incentive to innovate. Intellectual property has been the catalyst that enabled my companies to raise capital, hire employees, and attract customers. To be recognized for this as an inductee to the IP Hall of Fame is beyond words and I am humbled by the recognition." Louis Foreman
"The Q. Todd Dickinson Editor's Award is a career highlight for me for many reasons – it reflects the work so many have done at Ocean Tomo to develop IP as a business asset, it is peer driven, and it is homage to Todd Dickinson.  I had the opportunity to first meet and get to know Todd at GE.  We maintained a relationship through one of his final cases where we served as co-experts.  Todd was always patient to listen to new ideas, offering insightful guidance and support. It is an honor to be recognized as a Member of the IP Hall of Fame with an award bearing his name." James Malackowski