Patents show the sun shining on renewable energy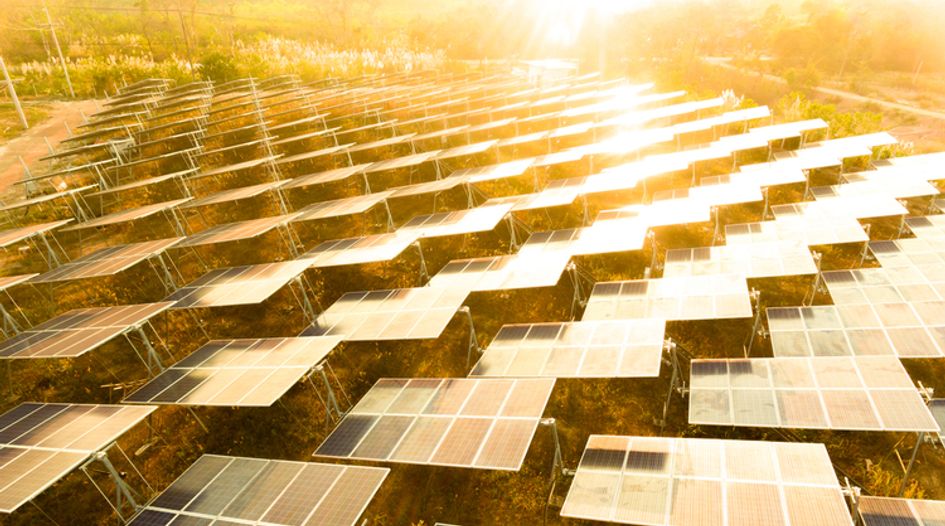 As solar technology continues to drive the renewable energy sector, the patent landscape reveals both the leading players and where the next generation of technology is coming from. Cassie Daddario, Sung Hei Yau and Bruce Rubinger explore.
Solar energy is a key enabling technology that can help to mitigate the effects of climate change and accelerate the growth of renewable energy. With solar efficiency increasing, solar energy is expected to supply 50% of the world's energy capacity in the next 25 years. Thus, a worldwide race is on to create the innovations needed to power this transformation and capture the benefits with strong patents. However, solar technology faces stiff performance, cost and durability challenges. In this tough environment, companies with a strong IP position covering critical solar technology will emerge as big winners.
IP assets provide a detailed window into the innovative strategies of various solar technology players and enable us to identify the most promising technologies. We analysed more than 8,500 unique patent families in this complex space, in order to capture the primary focus and positioning of key patent holders and to examine the potential of advanced solar technology to significantly influence the future energy supply and lessen the effects of climate change.
PVSC: an exciting new frontier
Our analysis of the emerging PV technology indicates a shift toward perovskites. The promise of high-efficiency perovskites solar cells (PVSC) is reflected in the R&D and patent focus of leading solar technology companies and research institutes. It is also reflected in the literature, which highlights the excitement and potential of this promising Generation 4 (Gen 4) technology. This consensus is echoed in reports issued by the Fraunhofer Institute, Advanced Science News and Lux Research, among others.
Moreover, this interest signals the likelihood of strong commercial growth for perovskites over the next five to 10 years, as various companies (eg, OxfordPV and Solar-Tectic) have announced plans to enter the market. Our analysis of the intellectual property in this space provides insight into the technical trends and opportunities, as well as the patents covering critical technology.
Further, patent analysis creates a roadmap for navigating the following obstacles to widespread PVSC commercialisation (see Table 1):
Material improvements – as perovskites find new applications in PV, material optimisation is required for PV application.
Device improvements – like traditional PV, device architecture for PVSC is being developed and improved to maximise the material. State of the art device architecture, such as tandem solar cells, is of high interest to the top players.
Improved stability – one hurdle facing the adoption of PVSC is long-term stability, which can be improved by solutions such as encapsulation.
Low-cost production – cost reduction through production optimisation is an area of high priority in the patent art.
The portfolio of top players can be further analysed from the perspective of these four major factors.
Research institutes
Patent analysis has found that KUST and CAS are the top players in PVSC. KUST is active in materials improvement (eg, through the use of lead-free and nanomaterials in PVSC) and is exploring various ways to lower production costs (eg, through low-temperature film formation, which can be scaled for mass production). CAS is more focused on low-cost production (eg, through the use of ink jet printing for perovskite deposition) and is active in device improvement (eg, through silicon/perovskite tandem PV, which we highlight as a breakthrough technology below). The focus of both institutes on low-cost production technology signals their interest in the commercialisation of PVSC in the coming years. Several important patents illustrate these efforts, including:
KUST's Korean Patent KR 1,723,824 B1 detailing an ionic polymer as a moisture barrier, yielding key stability for PVSC; and
Chinese Patent CN 105,024,012 B, filed by CAS, detailing a production method utilising energy efficient methods (eg, low temperature) for the perovskite active layer.
Large companies
Sekisui is a Japanese PV producer with a PVSC portfolio focused on improved stability; for example, through the use of siloxane as a sealing layer or resin encapsulation. The company's patent applications are active in device development and its overall portfolio activity suggests that the company is currently developing products for commercial applications. In contrast, LG is much slower to shift to Gen 4 technology, as indicated above. However, its recent increased application activity demonstrates a significant interest in OPV/PVSC hybrid technology, as well as tandem device development using PVSC. LG's lack of interest in improved stability may suggest that the company is in the early stages of developing PVSC. Significant representative patents from these large companies include:
Sekisui's Japanese Patent JP 6,154,058 B2 improving solar efficiency through a high degree of crystallinity in the perovskite layer; and
LG's Korean Patent KR 1,736,556 B1 laying the groundwork for new hybrid solar cells that could capture the benefit of both Generation 3 (Gen 3) and Gen 4 technologies by using an OPV material to improve the material efficiency of PVSC component layers.
United States and European Union
Recent breakthroughs in Gen 4 technology have resulted in increased activity in the United States and European Union. There are several active US and EU companies (eg, Solar-Tectic and IBM) with small portfolios and a narrow focus towards tandem solar cells. Oxford University is a top player in the European Union, with a portfolio that incorporates perovskites into Gen 3 DSSC technology. OxfordPV – a start-up from Dr Snaith's group at Oxford University – recently reported a perovskite-silicon tandem solar cell with an impressive 27.3% efficiency. Indeed, OxfordPV plans to have a commercially viable product by 2019. In the United States, a team composed of two research groups at Stanford University is focused on Gen 4 technology and is supported by funding from the DOE's SunShot Initiative.
Breakthrough technology: PVSC tandem solar cell
Our analysis of various portfolios has found that one breakthrough technology with huge potential is the tandem device architecture. The sun's solar output encompasses a wide spectrum of wavelengths and no one material can efficiently capture the entire energy spectrum. Therefore, it is much more productive to separate and optimise energy collection with complementary material cells. A typical tandem solar cell may combine a traditional silicon device with a Gen 4 PVSC layer to theoretically achieve a device efficiency of 30% or higher. In such a device, the solar energy would first be exposed to the PVSC device, while the remaining energy would then penetrate the silicon solar cell. PVSC (Gen 4) is optimised to capture the blue wavelengths of the solar spectrum, while silicon is optimised for the red wavelengths. The combined effect is more energy absorption over a broader portion of the solar spectrum. 
For further analysis of this technology see the full version of this article in IAM 94, which will be published at the end January 2019.