What the IP future looks like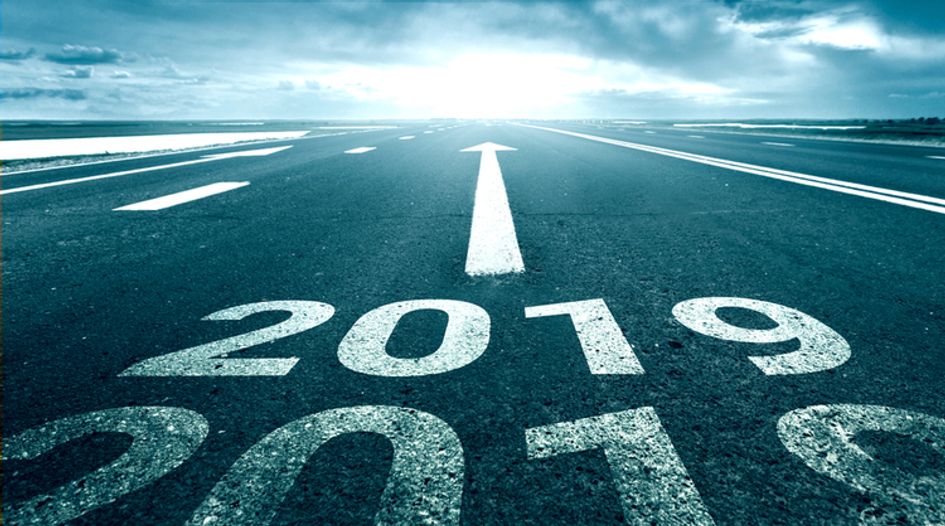 We collectively agreed the biggest stories of 2018 and brought that list to you just before Christmas. Now, though, with 2019 fast approaching it's everyone for themselves as each member of the international IAM editorial posse – based in London, Hong Kong and Washington DC - puts their reputation on the line to predict the big stories we will be covering over the next 12 months …
No Brexit, data dominates
Brexit will be tossed out the window shortly before the 29th March deadline, which will end any ambiguity regarding the status of IP rights in Europe that had been created by the UK's original referendum vote. Focus will shift to the US, where IP trade issues will intensify (unless there is a drastic change in the US administration) as the president pushes the American agenda internationally. Other countries will respond in various ways, but American companies will pay closer attention to legal protections, particularly in patents in foreign jurisdictions, to prevent politically motivated retaliation.
Technology will continue to advance and permeate the patent industry. Big data will grow as a result of this and it will be cultivated in new ways to complement and expedite the work of lawyers and other advisers. As it becomes easier to analyse competitors' patent portfolios, business strategies will become more informed, intelligent and robust.
Bridget Diakun, Data reporter
Tough going for pharma in the US, better news in China
Concerns over the high cost of prescription medicines will ensure that pharmaceutical patents remain the subject of heated political controversy in the US. Legislative proposals to bring down healthcare costs by curtailing patent rights will gain a surprising degree of momentum, but will not pass as long as the Republicans control the Senate and President Trump remains in the White House. Attempts to reduce the impact of the IPR regime for pharmaceutical companies will also fail to garner sufficient support in Congress.
Elsewhere, the Chinese innovative biopharma sector will continue to grow in size and influence, creating a counterweight to the currently dominant generic industry. Combined with trade-related pressures from the US government, this will cause China to consider further steps in a pro-patent direction. The future of Brexit and the UPC is anybody's guess.
Adam Houldsworth, Life sciences reporter
Auto patent wars on the horizon
In the course of 2019 we will see the first major litigation between the owner of a large telecoms SEP portfolio and a car manufacturer and/or their suppliers. Licensing the vehicle industry has become one of the key growth areas for the mobile sector and while we have seen the Avanci platform emerge as a new approach to do this, suppliers and OEMs have dragged their feet over taking licences to 2G, 3G and 4G SEPs. That will change in the coming year as rights owners become more assertive, sparking headlines of a patent war in the auto sector. 
Richard Lloyd, Editor, IAM magazine
Patent slowdown in China
China's patent ecosystem is in for a period of cooling down. If you look at the number of invention patent filings reported by CNIPA in 2017 versus those it had reported a year earlier, the rate of increase was a fairly shocking 3.8% - this coming after a decade of double-digit growth rates. But wait, CNIPA said, that's only because we stopped counting applications that came in without a fee. The real growth rate was 14%. Maybe so. But several observers think there are plenty of organic reasons for filings to slow down. And that such a development would not be a bad thing. We might wonder how much these bogus applications (ones where the filer did not bother to pay filing fees) have propped up patent filing numbers over the years. If filing growth does slow organically, CNIPA's new counting methods will make it harder – or at least more expensive – for local governments and firms to juice their totals.
Jacob Schindler, Asia-Pacific editor
Brexit chaos, German and UK courts go head to head, US litigation uptick, data everywhere
The golden rule with Brexit is to imagine the worse scenario and then watch it roll-out, so expect the UK to leave the EU on 29th March 2019 with huge amounts of uncertainty still hanging over not only IP owners, but also their UK-based advisers. The latter will remain without clear insight into their long-term status and ability to act for clients on EU-related prosecution and litigation issues. There will be constant and increasingly desperate appeals to government to sort out the mess, but these will be lost amid the wider chaos of the UK's departure. It will leave a group of professionals – lawyers and attorneys – who are globally respected and widely acknowledged as a major UK asset facing a very difficult, potentially bleak 12 months.
That said, patents will be the least affected by all this. In 2019 the UPC in its current form will finally die a death long foretold – killed by Brexit and the German Constitutional Court's failure to deal with a challenge to the legality of the country's ratification of the system in a timely manner. Instead, courts in the UK and Germany will get involved in some – from a patent owner's perspective – very healthy competition to attract big ticket litigation, especially around SEPs and FRAND.
With economic uncertainty growing generally, we may even see an uptick in litigation in the US as IP-owning businesses there become less relaxed about helping their competitors and seek to make their assets do more heavy lifting.
And then there's data. It will not only continue to change the way in which IP work is done, but it will also increasingly fall under the remit of corporate IP groups to protect, manage and monetise. If you are not doing data-related work now, you almost certainly will be this time next year.
Joff Wild, editor-in-chief
Huawei accelerates 5G efforts, announces low royalty rate
The political tension and economic competition between the US and China have been significant this year. The former has cited various reasons - including IP, tariffs and national security - to make life much tougher for leading Chinese companies with international expansion plans. Telecommunications infrastructure concerns have produced a pervasive negative narrative against Huawei and its close allies. Faced with greater competition from foreign businesses and a huge domestic market of nearly 1.4 billion people, Huawei will accelerate its 5G rollout and in early 2019 will announce a 5G royalty rate that is lower than existing ones set by other companies.
Bing Zhao, China editor
Now, to see how seriously you should take our predictions let's have a look back at what we forecast for 2018 this time last year:
Qualcomm will remain an independent company and will settle its litigation with Apple. Richard Lloyd.
Broadcom's bid to acquire Qualcomm failed, as predicted. But there was no settlement with Apple (though thanks to recent decisions in China and Germany one may be on the way in 2019). 5/10
Patent litigation involving foreign companies is going to continue to play out in China, but will do so at a higher level. It already looks likely that China will establish a national IP appeals court at the Higher People's Court level in the near future. Pending that, Beijing has recently brought in new jurisdiction rules that say first instance cases worth over Rmb 200 million ($30 million) can be brought in the Beijing Higher People's Court – bypassing the Beijing IP Court altogether. More battles playing out at a higher level around the country will raise the stakes and narrow appeal options – and it could mean that big first-instance decisions will not always be handed down by specialist IP courts." Jacob Schindler
The two biggest patent decisions in China in 2018 – Huawei's win over Samsung at the start of the year in which it secured an SEP injunction; and, at the end of the year, the award of a preliminary injunction to Qualcomm against Apple – were indeed not handed down by specialist IP courts, but by regional courts in Shenzhen and Fuzhou. In the autumn, definitive plans to create a central IP appeals court were also announced. 8/10
There will be uncertainty over Brexit in Europe and over the fate of the Unified Patent Court regime. The year will be dominated by tough talk from the UK government designed to placate the country's Eurosceptic press and the right wing of the Conservative party, but late on – as close to deadline as you can imagine – it will accept that a deal has to be done with the EU27 on terms set by the EU27. This will clear the way for an orderly transition in areas of IP, such as trademarks and designs, directly affected by the UK's withdrawal. The UK will also ratify the UPC agreement. This will come into force because, eventually, Germany's Constitutional Court will decide it is legal under German law. But don't blame me if I am completely wrong!! Joff Wild
The UK government did talk tough before accepting a Brexit withdrawal agreement whose terms were set by the EU27. However, it still has not been implemented: the government has failed to put it in front of MPs to vote on because it believes they will reject it. That means uncertainty continues to reign with less than 100 days to go until Brexit day. The UK did ratify the UPC agreement, but the German Constitutional Court has remained steadfastly silent and the UPC is now almost certainly not going to happen in its current form. 7/10