New collaboration between leading IP brands set to boost global patent transactions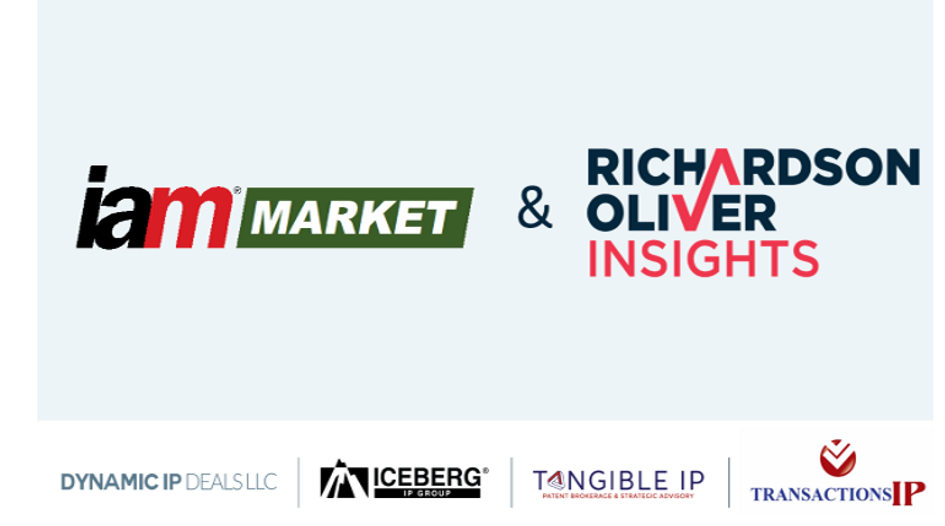 IAM Market, the online IP and technology marketplace for buy and sell-side practitioners, announced the launch of a new collaboration with Richardson Oliver Insights (ROI) today to list patent sales offerings from an exclusive set of top patent brokers.
The collaboration between IAM, ROI, and the top brokers - Dynamic IP Deals, ICEBERG IP Group, Tangible IP and Transactions IP - will see tens of millions of dollars worth of patents offered for sale in technology areas including energy storage, cloud computing, smartphones, wireless communications, OLED displays and semiconductors.
"Since its launch in 2015, IAM Market has attracted a huge amount of interest from all those involved in IP transactions. We're delighted to now be working with Richardson Oliver Insights to bring high-quality brokers onto the platform to sit alongside our established corporate partners," says John Eborall, IAM's Commercial Director.  "We believe this will enhance IAM Market's pre-eminent position in the global secondary patent market."
"With the growth of patent buying and selling, this collaboration accelerates patent transactions and expands IAM Market's reach. We are very excited to be working with IAM and this group of the top brokers to enable contingent listings on the IAM Market", says ROI CEO Kent Richardson.
Louis Carbonneau, founder & CEO of Tangible IP, one of the participating brokers, is also very positive about the initiative: "As one of the top patent brokerage firm worldwide, we always look for opportunities to grow our brand and expand the distribution of our patent listings to new buyers; so we are excited to be included in this collaborative expansion of the IAM Market. The IAM Market showcases our listings and our capabilities for bringing interesting patent purchasing opportunities to the community".
The offerings from Dynamic IP, Iceberg IP, Tangible IP and Transactions IP will be available as of today and will be regularly updated as part of the collaboration.
IAM Market has grown to become the world's number one listing site for patents and this launch marks a new chapter for the platform. Potential buyers who wish to view all patent portfolios and other intellectual property for sale, license or tech transfer on the IAM Market site, can visit www.IAM-Market.com.
About IAM Market
IAM Market is an online marketplace that brings together people who see the commercial value of IP and technology, and want to do business together. Its online portal allows IP owners to profile their licensing and sales operations, and technology transfer programmes, as well as provide details of specific rights that they are interested in transacting. IAM Market is part of IAM, the leading content provider that provides intelligence, analysis and data on issues relating to IP value creation. Visit www.IAM-Market.com.
About Richardson Oliver Insights
Founded in 2018, Richardson Oliver Insights is a leading provider of secondary patent market data. Led by industry veterans and thought leaders in the heart of Silicon Valley, Richardson Oliver Insights has comprehensive patent market data and analytical experience needed to help patent buyers find the right patents at the right price, help patent sellers optimise their sales offerings, and help patent strategists to make data-driven decisions. Founders Kent Richardson, CEO, and Erik Oliver, Chief Operating Officer, have helped customers navigate the patent market, completing more than $115 million in patent transactions, and have authored over 80 publications and presentations. IAM has selected them to be included in the top 300 IP strategists in the world for the past 10 years running. For more information, visit roipatents.com.