At IAM event DOJ antitrust chief throws spotlight back onto SEP licensing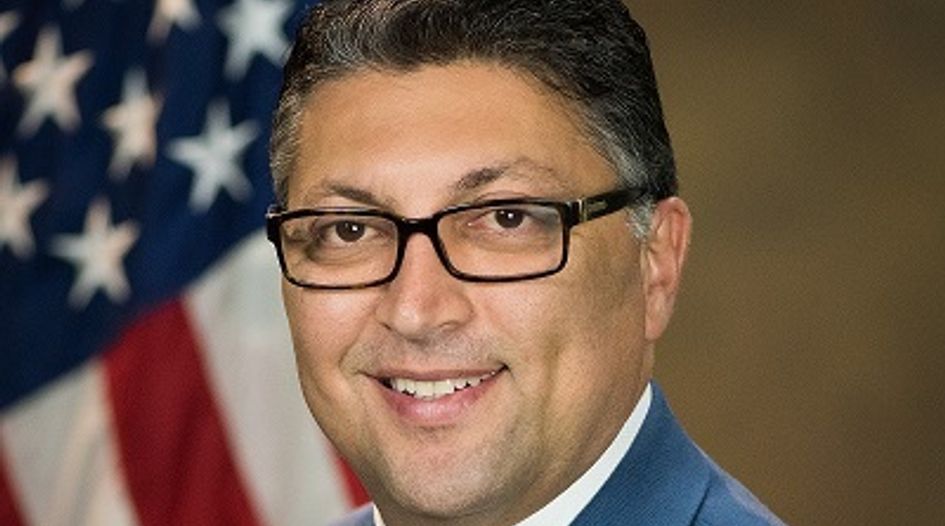 Makan Delrahim, head of the Department of Justice's antitrust division, has provided more detail on his opposition to the use of antitrust laws to police a patent owner's FRAND commitments in the licensing of standard essential patents (SEPs).
Speaking at IAM's Patent Licensing 2018 event earlier this week in San Francisco, Delrahim staked out his position on why an antitrust action based on an SEP owner's failure to abide by their FRAND commitments would not be consistent with a key part of the Sherman Act, the late 19th century piece of legislation which underpins much of US competition law.
"A unilateral violation of a FRAND commitment should not give rise to a cause of action under Section 2 of the Sherman Act, even if a patent holder is alleged to have misled or deceived a standard-setting organisaion with respect to its licensing intentions," Delrahim commented to a packed audience of patent owners, intermediaries, advisers and other licensing professionals.
He went on to point out that the patent owner's conduct may need to be addressed by contract law but, as he highlighted, that would not expose the IP holder to the threat of treble damages as an antitrust action would.
"A FRAND commitment is a contractual representation that a patent holder will license on "fair", "reasonable" and "non-discriminatory" terms," he said. "It is not the same as a promise to pay a specific price in a final contract." Deciding on the price of an SEP licence may be left to the courts where there is a contractual dispute between the patent owner and prospective licensee, Delrahim explained, but that should not be done under antitrust law. According to the DOJ's antitrust head, Section 2 of the Sherman Act is "agnostic to the price that a patent-holder seeks to charge" after it has made a FRAND commitment. 
While the inclusion of an SEP owner's grant into a technological standard may give them significant market power, and by its nature lead to the exclusion of rival tech that has not been included, Delrahim emphasised that "simply winning selection by a standard setting process does not constitute unlawful exclusionary conduct under the antitrust laws".
The standards setting process is designed to enhance interoperability of devices which leads to considerable consumer benefit.
His speech, which was the latest he has given that touches on the world of FRAND licensing since he was confirmed by the US Senate in September last year, represents a sharp turn away from the stance of the previous Obama administration and a rejection of moves in the market to see antitrust as one way of policing SEP licensors' behaviour. Both have seen more attention focused on patent owners' licensing practices and the risk of hold up, where SEP holders are said to use their position to demand unreasonable royalties for their IP and effectively hold-up the development of a technology.
Since his appointment, Delrahim has called for more focus to be placed on the risk of hold out - where prospective licensees simply refuse to take a licence and SEP owners are potentially left with diminished returns on their R&D efforts. He set out the central thrust of his thinking in a speech he gave in March titled "The 'New Madison' approach to antitrust and intellectual property law".
In his speech at Tuesday's IAM event, Delrahim returned to his central theme explaining that one of his principal goals since he arrived at the DOJ has been "to achieve a greater symmetry between the dueling concerns of "hold up" by patent holders and "hold out" by patent implementers". 
While Delrahim's comments will no doubt be welcomed by many SEP holders, much of the work in interpreting FRAND is still in the hands of the courts which, in the US at least, have tended to side with licensees in the handful of cases that have made it to the courtroom.
It was notable, therefore, that in his concluding remarks Delrahim recognised the limits of his role. "Statements of policy alone, however, do not change the law immediately," he conceded. "Courts themselves will be called upon to do the hard work of applying the principles of the Sherman Act in the context of genuine legal disputes in the context of genuine legal disputes."
Several of the headline SEP cases, such as TCL v Ericsson, have turned on issues of contract law, not antitrust, so Delrahim's speech may not stymie the efforts of recalcitrant licensees to pursue lawsuits against patent owners for alleged breach of their FRAND commitments. However, as the DOJ's antitrust chief he has considerable powers to police anti-competitive behaviour and his words carry significant weight in shaping the SEP licensing landscape and the prevailing patent narrative overall.