Building a patent holding that is fit for purpose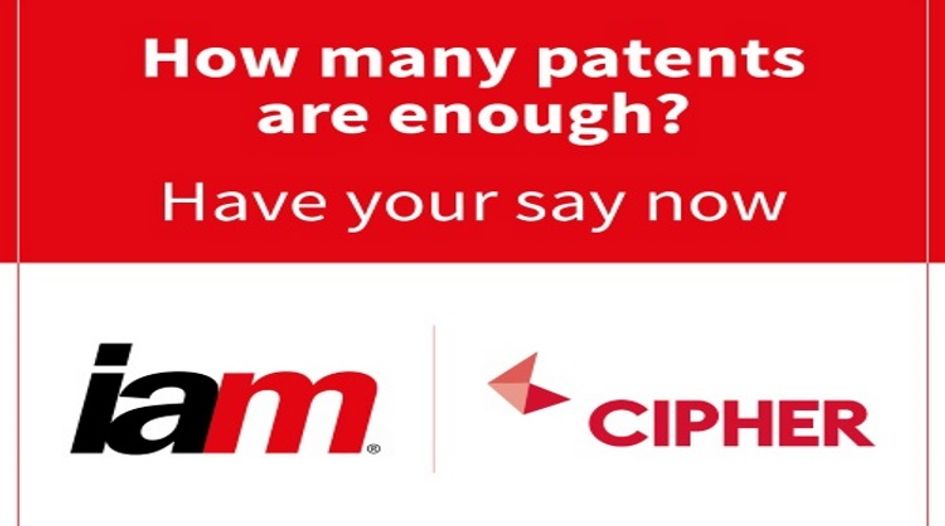 More than one million organisations worldwide own patents – and over 30,000 of them spend more than $250,000 a year building and maintaining their portfolios. But despite such numbers, there is no agreed methodology to help organisations measure and report on whether their patent portfolios are fit for purpose.
This matters a great deal: budgets are under greater scrutiny than ever before and disruptive technologies have increased the likelihood of disputes involving a completely new set of operating companies.
With all that in mind, IAM and Cipher have teamed up to create a survey designed to ascertain how rights owners decide whether they have too many or too few patents in a particular technology area.
Cipher's recent article in IAM (issue 97) examined this topic in depth and now we're keen to hear from those responsible for creating and maintaining corporate patent portfolios on the key issues in this area:
What are the strategic objectives of your patent portfolio?
How do you develop that portfolio?
What metrics do you apply to patent filing?
How do you benchmark your portfolio against those of your competitors?
Our short survey will only take a few minutes of your time. The resulting data will be used to compile a report on designing and maintaining a balanced patent portfolio.
If you complete the survey and provide us with your details, you will get a copy of the report before its general publication and we will enter you into a prize draw to win a delegate pass for IPBC Global 2020 in Chicago next June.
Don't miss the chance to tell us what you think about this pressing issue for patent-owning organisations. We look forward to hearing from you.