The big IP stories you will be reading about in 2020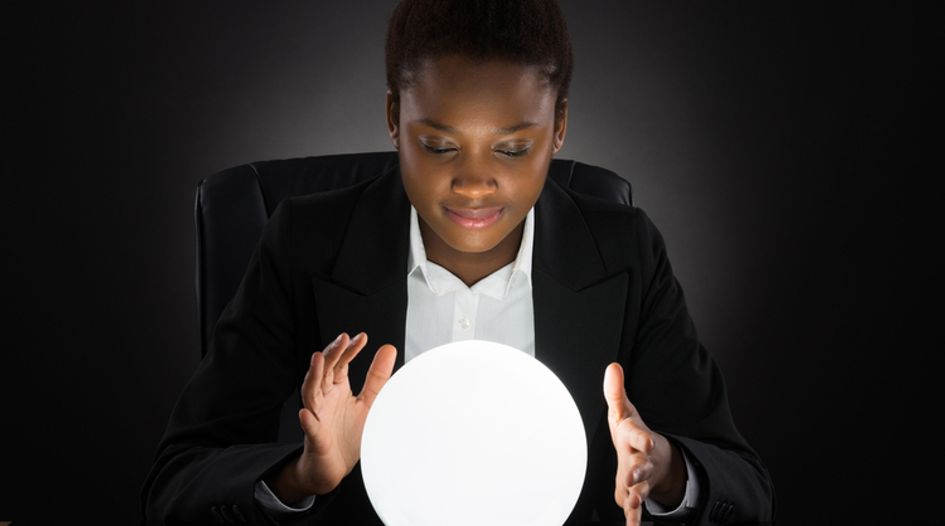 It's the last day of the year, so what better time is there to tell you what you should be looking out for during 2020? Each member of the IAM editorial team has done just that, while also taking the chance to review what they said would happen during 2019. Some were more right than others, but overall it's a 7/10, which is not bad going and shows we are worth listening to!
Bridget Diakun – consolidation in data services to continue as data's importance increases
I was wrong. Brexit was not tossed out the window before the 29th March deadline. However, it was dragged out significantly due to indecisive British politics. It appears that there will be some clarity coming soon, but we still do not know what that will mean for IP owners or their advisers. While Brexit might 'get done' by 31st January 2020, there is still a lot to be hammered out - and even then it will take time to be implemented.
This year has seen a lot of M&A in the service provider industry. Most recently Clarivate Analytics acquired IP case law analytics company Darts-ip, having previously purchased SequenceBase, a patent sequence information and search technology provider that focuses on the biotech, pharmaceutical and chemical industries. The major data providers are expanding and diversifying their operations, and this consolidation will likely continue into 2020.
As I predicted last year, data analytics platforms are improving as they cultivate more data and advance technologies. These tools are slowly gaining traction in the patent market, but not yet to the degree where IP counsel are relying on providers to inform their decisions. I expect the use of data platforms to increase significantly over the next year. Legal teams have consistently been shrinking, while general counsel and executives are demanding more cost-efficiency when it comes to portfolio management. As market leaders begin to trust data more, we will see these players increasingly relying on these platforms to guide their strategies.
Adam Houldsworth – pharma patents will become even bigger political issues in Presidential election year
As I predicted for 2019, the high cost of prescription medicines continued to ramp up political controversies surrounding pharmaceutical patents in the US. But for the most part legislative proposals seeking to curtail such rights were not passed by Congress. Significant Californian state legislation targeting pay-for-delay agreements was signed into law, however.
China's innovative biotech and pharma sector continued to grow, and the introduction of a new IP division of the Supreme People's Court was welcomed by innovators across sectors.
Turning to 2020, a number of significant political events could have implications for life sciences IP rights in 2020. Pharma patents will be at the centre of public debate in the run up to the 2020 US presidential election. Democratic candidates for nominee will compete to set out the most radical IP reform plans, while President Trump will also pledge new measures aimed at bringing down medical costs. However, the numerous existing legislative proposals to reform the pharma patent regime will not be passed next year; though the scene may be set for major changes in 2021.
As well remaining part of the non-EU European Patent Convention, the UK will seek to remain as closely aligned as possible with other European pharmaceuticals IP and regulatory systems. I predict that the country will be a member of the UPC system, if it is finally established this year. And the UK's integration into European IP structures will allow it to fend off calls by US trade negotiators to make changes to its drug patent system.
Back across the Atlantic, the US Supreme Court will grant cert in Athena Diagnostics v Mayo Collaborative Services in order to clarify uncertain rules regarding the patent eligibility of diagnostic methods and methods of treatment.
A document setting out a vision of the enhancement of IP rights in China was recently published by the country's Communist Party and State Council. This suggests that the China's IP regime will continue to become gradually more favourable to pharma and biotech patentees, with changes like the introduction of patent linkage still on the long-term agenda. But I do not expect radical reforms in the next 12 months.
Richard Lloyd – look out for more US involvement in global FRAND licensing policy-making
This time last year, I saw auto patent wars on the horizon. "In the course of 2019," I wrote, "we will see the first major litigation between the owner of a large telecoms SEP portfolio and a car manufacturer and/or their suppliers."  With Daimler and Continental taking aim at Nokia and Avanci at the European Commission and in district court in the US, and with the Finnish telco countering with its own suits in Germany, 2019 was definitely the year when a brewing fight with wireless SEP owners came to the sector. The end of the year, however, ended on a possible high note for Nokia with the news that Daimler and a group of its tier 1 suppliers embroiled in the case were prepared to enter mediation in an attempt to reach a settlement.   
The year in patent policy in Washington DC has been dominated by attempts to reform the laws governing patentable subject matter. Despite the best efforts of the lead senators, Chris Coons and Thom Tillis, that has run into some familiar problems as those in favour of reform struggle to agree on their preferred text. 
Those discussions will no doubt continue through 2020, but next year will also be the year when the brewing fight around standards and the need for the US to show some sort of leadership in the discussions shaping the SEP FRAND space will finally come to DC. This is especially so now that the USPTO, the DoJ's anti-trust division and the National Institute of Standards and Technology have produced a new policy statement that is far more favourable to SEP owners than the previous USPTO/DoJ 2013 statement.
What's more, if Chinese courts continue to determine local FRAND rates which have a knock-on effect globally, the scene would appear to be set for a bold DC policymaker to lead calls for the US to take more of a lead on standards discussions. After all, any sense that the US was slipping behind would presumably find a sympathetic audience in the White House. 
Jacob Schindler – Japanese corporates are about to get a lot more assertive with their patents
Last year's prediction was for a patent slowdown in China. Technically the jury is out until tomorrow, but I'm saying I will be proved right based on what we already know: there was a sharp decline in invention patent filings, from 751,000  in the first half of 2018 to 649,000 over the same period in 2019, this despite an 8.6% increase in applications from foreign entities. Unless people in high places have ordered a big second half push to avoid negative numbers for the year as a whole, I expect to be vindicated some time in early 2020 when the full year numbers are released.
As for next year's prediction, I can see Japan Inc getting a lot more assertive patent-wise. Changes are coming fast in the country's corporate sector and patents are just one of several areas in which major conglomerates are being asked to return more value to shareholders. We have seen several companies from the country initiate new licensing campaigns in recent years, and 2019 even brought an assertion by Canon against an operating company (TCL). This trend is going to continue and escalate – and may even put some of the top Japanese technology firms on a collision course with each other. There are some pretty big stand-offs going on behind closed doors and I expect some of these disputes to spill into the public eye during 2020.
Joff Wild – IP owners and their advisers should look forward to a lot more Brexit uncertainty in 2020
The verdict on last year's effort from yours truly is that I was sort of right, but maybe for 2020 instead of 2019. The No Deal Brexit I feared did not happen on 29th March. Instead, the UK got a new Prime Minister, who managed to cobble together an agreement with the EU27 that looks like it will be approved by MPs and MEPs in the early new year. This will lead to the UK's orderly departure from the EU at the end of January. That's when the fun will really start.
The Johnson government is keen to have a much more distant relationship with the EU than was envisaged by the May government that preceded it, and wants to set this in stone by this time next year. That either means a bare bones trade deal or nothing at all. For IP owners and their advisers, the almost certain consequence of this is a lot more uncertainty, numerous appeals for alignment going unheard and a very unsatisfactory final outcome. Given the rhetoric we have heard about British courts being able to overrule EU ones, it seems almost certain that in the absence of a major government U-turn the UK will not now be involved in the UPC system. It is probably time to buy shares in businesses that offer training to UK IP lawyers looking to become Irish qualified.
Elsewhere, the competition I expected this year between British and German courts is likely to materialise in 2020 after the UK Supreme Court hands down its Unwired Planet and Conversant decisions, and the German government issues proposals for patent reform that may include an end to automatic injunctions for successful plaintiffs. I got it wrong on US litigation moving back upwards in 2019 after several years of decline, but I am going to make the same prediction for 2020. There has to be an uptick at some point!
As for data, I was bang on. You really need to be thinking about it very carefully if you are not doing so already. It is going to be intruding on your job in all kinds of ways - and you will be expected to have answers to the growing number of questions your clients throw at you about this very thorny and many-headed subject.
Bing Zhao – NPEs can expect to do well in China, if they have quality assets
Looking at what I wrote last year, in the wake of other major 5G SEP patent holders publicly announcing 5G royalty rates, Huawei senior executives repeatedly and eagerly assured the market of the company's intention to set a reasonable royalty rate on its own 5G portfolio in late 2018.  But the plan apparently got delayed and disrupted by political hostility coming from the US and its allies during 2019.
The Trump administration shut Huawei out of its 5G market on the grounds of national security concerns, and it has been pressuring its allies to follow. This has not only damaged the Chinese company's product business, but also imposed obstacles for its patent licensing plans. It's not clear now whether Huawei could effectively collect royalties in the US, although it holds many 5G US rights.
Looking forwards to 2020, it's very likely we will see a growing number of NPEs turning to China for leverage in assertion campaigns by launching lawsuits against foreign and Chinese entities in the country. The economics of Chinese patent litigation and the importance of its market for manufacturing and sales are key factors. Early indications are that the Chinese IP office and courts do not have any obvious bias against NPEs.
Given the cost, speed and availability of injunctive relief provided by the Chinese system, the country may be a good place for enforcement efforts. But that does not necessarily mean China will become a haven for trolls. It's inexpensive to litigate and challenge patent validity, so defendants are more likely to fight it out against low-quality portfolios. China does not resemble the US, where many companies might settle cases simply because its's too expensive to litigate. Finally, the Chinese government is striving to stimulate innovation and it is unlikely to let a "troll narrative" emerge to undermine this agenda.