Lone inventor takes on Huawei in case that exposes the deep disparities in the US patent system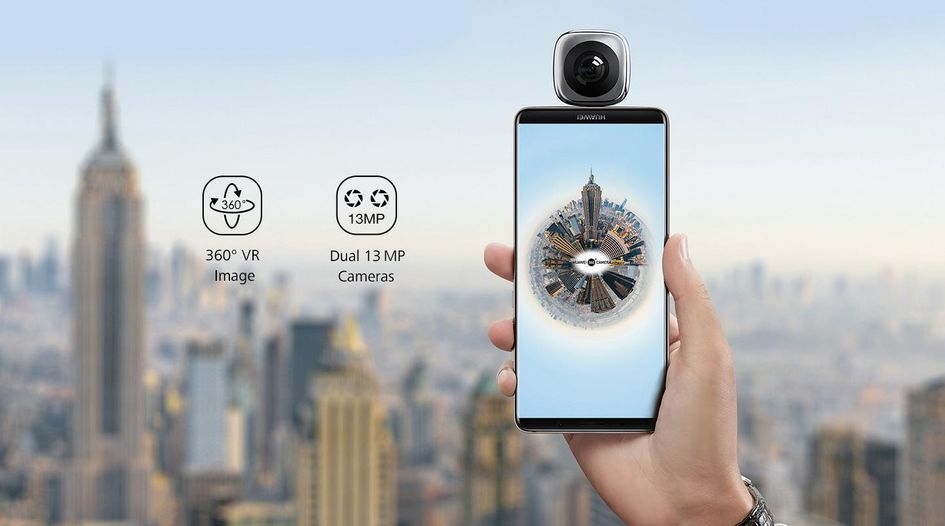 As Huawei continues to sit in the hot seat over accusations of trade secret theft and other criminal violations in the United States, another IP owner has come forward to accuse the company of stealing IP. Inventor Rui Pedro Olveira says he has had to sell his family house in order to hire a US lawyer to negotiate with the Chinese company over a camera technology he says it stole.
That's a bold and dramatic move by the Portuguese national, to say the least – and those who know the US patent environment well might have a few other choice words to describe it.
Olveira told Fstoppers, a site dedicated to the camera and photography industry, that he flew to Huawei's US head office in Plano, Texas, five years ago to discuss his design for a 360 degree camera that plugs into a smartphone's charging port. Nothing came of a couple of meetings with the company's staff, Olveira continued. Then in 2017, Huawei released a 360 degree camera that the inventor claims infringes on both an invention patent that issued in 2016 and a design patent that was granted one year later.
Olveira, who also runs an audiovisual production business in Porto, says that he sold the house he lived in with family to hire a US lawyer – George Neuner – to represent him in negotiations. He claims that Huawei representatives told him that they could not continue to talk with him about the alleged infringement if he did not have an attorney.
Records at Lex Machina don't show any lawsuits or PTAB matters involving Olveira's patents.
Setting aside its specifics and whether Huawei did indeed use the inventor's patented ideas, the case illustrates why the patent environment in the US is very tough for individual inventors.
A company as big as Huawei is not likely to pay much mind to an inventor trying to start a licensing discussion without hiring an attorney, as this case shows. Without the realistic prospect of litigation, there is little reason to dedicate company resources to negotiating. For the inventor, that means the money starts draining from day one – and talks can go on for a  very, very long time. That's before a costly trial and PTAB proceedings might begin.
It is much harder than it used to be to hire a patent lawyer in the US on a contingency basis. A recent analysis over at IP Watchdog listed a few reasons: most importantly, weakened patent rights have made success for plaintiffs less likely. There is also the almost certain PTAB challenge that needs to be addressed before getting to an infringement case. The odds of finding representation on a pay-if-you-win basis are, in general, lower for individuals.
It could be that Olveira is attempting to shift the odds by capitalising on the significant public relations pressure on Huawei in the United States right now. Just yesterday, the Chinese firm announced it is suing the US government in the Eastern District of Texas over a ban on Huawei network equipment in the 2019 National Defense Authorization Act. The company is facing criminal charges for theft of trade secrets and may want to avoid further discussion of its IP record for now.
A theme IAM has touched on several times over the years: emotion and patent litigation do not mix. Apple founder Steve Jobs famously said of Android: "I will spend my last dying breath if I need to, and I will spend every penny of Apple's $40 billion in the bank, to right this wrong." This can be an even bigger weight on individual inventors.
Olveira is in all likelihood going to have to spend hundreds of thousands of dollars upfront before having a chance of getting Huawei to take him seriously. And with its deep pockets, the Chinese company could up the ante even more by petitioning the PTAB for multiple IPRs and fighting a suit all the way through to a final decision at the CAFC. If that were to happen, the Portuguese inventor would almost certainly be looking at a bill running into the millions of dollars. We hear a lot about the alleged damage that patent trolls do, but rather less about the sums lone inventors in the US have to spend in order to assert rights they believe may have been infringed. Before this saga comes to an end, Olveira could well find that he has lost a whole lot more than his family home. That just does not seem right.