Global standardisation efforts well underway for pivotal RIS technology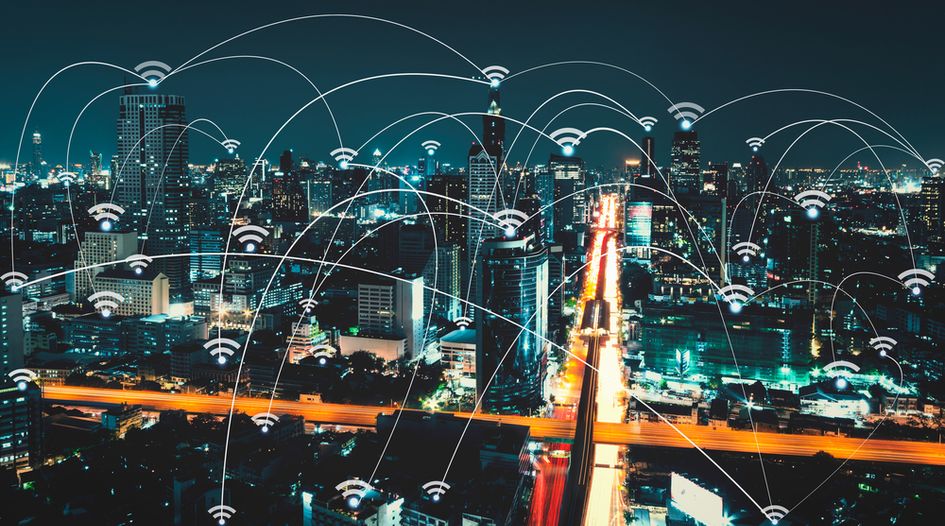 Reconfigurable intelligent surface (RIS) has the potential to revolutionise the coverage and performance of wireless networks. Functioning as a metasurface, it exhibits intelligent characteristics that enables manipulation of the electromagnetic environment. The intelligence is achieved by the smart control and steering of electromagnetic waves, with the ability to optimise the capacity at select locations across three dimensions. Consequently, RIS has emerged as a pivotal topological advancement that could bridge the gap between 5G and 5G-Advanced and 6G. It promises gains in spectral and energy efficiency without the expense of massive cell densification while unlocking myriad novel use cases.
There are key IP management lessons for those hoping to build an effective portfolio strategy in this large and complex area. However, an introduction into the technology and the space in which it is expected to operate is vital. Therefore, the discussion of RIS will be covered in three parts. This first instalment introduces the IP space covering RIS, while the later articles will closely analyse and highlight which key enabling technologies are the focus of the filings by leading players and the implications. This will enable a deep dive into the discussion of how rights holders can leverage the technology and build an effective portfolio strategy. 
The key players leading the RIS IP filing race
Patent analysis of RIS technology found significant interest and investment. In the last 10 years, there has been a surge in patent filings, with a large number of companies and research organisations actively working on RIS. We uncovered more than 5,000 diverse patent applications related to RIS internationally, including older expired patents. There are several key players in the RIS space (eg, major technology companies, start-ups and research institutions), which hold patents that could potentially become SEPs.
Figure 1. Top 10 most active companies and research institutions worldwide
Figure 1 introduces the 10 most active companies and research institutes worldwide, which include active filers of 5G and wireless technology patents. Qualcomm, Samsung, Huawei, NEC, NTT Docomo and Vivo are industry representatives with global market reach that have  extensive 5G portfolios. Chinese institutions Southeast University, Xidian University, University of Electronics and Technology and South China University of Technology are academic representatives with significant numbers of patents focused on key enabling RIS technologies.
How it works
RIS consists of hundreds – or thousands – of passive elements, controlled by software for the purpose of directing, steering and controlling the direction of incoming electromagnetic waves. The elements comprise a surface, which is called a 'metasurface' because of the metameterials that it is made of. There are multiple means of reconfigurability, as noted in the patents, thus reprogramming the electromagnetic waves in the desired direction in real time and adapting to the dynamism of the wireless environment. For example, RIS could direct the electromagnetic wave associated with a wireless call to the location of a specific individual walking down a street.
Why we need RIS
Development of new generations of cellular networks pushes the usage of higher frequencies, which poses numerous benefits and challenges. Higher frequencies offer unprecedented data rates, but are significantly sensitive to blockages and suffer more acute attenuation. Currently, massive multiple-input-multiple-output, 3D beamforming and small-cell densification are used to compensate for higher signal losses. RIS is positioned as an intelligent and cost-effective solution by controlling the wave directions and overcoming blockages. A recent journal paper published in IEEE JSAC in June 2023, "5G-Advanced Towards 6G: Past, Present, and Future" by prominent industry and research representatives highlights RIS as a key topological enhancement that will a key enabler of the 5G-Advanced requirements.
Deployment and potential use cases
From a practical and implementational point of view, RIS is a smart surface that could be placed outdoors and indoors. It could be reflective or transmissive and could direct or absorb electromagnetic waves.
Telecom operators can efficiently manipulate and direct signals by placing RIS on buildings, facades or in pedestrian areas. In homes, RIS positioned on walls can redirect signals based on a user's movements, controlled through a mobile app. Offices can benefit from RIS in each room, locating people and directing signals accordingly. Strategically placing RIS in shopping centres achieves comprehensive coverage with fewer small base stations. Factories implementing Industry 4.0 concepts can utilise RIS for efficient bidirectional transmissions, facilitating data gathering and exchange, informed decision-making and enhanced productivity.
Standardisation efforts
Both 3GPP and the European Telecommunications Standards Institute (ETSI) are active in their aims to create standards for RIS.
As 3GPP is entering the second phase of the 5G standardisation process, it is expected to have the first 5G-Advanced specification, release 18, completed by 2024 and there are initiatives to standardise RIS as part of 5G-Advanced. Currently, there is an active discussion underway whether to include RIS in release 18 or to wait for 19 when the technology is more mature.
ETSI's RIS Industry Specification group (ISG) was launched on 30 September 2021. Currently, two group reports are published, "ETSI GR RIS-001" (April 2023) and "ETSI GR RIS-003" (June 2023), defining RIS as a key wireless technology candidate for the future.
According to these reports, RIS is envisioned to operate in four different frequency ranges:
sub-6GHz band (FR1), a 5G frequency range;
mmWave band (FR2), a 5G frequency range;
terahertz band, where 6G is expected to operate; and
unlicensed band, where WiFi systems operate.
RIS is a technology-agnostic solution, which can be configured to work in diverse bands. It is important to note that as higher frequencies are used, the need to incorporate RIS becomes more significant.
The ETSI report also specifies several key use cases where RIS deployment may provide enhancements or new capabilities. Table 1 lists the various system key performance indicators (KPIs) and capabilities that the introduction of RIS could achieve.
Table 1. KPIs and new capabilities achieved by introduction of RIS
KPI enhancement / new capability
Description

Coverage enhancement

Overcome blockages; line-of-sight (LOS) propagation paths can be established between the access point and RIS, as well as between RIS and the terminal

Spectral efficiency

Higher spatial multiplexing gains exploring more degrees of freedom; boost signal or null signal

Beam management

Highly directional beams can be reflected from RIS towards the intended target receiver

Physical layer security

Intelligent and controllable wireless propagations environment; effectively avoid leakage of confidential signals and improve security of communication systems

Localisation accuracy

Higher spatial resolution and positioning accuracy

Sensing capabilities

Line-of-sight link can be established to provide the sensing service for NLOS areas and an extra LOS reflected link to sense targets from a different angle

Energy efficiency

Wireless power transfer

Energy harvesting

Power saving

EMF exposure minimisation

Link management

Alleviate cabling cost and boil down overall connection complexity
Now that RIS has been broadly introduced, as well as the current standardisation efforts, next week's article will highlight worldwide patent trends and the focus of key portfolios.
---
This is an Insight article, written by a selected partner as part of IAM's co-published content. Read more on Insight
Copyright © Law Business ResearchCompany Number: 03281866 VAT: GB 160 7529 10