Top tips from legal IP elite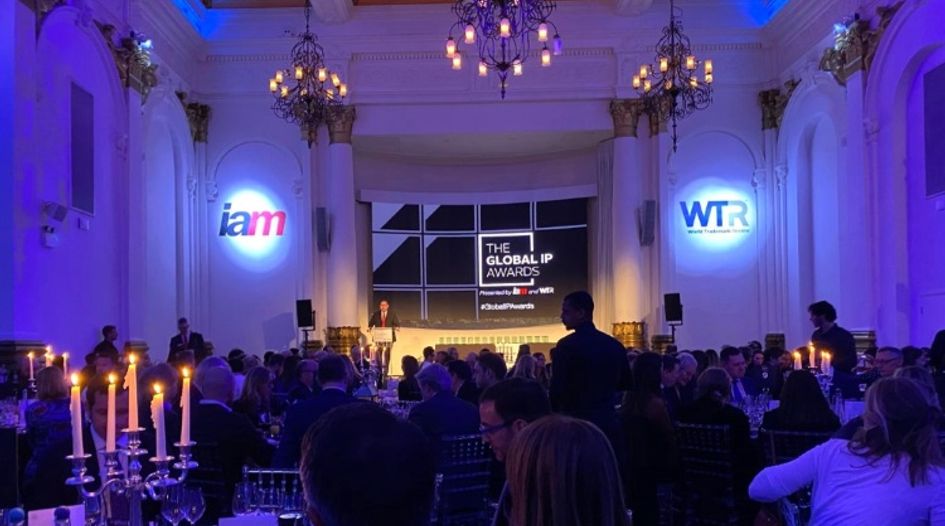 This year's Global IP Awards took place in London on 29th January. While everyone had heard of coronavirus it had not yet become Covid-19 or been declared a global pandemic and over 250 people attended the gala dinner at 8 Northumberland Avenue. They watched as trophies were handed out to the attorney and law firm practices recognised for their outstanding achievements in IP litigation, prosecution and transactional work during 2019. It seems like a different time.
We followed up with some of the winners to put together a publication in which we asked them to share the secrets of their success, to advise on key aspects of practice management and to make predictions for the future. That will go online later this week and will be available to read in front of our paywall.
Given editing and print deadlines, what was contributed was largely put together before the gravity of the current pandemic became widely known or people began to think seriously about its possible consequences. However, those who won the Global Awards did so for a reason: they are at the very top of their professions. That means that what they have to say carries as much resonance now as it did a month ago. Here are a few examples ….  
It's crucial to adapt to meet constantly evolving client demands – never more so than now
A strong theme that emerged from talking to our winners was that strong customer service skills are a must and that law firms need to stay flexible to adapt to their clients' needs.
 "Clients are at the heart of our business and, as champions of their innovation, delivering a superior service is paramount," say Brett Lunn, Madeline Kelly and Steve Gledhill of FB Rice in Australia. "They are under pressure with deadlines and budgets; in response, we have had to become more flexible with our fee structures and service offerings. This means that holistic strategic advice from the outset is often crucial to achieving the right commercial outcomes. Another way in which we have responded to changing client demands is by automating more processes with the aid of a new workflow system. This enables us to work more efficiently and has led to reductions in billable hours."
Richard Howson, Gwilym Roberts and Adam Cohn of UK powerhouse Kilburn & Strode LLP echo: "Clients expect support at every stage of the innovation process, from mining and capture through to portfolio management. They also expect strategic advice against an uncharacteristically unstable global environment. These days it is all about the value-add; the duty on private practice is to focus on intellectual contribution."
All that will be even more important in the new world that emerges from the Covid-19 crisis.

Technology and ways of working are changing all the time – you can't afford to get left behind
When we asked our Global IP Awards Winners for their takes on new technologies, the replies tended to focus on tools that will affect filing and prosecution work.   
"New technologies such as AI and Big Data analysis have started to influence day-to-day work at Chinese firm Han Kun, we were told: "For example, some commercial software has been able to use AI to improve searches – if a user simply inputs some key words, the software can return search results with an expanded scope. In addition, commercial analysis tools can provide new insights into the performance of firms and lawyers, based on large volumes of court case decisions data. Further, AI translation tools have become more mature and have replaced many forms of manual work. All these changes not only bring efficiency and convenience to us but also challenge our normal business (eg, by reducing the time spent performing searches and translations). Han Kun has started to consider other potential new legal services that can bring value to clients with these innovative technologies."
Work-sharing technologies are also developing rapidly – something that will no doubt prove to be hugely important over the coming months. "Technology has made everything faster and more convenient; it is now easier than ever to reach our target market as there are myriad online platforms on which to share information," explains Malaysia's TEE Intellectual Property. "We foresee that technology will have an impact on the way in which IP prosecution transactions are carried out depending on the target audience's knowledge and awareness, as well as their level of comfort with digital commerce."
Collaboration not competition is what will make you stand out
The patent sector is a hotbed of technical expertise all striving to win clients and score victories. Competition is inevitable and healthy – up to a point. Yet it is also crucial to recognise the value of working with other practitioners in the ecosystem and building your networks. When asked what advice they would give to young patent litigators at the start of their careers, Penny Gilbert and Peter Damerell of Powell Gilbert in the United Kingdom highlighted this. "Remember that the IP community is a relatively small one. While the UK litigation system is adversarial, be polite and respectful to everyone that you meet as it takes a long time to build a good reputation but a very short time to earn a bad one. People enjoy working most when they like and respect the people with whom they interact."
It's a similar picture in Australia, say the FB Rice team members: "Integrating yourself into the IP scene, both locally and internationally, is important for a young patent attorney. It is essential to make and maintain contacts and build out your network. This will not only help to grow your practice, but will also assist with keeping up with both technical and legal developments, as well as understanding the market.