Getting to the heart of the life sciences patent debate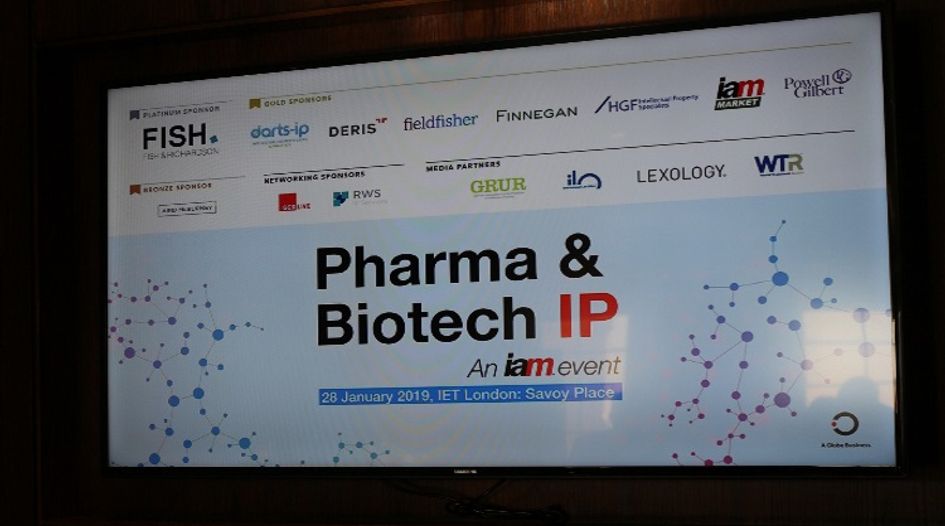 SPC disputes, second medical use issues, pharma UPC strategies, CRISPR and much more from IAM's third annual  pharma and biotech IP conference, which took place in London earlier this week
Life sciences professionals from around the world gathered in central London earlier this week for IAM's third annual Pharma and Biotech IP event. Delegates were treated to illuminating discussions that involved experts working at the cutting edge of the legal and business issues shaping IP strategies in the sector. Here are a few highlights:
Uneven and shifting landscape for second medical use claims
With drug repurposing becoming an increasingly important part of value creation in the sector, the patent issues surrounding second medical claims were a hot topic– especially in the wake of the UK Supreme Court's landmark decision rejecting Warner-Lambert's appeal against the invalidation of its second medical use pregabalin patent.
Having heard from panellists involved in the Pregabalin case about various plausibility and litigation standards considered by the UK courts, delegates had their attention directed to the European mainland, which has an "uneven and shifting landscape" for second medical patents, according to one speaker.
Four different major approaches to testing infringement have been adopted by various national courts in Europe, delegates heard:  
Requiring generics to indicate on the label that the product is not to be used for particular indications;
To avoid the intentional targeting of the patented market as well as displaying a carve-out on the label;
To take further reasonable steps to prevent use for a protected indication; or
To adhere to regulatory provisions preventing the mis-prescription of generics.
The diversity of approaches being used across Europe means that a tailored approach and paying close attention to national circumstances in close collaboration with local business units are  necessary, panellists stated.
It was also suggested that solutions to the complex problems surrounding second medical use treatments could come from outside the patent system, with a number of countries, such as Turkey and Denmark, having applied regulations requiring indications to be specified on prescriptions.
Pharma companies should make use of the UPC – if it ever arrives
Uncertainties surrounding Brexit and the creation of the proposed Unified Patent Court were inevitably a talking point, especially in the first session of the day concerning political and legislative shifts.
One key message from the panel was that if and when the pan-European patent court and unitary patent are established, pharma and biotech companies should play their full part in the new system. Life sciences innovators are often said to be lukewarm about the proposed set-up, which could result in centralised revocations of commercially crucial rights, leaving such patents at the mercy of a fledgling court whose approach will not at first be clear; but, panellists holding in-house positions said they were looking forward to the UPC and unitary patent's creation, adding that it was important for life sciences companies to be involved in shaping case law rather than leaving that to other industries with different interests.
One suspects, though, that pharma innovators will be highly strategic in their use of the new system, perhaps refraining from litigating crown jewel patents before the new court, at least at first, and continuing to rely heavily on national courts and rights.
Charting the SPC dispute landscape
Supplementary Protection Certificates (SPCs) have been at the front of pharma IP practitioners' minds in recent years – and not just because of EU plans to establish a pan-European version of the sui generis right.
Data presented at the conference showed that there have been 10 cases before the Court of Justice of the European Union (CJEU) concerning the interpretation of Article 3a of the EU SPC Regulation, which stipulates that a product must be "protected by a basic patent in force" to qualify for an SPC.
Ten more cases have arisen from disputes over the duration of a certificate or its scope of protection, while seven have related to interpretations of Article 3b, which states that product must be the subject of a valid authorisation to be marketed as a medicinal product – and that this must be the first marketing authorisation the product has received.
A further six disputes have concerned whether a drug has already been the subject of an SPC (precluded by Article 3c), while the procedural conditions for obtaining the IP extension have been contested before Europe's highest court five times. Other cases have related to Article 3d (two cases), Article 1b (four cases), and parallel importation/ TRIPS issues (five cases).
Preliminary rulings have been issued in 39 disputes, 19 of which originated in the national courts of the UK. German courts have referred 10 cases that produced preliminary rulings at the CJEU, while additional rulings related to disputes that had their roots in the Netherlands (three rulings) and Austria (two rulings), as well as Belgium, Estonia, Greece, Hungary, Lithuania and Luxembourg (each with one ruling).
The UK courts referred five cases producing preliminary rulings relating to Article 3b, and seven relating to Article 3a – such as the recent Truvada dispute – whereas parallel importation/TRIPS disputes produced the most preliminary rulings (four) of the German cases decided on by the EU court. The vast majority of these decisions were handed down between 2011 and 2015.
Panellists in several sessions expressed hope that the CJEU will provide clarity in pending cases on whether Markush formulae in the basic patent are sufficient to fulfil Article 3a of the SPC regulation.                                   
Seeing CRISPR from the European perspective
Patent issues surrounding revolutionary gene-editing technology CRISPR stimulated discussion at the conference. While the widely-publicised US CRISPR Cas9 patent interference involving the University of California, Berkeley and the Broad Institute was touched upon, more attention was given to CRISPR Cas9 disputes in Europe, especially the recent cancellation of the Broad Institute's fundamental rights to the technology.
In contrast to the US case – which raised questions of obviousness – the EPO decision hinged on procedural issues concerning priority rights and international filings. If more than one party is named in a priority document, then all of those parties must be named in a subsequent European patent application, unless evidence of succession is provided, the conference was cautioned. It was the failure of the Broad Institute to include Rockefeller University's Luciano Marraffini – a named inventor in early US patent applications – in its European patent application that led to the invalidation of the potentially highly-valuable right.
Delegates were also given an overview and timeline of the CRISPR Cas9 IP landscape, which includes several key players in addition to the University of Berkeley and the Broad: Vilnius University, Harvard College, ToolGen and Sigma-Aldrich. Speakers agreed that a successful patent pool for the use of CRISPR Cas9 in human therapeutics was unlikely to emerge any time soon, because of the potentially lucrative nature of such applications and a lack of clarity over how specific technologies will be commercialised. MPEG LA set up a CRISPR patent pool back in 2017, but this has only been able to attract a handful of rights from the Broad Institute (and its partners), with other major patent holders staying away.
Awkward partnerships with universities 
Academic institutions and state-funded bodies are playing an increasingly important role in biotech innovation, and are increasingly targeted on IP metrics. But conference speakers representing companies spoke of the difficulties that often arise when seeking partnerships with universities.
Publicly-funded institutions often have strict policies requiring them to own the IP produced by their research, limiting the range of deals possible with for-profit businesses, delegates were told; pharma businesses have even been required to pay for universities' patent applications. The desire of academic departments to publish research that might be best kept secret for IP and other commercial reasons is another stumbling block to public-private collaborations, it was added. Clearly, in many cases there is a cultural chasm to be bridged if life sciences innovation and value creation is to be maximised in the coming years.