After success of early stage covid-19 vaccine trial, Oxford University's coronavirus IP policy explained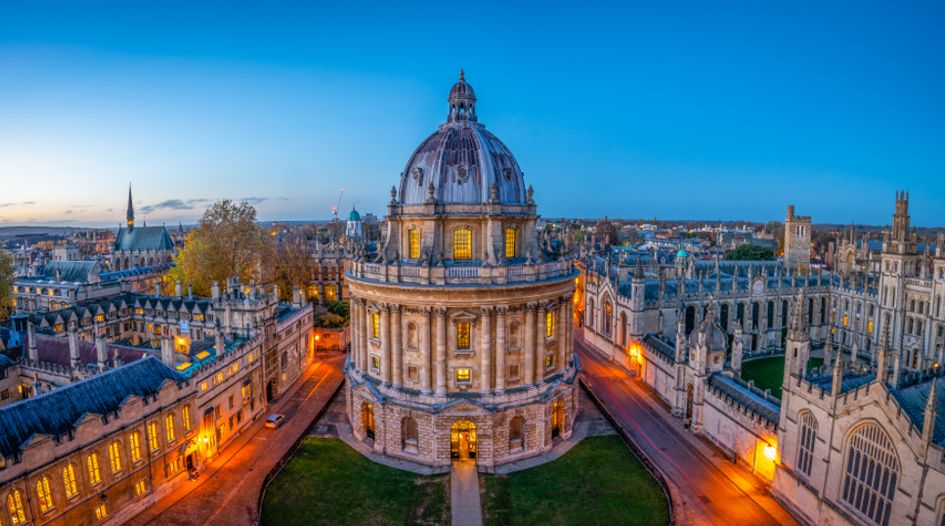 This article was first published in April 2020
Among the research institutions whose innovations may prove critical to tackling the covid-19 pandemic, the University of Oxford could be one of the most important. Clinical trials for ChAdOx1 nCoV-19, a potential coronavirus vaccine developed by the university's researchers, received the go-ahead at the end of March. The lead scientist on the project, Dr Sarah Gilbert, stated over the weekend that we may know whether the vaccine is efficacious by the autumn – and that she believes there is an 80% chance it will be.
With King's College London, the university owns the innovative prototype ventilator, OxVent, which recently progressed to the next phase of safety and usability testing. And its proprietary remote monitoring and diagnostic technologies may also play an important role in public health responses to the pandemic.
Against this background, Oxford University Innovation – the institution's tech transfer office – has announced a new and expedited non-exclusive licensing policy for potential partners interested in using its covid-19 related IP.
In an exclusive interview, OUI's chief operating officer and board director Adam Stoten tells IAM more about the university's approach to licensing coronavirus related technologies, including the likely timeframe for establishing partnerships and the possible role of social enterprises. He also explains why IP is unlikely to prove a barrier to accessing crucial medicine and equipment, and how the pandemic has impacted OUI's day-to-day work so far.
Expedited access to covid-19 IP
Given the need for "an urgent and unprecedented response", OUI sets out a five-point policy for working with third parties to counter the coronavirus pandemic:
It will expedite access to the university's IP to enable global deployment at scale of associated products and services to address the pandemic.
The OUI's default approach regarding this access will be to offer non-exclusive, royalty-free licences to support free-of-charge, at-cost or cost + limited margin supply as appropriate. These terms will only apply for the duration of the pandemic.
Licence terms for post-pandemic commercial markets will be the subject of a separate agreement.
The grant of a licence during the pandemic does not guarantee the same licensee IP access after the pandemic.
Licences for the use of university IP to support commercial sales after the pandemic is declared over by the WHO will carry appropriate financial terms to allow the university to reinvest in teaching and research.
"I thought that it would be appropriate to help the outside world and specifically potential commercial partners understand the university's general philosophy when it comes to accessing our IP," comments Stoten, who stresses OUI's commitment to enable the speedy deployment of its covid-19 related technologies.
"The overarching principle of expediting access to our IP is obviously the right thing to do for a university – or any organisation," he explains. "And I wanted to make clear what that expedited process will consist of. That's where offering royalty-free, non-exclusive licences comes in."
Similar frameworks for rapidly executable IP licences have been announced by Stanford University, Harvard University and the Massachusetts Institute of Technology, as well as Knowledge Transfer Ireland. And, while no other UK universities have yet followed suit, Stoten is confident that they share OUI's general approach to the pandemic.
OUI's five-point plan is not a rigid blueprint for working with third-parties. "This represents our starting point, our guidelines," Stoten comments. "If the overarching principle can only be achieved by a different approach, we will consider it. This policy is really about expectation setting."
Stoten also reveals that OUI is strongly considering establishing social enterprise vehicles for the university's key covid-19 related IP. As well as working with outside partners, "these would reinvest profits and serve as useful vehicles to receive donations in support of the application of these technologies," he explains. "We have one project which is quite likely to go down this route and another for which it is being considered."
No licences yet, but collaboration getting underway
No licensing deals involving relevant University of Oxford IP have yet been struck, Stoten confirms, but OUI is in discussions with potential partners. "We are expecting discussions to translate into actual contracts in the next two or three months," he states.
OUI is pragmatic about the timing and type of covid-19 collaborations. If commercial partners are willing to take on risk, it will consider working with them on the basis of a simple memoranda of understanding while negotiations for a full licensing agreement are ongoing.
"With some of our remote monitoring technology, for example, we have enabled companies to deliver that into the NHS free-of-charge based on a very simple letter of agreement," says Stoten, who explains that he does not want negotiations to hold up the application of technology: "We are seeing an appetite in commercial partners to expedite and put full commercial agreements in place later on."
But this sort of arrangement may be more difficult for ChAdOx1, he qualifies: "That is more likely to require a full-scale licensing agreement, because of the scale capital investment required by manufacturing companies. The number of doses needed is likely to be in the billions."
On what terms?
The OUI's framework suggests licences will be available to support free-of-charge, cost-making or cost + small margin supply of products. But when will it be deemed acceptable for an IP partner to make a small margin, rather than provide a product for free?
This will need to be considered on a case-by-case basis, Stoten comments: "The nature of the technology will usually determine what is an acceptable agreement. The cost of goods for software, for example, is virtually zero, so making that available free-of-charge will be much more suitable than a vaccine where there is enormous capital required to produce it." He notes that selling vaccines at cost plus a small margin is normal in licensing deals relating to lower- and middle-income countries. "That is a tried and tested approach. Equitable access is absolutely critical for us," Stoten states.
The University of Oxford has received significant UK government funding for the development of its vaccine and related manufacturing processes. Might this have an impact on the terms of licensing agreements? "We are working with the government to ensure that UK interests are taken into account in any subsequent partnerships, especially relating to the vaccine," says Stoten. "We are making sure we have good alignment with UK interests, but equitable global access will also be embedded in any licence we grant."
Covid-19 response from business
From his experience so far, Stoten's impressions of commercial companies' responses to the pandemic are positive. "The prevailing sentiment I have seen so far is a genuine humanitarian impulse," he comments. "Obviously that needs to be balanced against a company's fiduciary duty to its shareholders, so there will always be some level of commercial interest there. But what we are seeing is an acknowledgement by companies that getting interventions in place quickly to tackle the pandemic will itself have economic benefits for all companies."
And Stoten does not expect that IP rights will form a barrier to accessing technologies essential for tackling coronavirus. "The normal rules are out of the window," he explains. "The negative publicity attached to asserting your IP rights would be very large; reputations are made or broken in circumstances like this. It is critical for companies to do the right thing and be seen to be doing the right thing."
Other impacts on OUI's work
More generally, OUI's day-to-day work of protecting and commercialising the university's IP has been significantly affected by the pandemic, not least by the closing of many research laboratories.
The team's non-covid-19 work has not yet dried up, Stoten says: "Given that researchers are unable to work in the labs, it may be that they take a closer look at the IP they have already generated and think about whether there are opportunities to spend a bit more time on its translation and work with us." However, he expects there to be a slowdown non-covid-19 related licensing deals in the coming months, as potential partners suffer financially and prioritise other activities.