Everything you ever wanted to know about global AI patent activity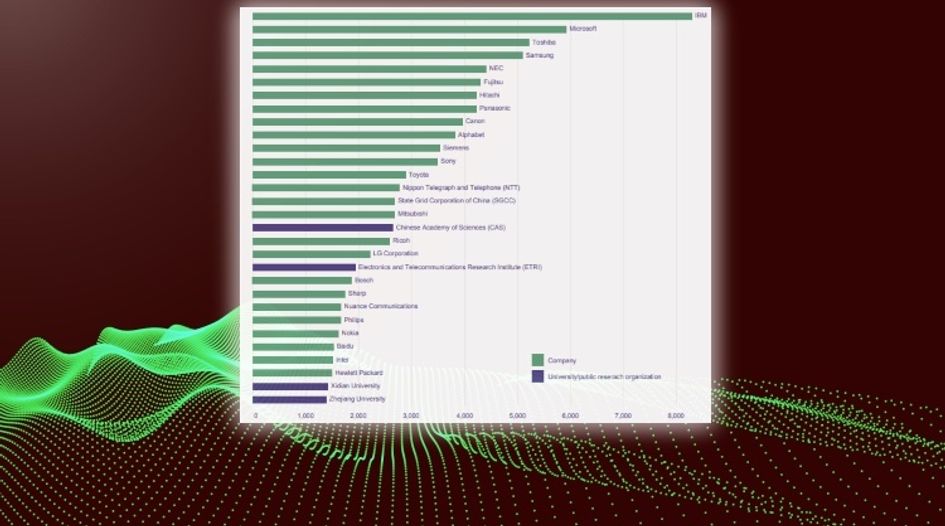 WIPO released its first of a new series, Technology Trends, earlier this year, taking a deep-dive into the artificial intelligence patent landscape. AI is seen as one of technology's new frontiers and some of the world's largest companies are battling to secure the  upper hand in the space. The report looks at the evolution of these technologies, using patent analysis to track trends, highlight litigation and understand acquisition activity, as well as identify key players. We've gone through the whole publication to bring you the top 10 takeaways.
Despite the technology's emergence in the 1950s, AI-related patents only took off after 2013
AI patent families and scientific publications by earliest publication year
Patents relating to AI did not only begin to grow post-2013 – they skyrocketed, with 50% of them all having been published in the last five years. AI patent families grew by an average of 28% annually between 2012 and 2017. This rate is much higher than the average annual growth rate for patents across other technology fields, which stood at 10% between 2013 and 2016.
An increase in scientific publications took place around 2001, long before interest in AI was apparent in the patent space. However, over time the ratio of scientific publications to patent families has dropped from 8-to-1 in 2010 to 3-to-1 in 2016. This indicates that there has been a shift from pure research to a much greater focus on commercial uses for AI technologies.
Machine learning is the most common form of AI - and the fastest growing
Patent families for top AI techniques by earliest priority year
Machine learning is referenced in more than one-third of all identified inventions, representing 40% of AI-related patents. Patents in this area grew by an average of 26% annually between 2011 and 2016. Deep learning and neural networks are the most popular machine learning techniques. Their average annual growth rates from 2013 to 2016 were 175% and 46%, respectively.
Transportation and telecommunications are the most mentioned application fields
Patent families for top application field categories by earliest priority year
Transportation and telecommunications each have more than 50,000 AI-related patent filings. Life and medical sciences, and personal devices, computing and human computer interaction round out the top four application fields, which together are mentioned in 42% of all AI patent documents.
The transportation sector has experienced the highest growth rate, averaging 33% growth each year between 2013 and 2016. In 2006 it represented 20% of applications, but by 2016 it accounted for one-third of all AI-related patent applications. The second most important field, telecommunications, grew by an annual average of 23% between 2013 and 2016.
China is home to the number one office for first filings
Number of first filings by patent office
First patent filings at China's National Intellectual Property office (CNIPA) have grown at an average annual rate of 29% since 2006, and the agency has overtaken the USPTO as the top office for first filings. The JPO is the third most popular, with the top three accounting for 78% of total AI-related patent filings. The PCT route has been increasing in importance over the years, with more applicants filing through WIPO.
One-third of all AI patent applications are filed in additional jurisdictions after first filings
Number of first filings and number of subsequent filings for top offices of subsequent filing
A large portion of patent applications are extended to additional jurisdictions and 8% of AI patent applications are filed in five or more jurisdictions. Notably, 32% of patent applications first filed in the US and 40% of patent applications first filed in Japan are filed elsewhere. By contrast, just 4% of applications first filed in China are then filed in other jurisdictions. Overall, the top offices for subsequent filings are the US, China, Canada and Australia. Chinese and Japanese entities tend to favour the US for subsequent filings, whereas American companies most often take the PCT route.  
IBM and Microsoft have the largest AI portfolios
Top 30 patent applicants by number of patent families
Companies make up approximately 87% of the top AI applicants, with only four universities or public research organisations appearing on the list. IBM and Microsoft are clear leaders in the field, with 8,290 and 5,930 inventions respectively. Rounding off the top five are Toshiba (5,223), Samsung (5,102) and NEC (4,406). Some companies are prominent in specific areas of AI. For example, Baidu in deep learning, Toyota and Bosch in transportation, and Siemens, Philips and Samsung in life and medical sciences. Facebook and Tencent, which do not crack the top 30, do appear as prolific filers for AI applications relating to networks and social networks.
Of the top 20 companies filing AI-related patents, 12 are based in Japan, three in the US and two in China.
State Grid Corporation of China enters top 20 list on strong filing levels
Average annual growth rate in patent families filed by top companies for the period 2013-2016
The State Grid Corporation of China increased its AI patent filings by an average of 70% annually from 2013-2016. This state-owned electric utility company has focused its filings on machine learning techniques associated with life sciences.
Chinese universities and institutes are fast consolidating their position in the field
Geographical origin of universities and public research organisations in the top 500 patent applicants, by number of organisations
Chinese universities and public research organisations represent one-fifth of the top 500 patent applicants, as well as accounting for 17 of the top 20 academic players in AI patenting. The main portfolios of deep learning, the fastest growing area of machine learning, are owned by Chinese universities. Patent filings on behalf of Chinese institutions have grown by an average of 20% per year from 2013-2016. In comparison, patent activity among the top US universities decreased by between 20% and 26% annually between 2013 to 2016.
The Chinese Academy of Sciences (CAS) is the leading research organisation applicant, with over 2,500 patent families. The Republic of Korea's Electronics and Telecommunications Research Institute (ETRI) ranks as the second most prolific filer. Four European public institutes feature in the top 500 list, with Fraunhofer Institute receiving the highest ranking (159).
Fewer than 1% of AI-patents have been litigated
Number of patent families involved in litigation, by litigation jurisdiction
For the period 1975 to 2017 there were 1,264 AI patent families identified in litigation, with 74% of cases in the US. Nuance Communications, American Vehicular Sciences and Automotive Technologies International are the top three plaintiffs. They account for 4% of litigated patent families. The top three defendants are Microsoft, Apple and Alphabet. Siemens, Daimler and Giesecke+Devrient have filed the most oppositions to AI patents, and the main defendants in oppositions are Samsung, LG Corporation and Hyundai.
53% of acquisitions in the AI space have taken place since 2016
Number of companies acquired by top acquiring companies
A total of 434 companies in the AI sector have been acquired since 1998, with the vast majority of these being from the US (283 acquired companies). Alphabet, Apple and Microsoft are the most active buyers, with 18, 11, and nine AI-related acquisitions respectively. Alphabet accounts for 4% of overall acquisitions in the field.
All of the data sourced in this article is sourced from WIPO, Technology Trends 2019: Artificial Intelligence