Europe's patent landscape in six charts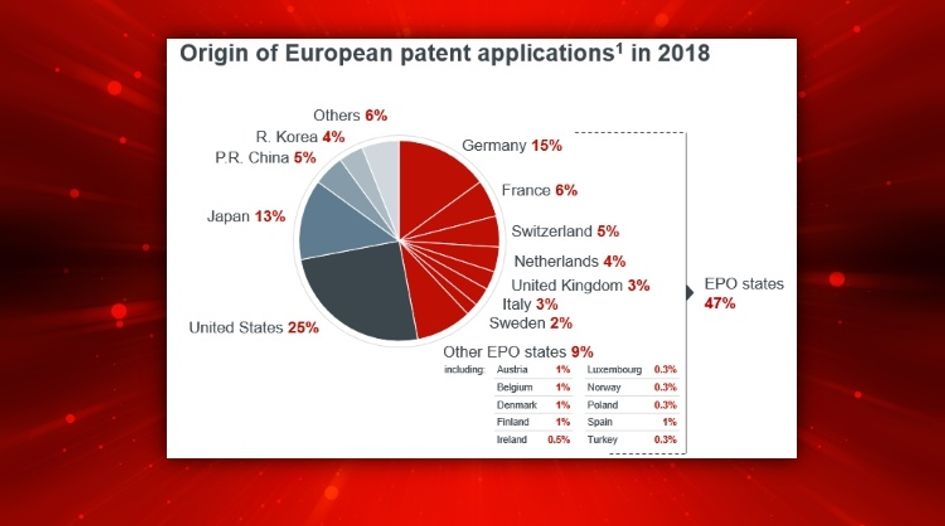 The EPO's 2018 Annual Report, published today, details filing and grant developments at the agency during last year and also identifies key trends. We have gone through the data to bring you the top six takeaways.
The US continues to be the most active filer at the EPO
Last year saw further growth of US patent applications at the EPO. They were up by 2.7% having bounced back in 2017 after experiencing a decline in 2016. American companies filed a record-breaking 43,612 patent applications, accounting for 25% of all filing activity. United Technologies was the most active US patent applicant, with 1,983 applications. It is also ranked as the second most prolific filer in the field of transport. Other top US filers were Qualcomm (1,593 applications), General Electric (1,307 applications) and Intel (1,057 applications).
Patent applications at the EPO are increasing, but China's growth in filings begins to slow
The EPO received 174,317 patent applications in 2018, an increase of 4.6%. Applications from China were up by 8.8%, which is the lowest growth rate it has recorded in the past five years. The top filers by jurisdiction are the US, Germany, Japan, France and China. It is worth noting that US entities filed nearly twice as much as the second largest filer, Germany (26,734 applications). Switzerland takes the lead when it comes to the highest number of patent applications per million inhabitants. It is followed by the Netherlands, Denmark, Sweden and Germany.
The number of patents granted by the EPO continues its upwards trajectory
Overall the number of patents granted by the EPO increased by 20.8% from 2017. Applications granted to US businesses jumped by 24.7%. This is a remarkable turnaround at the office, which for a long time experienced a growing pendency rate, and represents a significant jump in productivity levels. Controversial reforms put in place by previous EPO president Benoît Battistelli were designed to achieve just such an outcome. The key issue is that as this happens quality levels are maintained. Some have raised doubts as to whether this is so, but it will be several years before that becomes clearer. That's when we can expect patents granted over recent years to start being litigated.  
US applicants appear most frequently in computers, medical technology and pharmaceuticals
Although US businesses file in a variety of technology fields, they accounted for 38% of all patent applications at the EPO in computer technology, medical technology and pharmaceuticals. Further, they made-up 32% of all applications in biotechnology. Microsoft was the leading applicant at the EPO in computer technology, while Johnson & Johnson overtook Royal Philips to become the top filer in medical technology. A number of US universities ranked among the top 20 filers in the pharmaceutical field, with the University of California coming in at fifth place.
Life sciences are the fastest growing fields
Medical technology was again the most popular field for patent applications, growing by 5% in 2018.  Of the 10 areas examined, life sciences showed the strongest growth, with pharmaceuticals and biotechnology combined growing by 13%. Overall the top 10 fields represent 53% of the total number of European applications filed.
Siemens reclaims title of top EPO applicant; only one Chinese company cracks the top 10
Siemens last led the ranking in 2011, but has now bumped Huawei off top place to sit in the number one spot. The top 10 consists of four European companies, three from the US, two from the Republic of Korea and one Chinese company. An interesting appearance on the top 50 list is Dongguan-based mobile manufacturer Oppo. It is the 39th top filer at the EPO and its applications increased by 1,276.3% in 2018 to hit 523. It filed more than Apple, which holds 50th place with 375 applications.    
**Note: The data and information in this article was sourced from the EPO Annual Report 2018