Closing diversity gaps in patenting: current initiatives and the HP perspective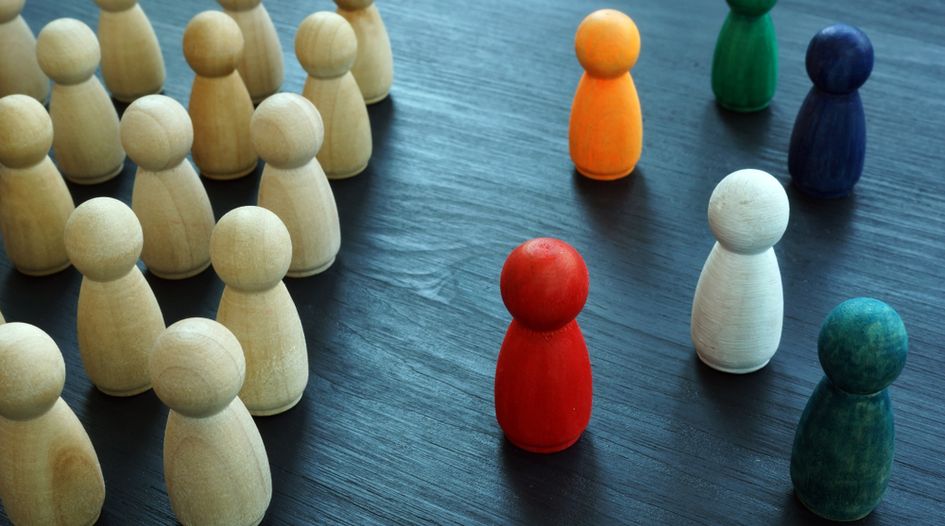 As the importance of a diversity, equity and inclusion (DEI) culture is increasingly recognised across industries, more initiatives are being created to promote and develop that culture. Innovation and patenting have been an important area for such efforts given the great disparities in the numbers of US patents issued to women and people of color. 
In the US, about 22% of registered patent practitioners are women.  Racially diverse women patent practitioners make up an even lower percentage, at about 2.2%. To help address this significant lack of diversity in patent practice, the law firm Harrity & Harrity is launching a programme called Patent Pathways to help increase the number of racially diverse women patent practitioners in the summer of 2022, with the first iteration focused on African‑American women. Future iterations will focus on other underrepresented demographics. The participants of the Patent Pathways program will receive skill training in areas such as patent bar preparation, prosecution, and application drafting.
Efforts elsewhere in the tech sector have focused on growing the pool of diverse talent. For example, Duolingo will host its first Take Flight Summit on April 6. The goal of this event is to encourage underrepresented student populations, in particular African‑American and Latinx populations, to pursue careers in technology and engineering. The tech sector, and software in particular, has had a high turnover rate in recent years.  Initiatives such as the Take Flight Summit can create a more diverse candidate pool, and by attracting talent from that more diverse candidate pool, companies such as Duolingo can lessen the impact of the turnover issue.  
While creating initiatives to promote and develop a DEI culture is one approach, another is integrating DEI activities into work objectives, as exemplified by University of Illinois at Urbana-Champaign.  The university will soon require a diversity statement from its faculty as part of the tenure and promotion policy. The diversity statement is a one-page document that describes activities undertaken by the faculty member to support DEI and also a summary of the faculty member's contributions in those activities. The diversity statement is voluntary through 2024-2025 academic year and is mandatory after that. 
The law firm Nixon Peabody recently launched a new DEI Strategic Services offering to "provide organizations with the legal, strategic, and practical advice to build more inclusive organizations and create positive impact".  This new service offering from Nixon Peabody is a clear indication that more and more organisations are focusing on DEI initiatives such that there is a business opportunity to help organisations with DEI matters.  
Turning to HP, various technical and legal teams in the company have been focused on promoting initiatives aimed at making a difference with respect to diversity, equity, and inclusion in IP law. These programmes have been targeted towards addressing some of the key root causes related specifically to the gender disparity in innovation and patenting.
HP's transformation journey requires all its technical employees to be engaged and trained so they can grow, invent, and contribute. Aligned with that, HP started a group mentoring programme targeting women in HP's technical workforce, through which groups of women with diverse levels of experience as inventors work together to learn and share their experiences. This programme includes a combination of video training, pre-work exercises and group discussions.  So far, the participants have identified several key benefits of the programme:
An opportunity to network with other HP women in technical roles at all levels of experience
Becoming a more creative inventor and gaining experience in filing strong invention disclosures
Learning about IP topics that impact HP's business success, and
Becoming more confident in taking control of their careers
Another initiative at HP is called the Patent Champions Program. The goal is to give voice to female technologists by providing them with extensive IP training and helping them grow into leadership roles. Participants are able to learn, influence, and communicate patent strategies, train inventors on IP topics, coach and encourage inventors through the invention disclosure drafting and submission process and conduct IP harvesting workshops. The Patent Champions were not only successful in increasing invention disclosure generation and improving the quality of invention disclosures, but also helped broaden the diversity across inventors.  
Last, but not least, we want to highlight our series of Design Thinking Workshops that bring together the technical community of women to brainstorm and invent around a specific topic selected for that workshop. HP's experts guide the teams of participants through the design thinking process. Through these workshops, the teams build design thinking experience, focus on real-world challenges to generate creative ideas, and present those ideas through an invention disclosure review process. As a result, the female technical community is able to participate in ideation and patenting process within HP at a higher rate.
These initiatives all help build a more diverse and vibrant innovation culture. With appropriate programmes in place, we are seeing a positive change in diversity across our inventor community within HP, and we are eager to develop new initiatives or further grow the current ones to ensure these changes continue. We look forward to increasing diverse participation in invention and patenting while bringing fresh ideas and perspectives to the innovation ecosystem.
Inclusivity Insights is a monthly feature in which companies share stories, learnings, and experiences of their D&I journey related to IP and innovation with the IAM audience. Previous articles in the series: