Chief IP strategy officer sheds light on ZTE's SEP portfolio management strategy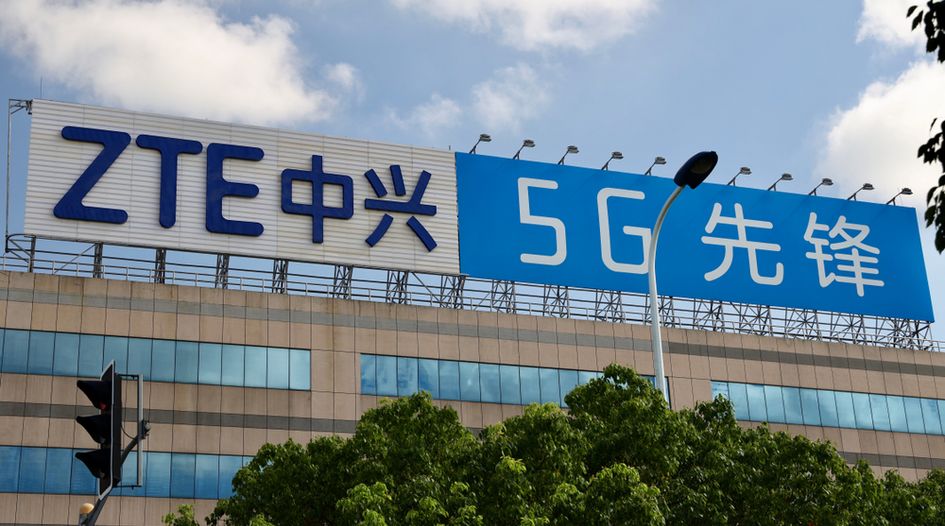 SEP portfolio strategy is about much more than just prosecution and enforcement. An organisation's patenting activities must be aligned with its standards development activities and integrated into its overall long-term and short-term R&D plan. Patent portfolio managers need to keep up with the latest connectivity standards trends so as to identify portfolio gaps and maintain a strong SEP position against competitors in the market for SEP licensing.
In an exclusive interview with Tim Pohlmann, ZTE's chief IP strategy officer Mang Zhu provides some insights into how she succeeded in building one of the world's largest 5G portfolios. She discusses how she established a process over several decades that ensured alignment of  R&D goals with standards development work, supported by highly skilled patent and prosecution teams. These teams work to create and maintain an SEP portfolio that meets essentiality and validity requirements to enable successful licensing programmes.
Building an SEP portfolio
Mang Zhu holds a PhD in electrical and electronic engineering; she started her career in 1994 as an R&D engineer. Later, after joining the patent asset management team at the end of 2022, she worked on UMTS claim-charting projects at Motorola. In 2003, she began to establish a process that ensured the tracking of standardisation activities during the patent prosecution process. Zhu's methodology was optimised at Motorola during the LTE development period and supported all of the company's SEP licensing activities thereafter. She also supported the technical negotiations during Motorola's SEP licensing programme. Here, especially during the 2008 and 2012 litigation, Zhu gained experience related to patent quality requirements needed to successfully license essential and valid SEPs.
In 2017, Zhu took a position at ZTE to lead the SEP team, focusing on 5G SEP development in the IP department. Due to her experience, she started supporting ZTE's licensing teams soon after. At the beginning of 2022, she took on responsibility for ZTE's entire patent portfolio – including SEPs and non-SEPs – as the head of the patent asset management team.
The interplay of R&D and standards development
Zhu stresses that research for new advanced technologies begins years before any standardisation activities commence: "While we yet do not know what the 6G standard will bring exactly, I am sure many of our long-term research projects will contribute to the next standard generation."
ZTE distinguishes between long-term research (five to 10 years in the future), mid-term research (looking at the next standards release) and short-term research (current release or next meeting). ZTE employs several hundreds of cellular standards-related researchers, as well as almost one hundred standard delegates who go to the standards meetings, present new technologies and submit technical contributions.
ZTE also employs two SEP teams: a patent technologist team of professionals (they  are not only patent experts but also have extended backgrounds in cellular standardisation and are able to track the development at standard meetings) and a SEP prosecution team with training in managing SEP portfolios.. Zhu created a SEP lifecycle process; patent filings follow the long-term, mid-term and short-term research. Here, the patent team ensures that the research teams provide timely invention disclosures. They then coordinate with outside counsel to have the identified inventions filed at international patent offices as quickly as possible to establish priority dates. Moreover, inventors are requested to describe the invention in detail so that the patent team can gather potential prior art. This is consequently handed to the patent attorneys who use the documents to ensure validity in claim drafting. Filing patents internationally is expensive, but it also ensures a much higher patent validity as search reports are shared across patent examiners who will look at the patented invention from different angles.
During the prosecution stage, the teams always check whether the applications' claims are mappable to the latest releases. The early filing of provisional applications or first filings allows protection of new ideas that are later presented in standards meetings. Standards developers introduce and submit the initial inventions as a standard contribution at the standards meetings. However, as during the standard development, the draft standard is subject to constant changes. The patent prosecution and technologist teams must align the claim language of the first filings with amendments to ensure that the claims can map the invention to the final standard publication or the latest standards version, while at the same time ensuring that no prior art exists. Claim amendments allow prosecutors to change claim language to a certain extent until the patent is issued, making sure they can chart the issued patent to the published standard.. Especially for long-term research, patent claims aim at being broader to capture future standards that may not be set yet.
Figure 1 illustrates how R&D teams (green), standards developing teams (pink) and the patent board and patent prosecution teams (dark blue) and licensing team (light blue) must strategically work together to ensure they are filing not only essential but also valid SEPs.
Figure 1: Cross-departmental efforts to filing valid and essential SEPs
IPlytics
Zhu's team uses a variety of IP data tools to ensure that they have the latest standards contribution data, patent declarations data and legal status information at hand. Searching prior art, for example, in a fully indexed standards contribution database allows for a much higher quality result. Further, connecting the different databases enables one to cross reference patents and standards. Researching where certain authors and inventors overlap with declared SEPs inventors also allows for much better monitoring of what competitors are doing. Understanding what other market players file, what they declare or include in patent pools as well as their participation activities and contribution levels during the standardisation processes is crucial for ZTE.
Right-sizing an SEP portfolio
Zhu stresses: "SEP portfolio management is not about the life cycle of one patent." In her patent portfolio lifecycle management approach, her team tags patents based on essentiality, validity and perceived value. This allows her to right-size ZTE's SEP portfolio and support decision-making for in and out-licensing activities. The ZTE licensing team is fully responsible for managing licensing activities, but with the evaluation approach, Zhu's patent team makes the calls about which SEPs to license, litigate, sell or even abandon. Patents with a lot of claim-charting support and low invalidity risks are fit to be used for licensing or during litigation.
Generally, ZTE files more patents than needed. Right-sizing a portfolio includes the strategy to sell patents, and every buyer has different requirements to consider. ZTE heavily invests in R&D, standards development and patent applications, the latter of which is especially expensive when filing internationally. These costs must be balanced with SEP-licensing revenue or cross-licensing deals. The return on investment must always be considered – if costs are too high, it is possible to sell or abandon patents. However, patents also support the ZTE business and product strategy; not everything is about royalties.
The future of connectivity standards
Zhu is not overly worried about the sharp rise in numbers of companies participating in 5G standards meetings and high volumes of submitted contributions. "5G is a much more advanced technology compared to 4G. While an increasing number of standards-contributing companies may create complexity, I feel that more input from many innovators also ensures more optimised standard features", she argues. She further elaborates that: "the increased number of patent declaration is a consequence of the ETSI IPR rules where any potentially standard relevant patent must be disclosed. This increases transparency even though some patent may not be essential. One can always evaluate single portfolios during licensing negotiations to identify what is essential and what is not".
Connectivity technology will not only connect smartphones, tablets and computers, but every device or object across many industry verticals, such as vehicles, trucks, traffic lights, machines, TVs, smart metres or medical devices. Due to the wide implementation of the next generation of standards in smartphones and beyond, market researchers foresee a strong increase in the compound annual growth rate of SEP-related royalties over the coming years. Zhu confirms that: "5G will be a game changer as new applications such as V2X will require much higher throughput rates, which only 5G and none of the earlier generations such as 4G can deliver". More applications in the future will build upon the capabilities that 5G will provide; the 5G technology advances will create a whole new market with new upcoming applications on phones, computers and other connected devices.
---
This is an Insight article, written by a selected partner as part of IAM's co-published content. Read more on Insight
Copyright © Law Business ResearchCompany Number: 03281866 VAT: GB 160 7529 10