"I had the chance to leave at a good time," says Ericsson's former chief IP officer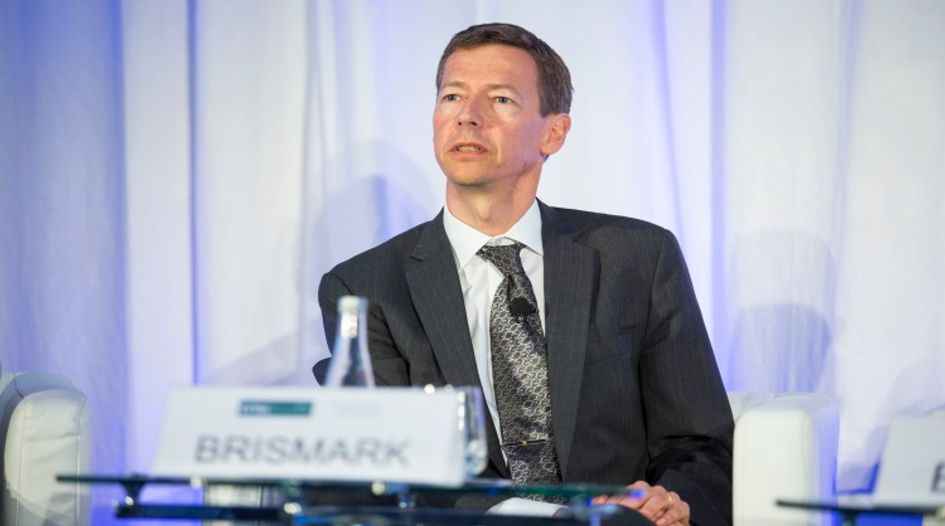 It was a shock for many when, in March, IAM broke the news that Ericsson chief IP officer Gustav Brismark had decided to leave the company with almost immediate effect.
As his replacement, Christina Petersson, got her feet under the table, Brismark took himself off to Canada for a few weeks of spring skiing on the untouched snow of the high Rocky Mountains. After his return, he spoke exclusively with IAM to explain the reasons for his departure from the Swedish telco, his legacy, the state of play in the 5G market and a whole lot more besides.
Relaxed and ready to begin a new chapter in his life, Brismark was clear about the past and excited about the future. He will undoubtedly be busy in the coming years.
The conversation began with his Ericsson exit. It is understandable that people were surprised by his decision to quit, Brismark concedes, but he left with nothing but good memories. "I can see why my departure seemed so sudden, but I had the chance to leave at a good time," he explains. "When I took over, we had just finished licensing all the major players, but we were also seeing a dramatic shift with many new, unlicensed entities entering the market. That put downward pressure on our income. It was a huge challenge to get the business back to growth, but I am delighted to say that we achieved it!"
The figures bear this out: for quarter one of 2019 Ericsson reported that its current contract portfolio is set to generate approximately SEK9 billion in royalties annually (approximately $940 million), which is up from the SEK7 billion reported in Q1 2018.
So, in some ways, it was mission accomplished for the man who joined Ericsson 33 years ago as a researcher in what was then the nascent area of mobile cellular technology. After a series of other management and business development jobs, in the early 2000s Brismark was headhunted internally to help build what he describes as "structure and business acumen" into the company's patent and licensing operation at a time when it was beginning to see the opportunities this presented.
"I am proud to have been there from the start. We created a vision and we then built what we wanted to build: a world class operation that creates value from patent portfolios and knows how to commercialise assets," he says. "It has been a joyful, exciting life, working with colleagues who I love."
What's more, Brismark believes, the Ericsson IP function is the best in the world: "It is the most capable organisation that I know of. We have built something strong from a cultural perspective. It is a place where people like to work together. We recruited the best from inside and outside the company, and assembled a highly skilled team of specialised individuals who all have respect for each other. And it's a fun place to work. I am proud of that." But, he acknowledges, it was not all his doing: "It began with my predecessor Kasim Alfalahi, I continued it and I know that Christina Petersson – who has already contributed so much – will take it even further. The company could not have selected anyone better to succeed me."
It would be wrong, though, to see Brismark's time as Ericsson CIPO as being composed of endless days of wine and roses. It was far from that. Many profoundly difficult challenges arose – some of which Petersson has inherited.
Take the TCL case in the US, for example. This saw the Chinese company claim that Ericsson's licensing offers for its 2G, 3G and 4G patents were not FRAND. Sitting in the Central California Federal District Court, Judge James Selna largely agreed. He rejected the Swedish business's arguments that a royalty rate should be calculated by looking at comparable licences and instead adopted a top down methodology in which the entire universe of relevant SEPs was identified and Ericsson's share of that total was calculated. In one particularly pointed section of his judgment, the judge wrote that Ericsson's patent portfolio is "certainly not as strong or essential as it has claimed".
"The TCL litigation in the US was not Ericsson's choice, they sued us in California," Brismark says. "There were many components to the case that, on the face of it, looked promising, so we were surprised when the verdict was announced. As I said at the time, it was highly biased in favour of infringers and was not a fair reflection of agreements that Ericsson had entered into."
He also observes that subsequent to the judgment – which is currently under appeal at the CAFC – Ericsson renewed a long-term arrangement with LG and tied down a deal with Oppo in China. These, along with an important win over HTC in Texas, have helped to change the post-TCL narrative. "We never stopped believing in our position and the renewal of LG and then the new deal with Oppo confirmed our rates. The HTC decision in Texas then confirmed that what we had offered HTC was FRAND. As a result, the business is now in a much stronger position," Brismark says.
Of course, arguments about FRAND and royalty rates are only set to intensify as 5G begins to roll-out. Brismark – an engineer at heart – is genuinely excited by the opportunities the technology presents.  "The growth of 5G will probably go beyond what anyone can imagine. We all talk about IoT with massive deployment of sensors, but other things will happen that cannot be predicted right now," he says.
5G is, he explains, a full-powered tech that is overtaking LTE when it comes to scale, capability and latency. That means there will be big changes in many industries. "We don't even know who the major players are going to be," he reflects. "I can see it revolutionising online games, for example, by making it truly mobile; and it has so much to contribute to the creation of smart vehicles."
The challenge, Brismark believes, will be in creating an efficient eco-system and ensuring that different industries can talk to each other: "This is still to be developed, but Ericsson and others are working on it. On the IP side, we have to play our part by ensuring efficient licensing and royalty structures so that these are not an obstacle."
And that means looking at pricing. "Those who say the price of the chip should be the basis for the royalty are taking the development cycle out of context," Brismark claims. The move into 5G is orchestrated by 3GPP, he states. It is an area in which the world's leading minds in wireless systems have come together: "They have created new capabilities which will enable new industries to benefit from connectivity solutions on a global scale with state-of-the-art technology. This is what 5G is and with it we are going to increase the technology bandwidth significantly. In doing so, 3GPP also ensures that we will be benefiting from a lot of tech that is already there and from the existing eco-system - and will be building on both."
For Brismark, differentiated pricing for different industries and uses is the key to success: "If you have one price you will not get the adoption that everybody wants. A successful standard must find the true balance between development and adoption. That is FRAND."
However, he acknowledges, this is not something that everyone is going to agree on immediately. "You have to allow time and I am optimistic that eventually it will happen," Brismark says. In the meantime, stakeholders will make their views known and, he concedes, licensees will try to get prices down as far as possible. "Major patent owners need to take the initiative and put something on the table," he states emphatically.  
In negotiations, Brismark continues, perseverance and belief in what you are doing are key: "If you feel you have a fair, robust model, then you have to be confident that it will succeed." It's also important to remember, he says, that you are not only talking to IP people and that many industries are reluctant to accept change: "Sometimes it requires a lot of internal decision-making, and the acceptance of outcomes that may change the balance inside companies. That is difficult. Logic does not always win, but it's good to have it on your side."
The way he speaks reminds you that Brismark was, very specifically, a chief IP officer, not a traditional corporate head of IP. He points out that the roles are very different: "As a chief IP officer you leave behind the job of being the receiver of inventions and administering filings and grants. Instead, you are someone who truly embraces the idea of value creation. There should be a direct correlation between you being successful and the market capitalisation of the company you work for."
To be a successful CIPO, Brismark continues, means being a business person: "You have to look after your own targets and responsibilities, but also be a team player with the other product line managers and ensure their freedom-to-operate. There are always trade-offs to be made and you have to talk to each other constantly to understand each other's business logic." The most important thing is to work out what is best for the whole company. 
What's more, the business side must be combined with a true curiosity about technology. "One of your major jobs is to short-cut the distance from research to market adoption," Brismark states. "That means you have to be able to connect with researchers and speak their language."
But while the CIPO role is one that has been talked about for a number of years – not least in IAM – the companies that have embraced it remain the exception rather than the rule. Brismark cannot see that changing – at least for a while. "It is still a role in the making," he observes. "Currently, it is very driven by individuals and highly specific to the circumstances of companies where the position is created. To become a generally accepted position - and one for which there is training and qualifications - may take another 10 years or even more." And he is clear at what point it will be possible to say the role has arrived: "When you see small companies that have grown bigger and the CIPO has been there from the start."
For now, small is where Brismark finds himself. After over three decades working inside one of Europe's biggest technology businesses, he is on his own running a one-man company. "I don't plan to get another job but do hope to find the chance to offer advice in a consulting capacity," Brismark states. "I have a pretty unique background – having worked in research, standardisation, product development and licensing – and I hope that is a skill-set that is needed."
Asked to name his ideal scenario, Brismark is clear: "I would like to be a catalyst for 5G, helping different industries and verticals to work together by, for instance, explaining how 5G technology should be valued and licensed."
It is difficult to believe he will not get what he is looking for – as well as the time to do a lot more skiing.