Reforms seek to boost South Korea's patent market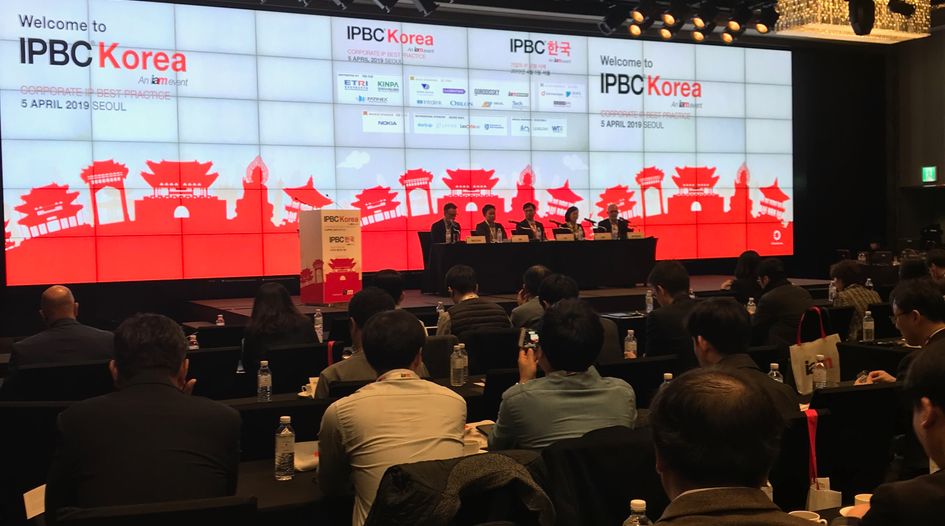 Just one day before IPBC Korea 2019, which was held last week at the JW Marriott Dongdaemun Square in Seoul, South Korea reached a global milestone as its big three telecom carriers switched on a limited 5G mobile network that they claim is the world's first.
The country's leading companies are also leaders when it comes to 5G patent holdings, with Samsung Electronics taking the overall top spot, well out ahead of Huawei, in an analysis recently published by IPlytics in IAM. LG Electronics also commanded a respectable position, just behind Qualcomm.
But during Friday's conference, executives in other large Korean tech companies said that the local patent market has a ways to come, and so does boardroom willingness to enforce IP. They also had a chance to exchange opinions with a Patent Court judge on recent efforts to change the litigation system.
Kyung Hwa Min, the head of the IP Centre at LG Chem, laid out his company's IP strategy which consists of tailored protection of its products, a sound process for fast decision-making and action, and the use of patent information to create a blueprint for future business.
Despite having a robust strategy, Min says managers in Korean companies are still very hesitant to authorise the enforcement of patent rights, especially when a company does most of its business in the B2B space. He also suggested that there is sometimes a reluctance to acknowledge the contributions of patents toward a business. "We have to persuade the business sector of the importance of patents, and make them understand that utilising IP is helpful to profitability," Min said, "And we need to come up with concrete ideas and plans to do this."
While business leaders may not be legal experts, they understand markets. And Min suggested that the Korean patent market is not as active as it could be. Describing the more vibrant US trade in patents, he noted, "The litigation system has a big impact. If parties are reassured that they'll be protected legally, the market itself will be much more vital." He went on to point out that there is a perception that Korean patent litigation is not the most effective way to enforce a patent right.
Judge Kwangnam Kim of the Patent Court of Korea, joined the conference later in the day to talk about the country's efforts to reform its patent litigation system. In 2016, the role of the Patent Court was expanded. Originally, it only heard appeals from KIPO matters; now it's the unified appellate body for patent cases, so it also hears second instance infringement lawsuits.
Judge Kim pointed out one of the South Korean judiciary's strongest points – fast adjudication of cases. According to a slide he showed, the average duration of a case is 7 months, besting China and Germany for quick decisions in major patent jurisdictions. The judge said that the fast resolution time is so important to plaintiffs that it is one reason why they do not tend to initially ask for high damage awards.
Last December, South Korea introduced treble damages for cases of wilful infringement, meaning judges will now have latitude to make bigger awards even if plaintiffs are mostly concerned with getting a quick ruling. Min from LG Chem acknowledged that the change was a positive step toward boosting the local patent market.
Kim also spoke about the Patent Court's bid to attract more foreign litigants by allowing for hearings to be conducted using simultaneous translation in English and Korean. It's an idea that is also being studied in Japan, where IAM has written that many local companies may find it hard to accept.
One audience member raised some concerns about the policy, asking why any Korean company would agree to contest a bilingual case against a foreign party, effectively forfeiting some of its 'home field advantage'. Currently the bilingual hearings must be approved by both sides in a lawsuit, but the audience member wanted to know whether the court was considering scrapping this requirement.
The judge replied that there were no plans to allow foreign parties to have cases heard in English without the other side's consent. But he also sought to dispel the idea that Korean firms would be at a disadvantage in these hearings, noting that they could still use Korean, and that it still might be preferable if the alternative was being sued in overseas markets.
But more than language, it's the fundamental elements of the litigation system – like evidence collection, damages and injunctions – that determine where disputes happen. Judge Kim admitted that big-ticket landmark patent cases are not too prevalent, noting with a laugh that he had written around 100 judgements last year, none of which was particularly remarkable or notable.
Judge Kim did indicate that the government and the judiciary are studying further avenues for reform, and acknowledged that one of the biggest outstanding issues is evidence collection. "This is an area where we need more research," he said. "We want to make sure that patent holders are not disadvantaged."