Auto IP stakeholders in Asia call for peace, prepare for war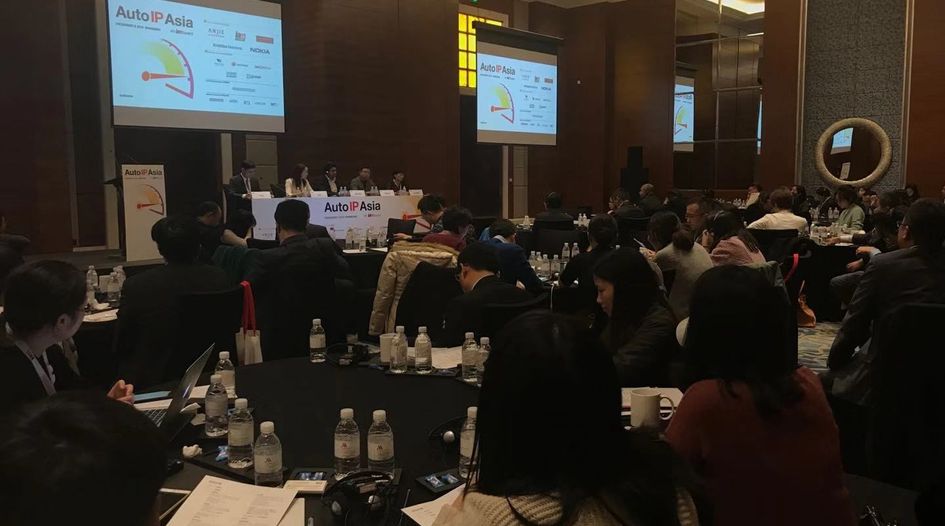 High-profile patent and antitrust litigation in Europe and the United States, along with the more recent news of a deal between Avanci and Volvo, formed the backdrop for IAM's first auto-focused conference in Asia, which has just wrapped in Shanghai.
By no means was the event all about royalty disputes. The day began with a high-level discussion of the technological changes taking place in the industry with representatives from Chinese carmaker BYD, major supplier HASCO and advanced engineering provider CMORE Automotive. It closed with top executives predicting the IP challenges that will result from intelligent driving.
Questions about what FRAND licensing should look like in the auto sector are not yet before Chinese courts as they are in the United States and Europe. In the latter two jurisdictions, Daimler and supplier Continental are squaring off against Nokia and Sharp, members of the Avanci licensing platform. Huawei, itself an auto supplier, has also recently joined the fray.
But those issues were not far from attendees' minds in Shanghai.
In private conversations, delegates from various auto companies shared similar concerns about the recent wave of litigation and how costly legal fights can be averted.
On stage, representatives from Honda, Nissan and Toyota all stressed their wish to avoid patent wars breaking out in the sector. "It is a waste of resources", said Toyota's China IP director Tomohiro Oda. The trio were tight-lipped when asked by moderator Ye Zhao to explain their specific opinions on what FRAND auto licensing looks like, which is understandable given that they represent their companies' China IP operations rather than central licensing teams. But all acknowledged the value that wireless technologies are adding to vehicles.
Nokia's Jari Vaario added that his company feels the same way, and did not initiate the legal actions it is currently involved in. However, he allowed that the company has in the past taken action when companies have prolonged negotiations excessively. "Some companies are just not ready to take responsibility and pay for the use of patents," Vaario lamented.
Vaario also characterised the competition law disputes currently playing out in Europe as part of a pattern of delay: "It's an unfortunate tendency that some companies have to complain to antitrust authorities no matter what licensors are doing." The head of Asia patent transactions and external alliances for the company compared firms employing these tactics to trolls, and pointed out that Nokia's licensing model has repeatedly been examined by competition authorities all over the world.
In a later session Huawei senior IP manager Peng Zhang stood by the company's antitrust suit against Nokia in Germany. Zhang went as far to note that Huawei's competition complaint will continue even if other parties involved in the dispute reach an agreement – and there have been rumours of such a settlement over the past week.
Zhang made several points in support of the company's position. He implied that Huawei views the royalty rates being demanded in the auto space as non-FRAND, and argued that OEMs cannot be expected to handle the licensing stemming from the thousands of components that go into an end product. As a major telecom patent owner itself, Zhang said, Huawei wants to: "establish a mechanism whereby upstream suppliers can obtain the license."
Zhang also underlined the IP licensing practices that Huawei employs in its operating business supplying telematics to automakers. "We're not like Toyota, and haven't opened our patents", Zhang said, referring to the Japanese company's hybrid technology initiative, "but we will have a fair attitude toward any company." That means, Zhang added, that Huawei does not charge royalties to automakers that implement its telecommunications systems: "We don't charge extra for the patents".
Huawei's stance drew praise from one Chinese automaker representative: Django Ma of electric vehicle maker NIO. "I have a strong feeling about Huawei's courage and sense of responsibility", Ma said, before encouraging attendees to buy the company's phones.
Guojun Zhou of Intel advised upstart players in the industry to start exploring potential measures to mitigate risk. "Together we can find a way out," Zhou said, reinforcing the day-long theme that more dialogue between industries is necessary. "Otherwise", he continued: "personally, I think a patent war is quite likely."