The final filing ...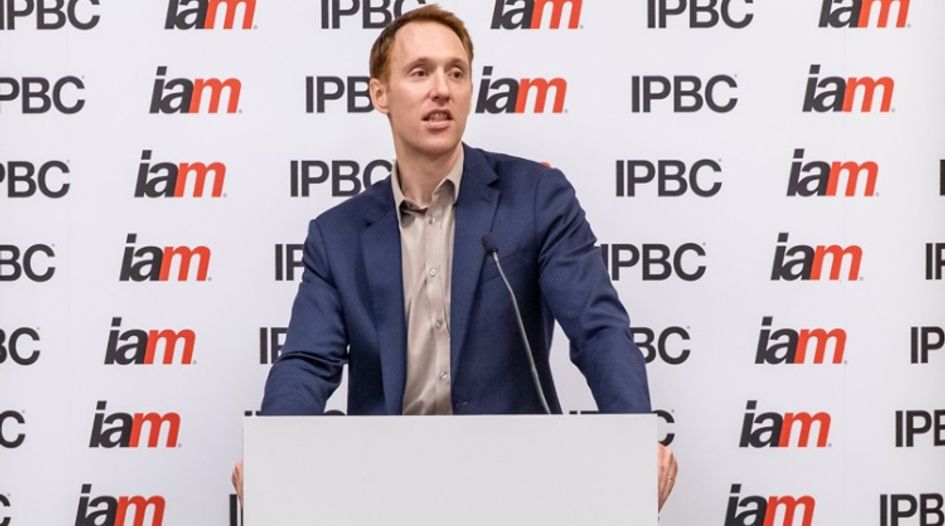 Richard Lloyd has been a key member of the IAM editorial team since 2014. Now he is heading off to pastures new - but not before a final farewell
The plan, when I joined IAM in early 2014 as its first North America editor, was to take a few days to familiarise myself with the patent market, get on top of some of the hot issues and start making contacts with the great and good of the IP world.  
Like all good plans, though, that quickly went out the window. My new boss, Joff Wild, was soon in touch about a possible story involving the public IP company (PIPCO) Spherix, which had just announced a new initiative to offer patent licences to start-ups. After that the pace never really relented.
A few things will always stick with me from that first year. Top of the list was making it to the Supreme Court for oral arguments in Alice v CLS Bank - the 101 case that I have probably referenced more than any other. On the way, my Uber got snarled in heavier than expected rush hour traffic, leading to panicked thoughts, even as I could see Capitol Hill in the distance, that I wasn't going to make it in time.   
The jam finally started to unblock itself, but I made it to the court after all the best seats in the press gallery had been taken, So I had to make do with a partial view, blocked from seeing three of the justices by the ornate columns that line the courtroom. 
I never tired of going to oral arguments at SCOTUS and one of the great perks of the job was the ease with which, as a reporter, I could attend a hearing without having to wait in line for hours. I always made sure I didn't sit behind another pillar.
The other moment that has stayed with me from those early months was walking into the opening reception of the first IPBC Global I attended. It was in Amsterdam. In the run-up I had been told that it was the IP event of the year which I assumed was just our internal marketing going into overdrive. But then I walked into the packed bar at the Okura Hotel and realised that was not an exaggeration.
To look back on those early years it's striking to think of how the spread of stories has changed. To begin with there was a lot more to write on the NPE market, the "patent troll" debate that was framing a lot of policy discussions and the back end of the smartphone wars which were slowly winding down.  
Over the last seven years plenty has changed about my North American beat. Those PIPCOs that I wrote about in 2014/15 have largely come and gone, replaced by what is arguably a far more formidable batch of licensors. EDTX has been replaced by WDTX. Section 101 has become an obsession inside Congress, not at the Supreme Court. The terms SEP and FRAND now show up in even more of our pieces, with the big courtroom battles over standard essential patents replacing the conflicts that marked the early years of the smartphone era. And China has well and truly staked its claim to being an IP superpower.
What hasn't changed is this market's habit of turning up interesting stories to chase down, different angles to take and new commentary and analysis to add to the latest big deal or courtroom drama.   
You can probably tell by now from the tone of this piece that this is my last article for IAM. After a little break I'm going to be joining the communications team at InterDigital to work on matters related to IP licensing and policy.
It has been seven years packed with career highlights and the complete list of thank-yous is probably a bit too long for this article. But I must mention the current IAM reporting team - Jake Schindler and Bing Zhao in Hong Kong, Bridget Diakun and Adam Houldsworth in the UK  - the BD operation led by John Eborall; alums like Gavin Stewart; Aaron Rawcliffe and the events team; and our copy editors Liz Rutherford-Johnson and Florence Sutton-Manders who, along with our mega-talented design team, do so much of the work in the background to make IAM tick.
I have the same gratitude to everyone who over the years has taken the time to endure my questions, helped me with news tips or has done their best to explain to a bewildered reporter just exactly what "abstract" might mean in relation to a patented invention.   
Finally, a big thank-you has to go to Joff. He's been in the IP space long enough that most of you already know that he's one of the most insightful commentators and astute editors around. But to give you a little look behind the curtain and some sense of what he's like to work for, I think the best way of summing up his approach is that I can't remember a time, across seven years, when we had a disagreement about a story or something else that wasn't resolved by a quick call to hammer out any differences and decide on the best option. He is as eminently sensible to work with as he is in his commentary and reporting.    
I know that with Joff, Jake as the new editor and the rest of the team, IAM is in very good hands. I'm now looking forward to becoming a loyal subscriber.